A Florida man running for Congress is making waves online for espousing a wide-range of bizarre beliefs concerning pop culture and politics.
KW Miller, a self-described Constitutional conservative seeking to represent the Sunshine State's 18th Congressional District, is looking to bring down what he calls "The Leftist Dark Money Globalist" and "Big Time Socialists."
"KW MILLER HAS PUT BIG TIME SOCIALISTS ON NOTICE!" a statement on his campaign website reads.

While Miller is a registered Republican, he is running as an Independent. The candidate has collected more than 23,000 followers on Twitter since first joining the platform in February of 2020. While Miller highlighted his campaign for his first few weeks of tweeting, the candidate's message suddenly delved into darker territory nearly overnight.
Early posts focused heavily on political issues and Rep. Brian Mast (R-Fla.), the incumbent Miller is looking to unseat. But on March 6, Miller's tone changed when he linked to an image portraying left-wing billionaire philanthropist George Soros as a puppet master controlling everything from the New York Times to former President Barack Obama.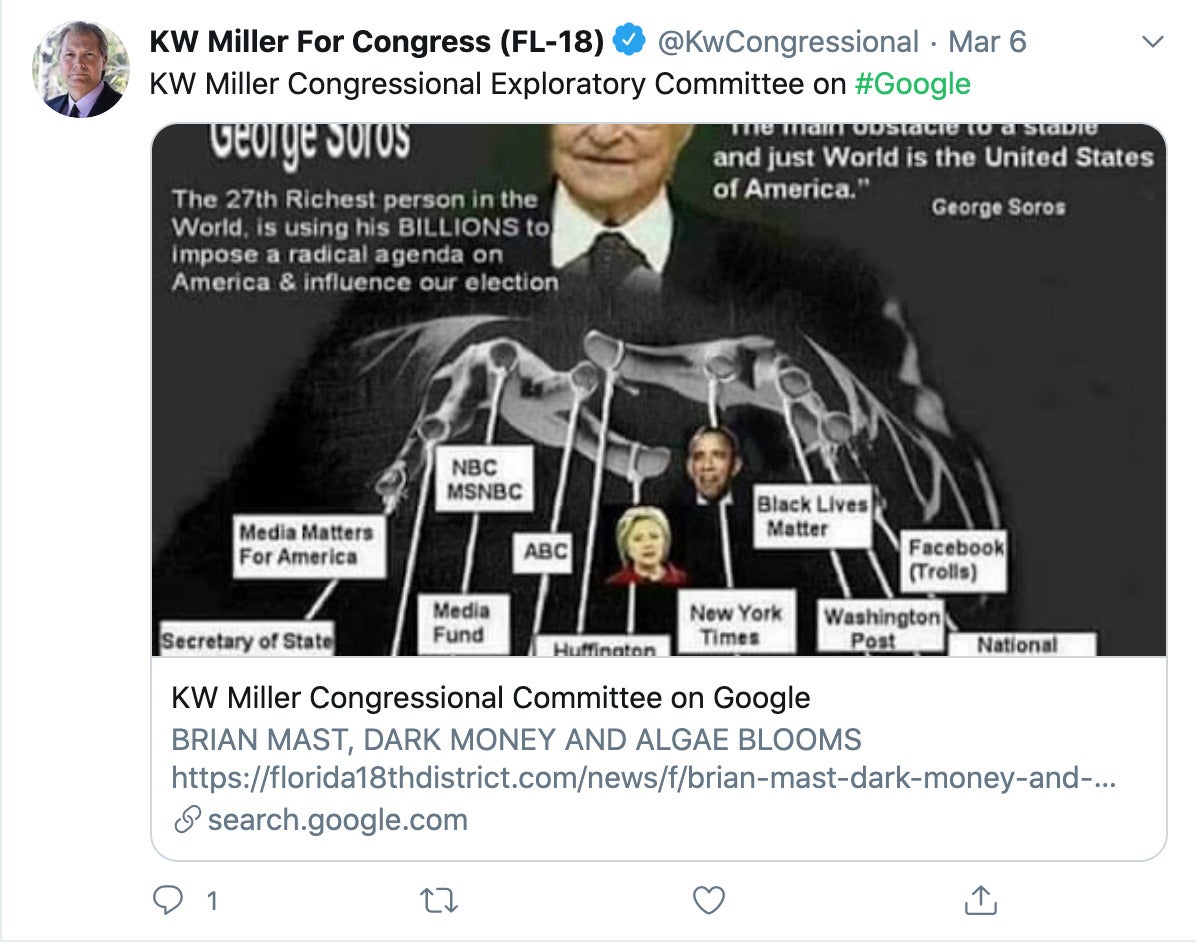 It wasn't until his tweets began focusing on conspiratorial topics such as "The Globalist Plan to Make the USA a Debtor Nation and Welfare State," however, that Miller's account began to pick up steam.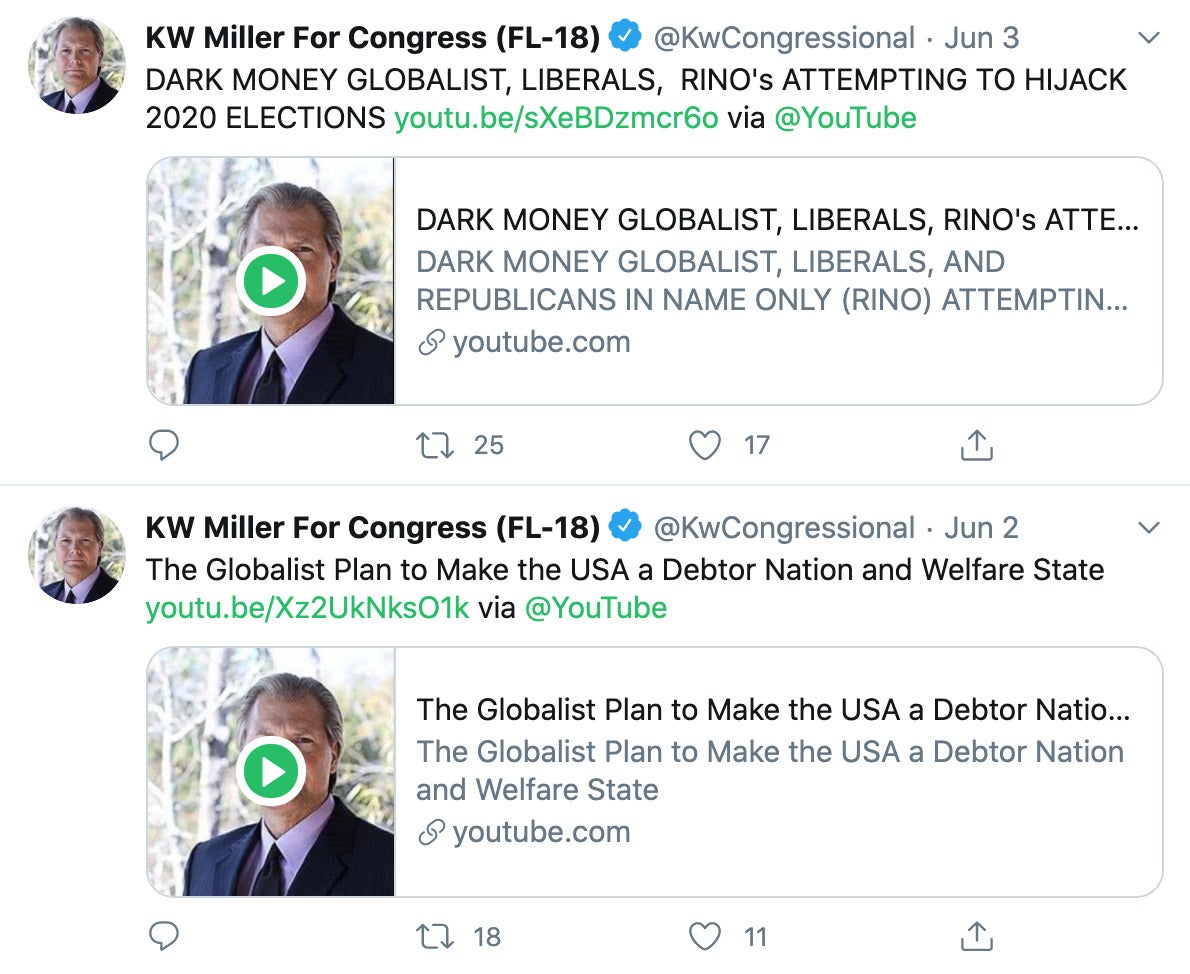 Miller's first post to garner more than 100 retweets came nearly 5 months after his account was created and stated simply: "GLOBALISTS YOU ARE ON NOTICE!"
From that point on, Miller began frequently referencing the QAnon conspiracy theory, gaining an increasing number of likes, retweets, and followers in the process.
On July 2, he first used the QAnon-related hashtag #TheGreatAwakening. Followers of the QAnon conspiracy believe an individual or group of government insiders are working on behalf of President Donald Trump to bring down an alleged Democrat-run pedophilia ring. The fringe movement has produced numerous acts of violence and has been deemed a possible domestic terror threat by the FBI.
Miller also began to use QAnon hashtags to amplify tweets seeking financial support for his campaign.
"The Dark Money Deep State doesn't want money to be donated to my campaign. They do not want me in office," Miller tweeted. "They know that I will not hesitate to expose the entire Deep State. We will WIN anyway!!"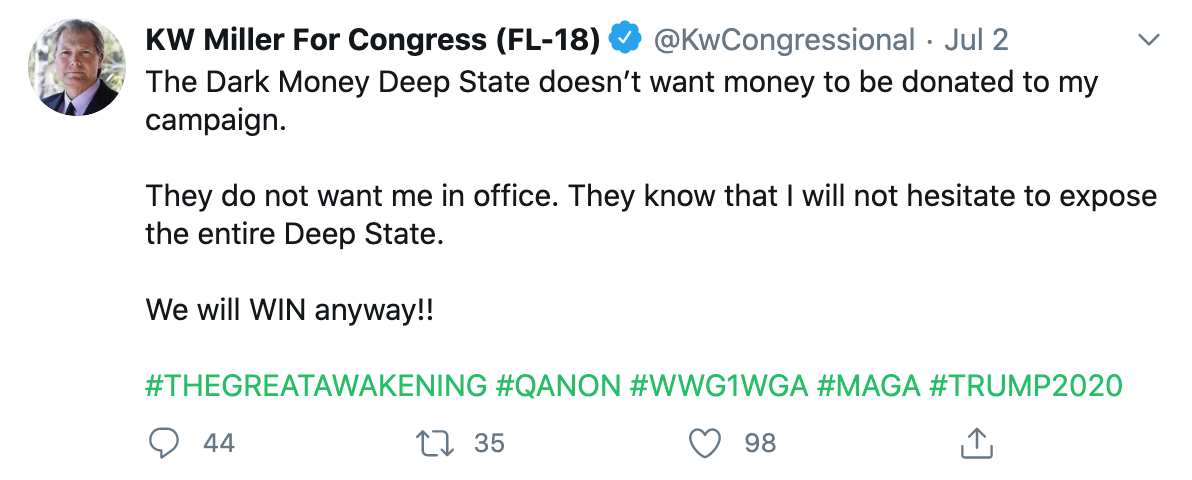 In his first popular tweet, Miller claimed to have inside information, as is often the case with QAnon supporters, on upcoming arrests related to deceased billionaire and convicted pedophile Jeffrey Epstein.
A significant portion of Miller's tweets since July 2 have included at least one hashtag tied to either QAnon or Trump.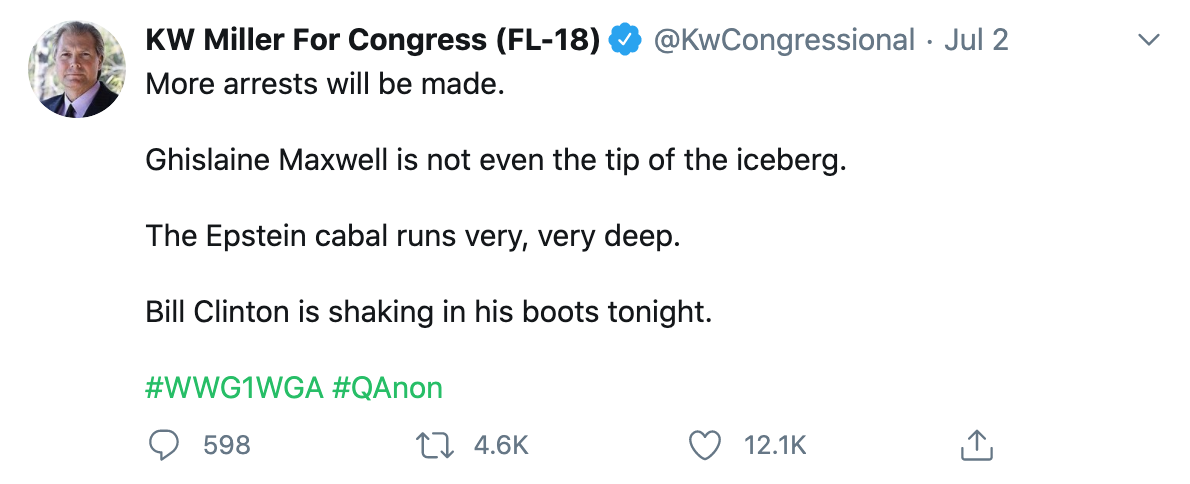 Miller even went as far as to take credit for Trump's recent executive order aimed at prosecuting those who vandalize monuments and statues.
"Big shout out to POTUS for listening to KW Miller," he said. "Executive Order protecting our Monuments, History and Heritage."
Following his first taste of semi-viral attention among conspiracy theorists, Miller's focus has gone increasingly down the proverbial rabbit hole. Just one day later on July 3, Miller openly connected Oprah Winfrey to child trafficking following the arrest of ex-Epstein's girlfriend Ghislaine Maxwell.

Winfrey has long been a target of QAnon believers, who falsely claimed last March that the billionaire entrepreneur had been arrested on child trafficking charges.
The conspiracy quickly became a trending topic on Twitter at the time, leading Winfrey to release a statement on the matter.
"Just got a phone call that my name is trending. And being trolled for some awful FAKE thing. It's NOT TRUE," she tweeted. "Haven't been raided, or arrested. Just sanitizing and self distancing with the rest of the world. Stay safe everybody."
Miller has since gone all-in on falsely implicating numerous celebrities in pedophilia and child trafficking, even suggesting that pop star Taylor Swift is actually the daughter of Church of Satan founder Anton LaVey.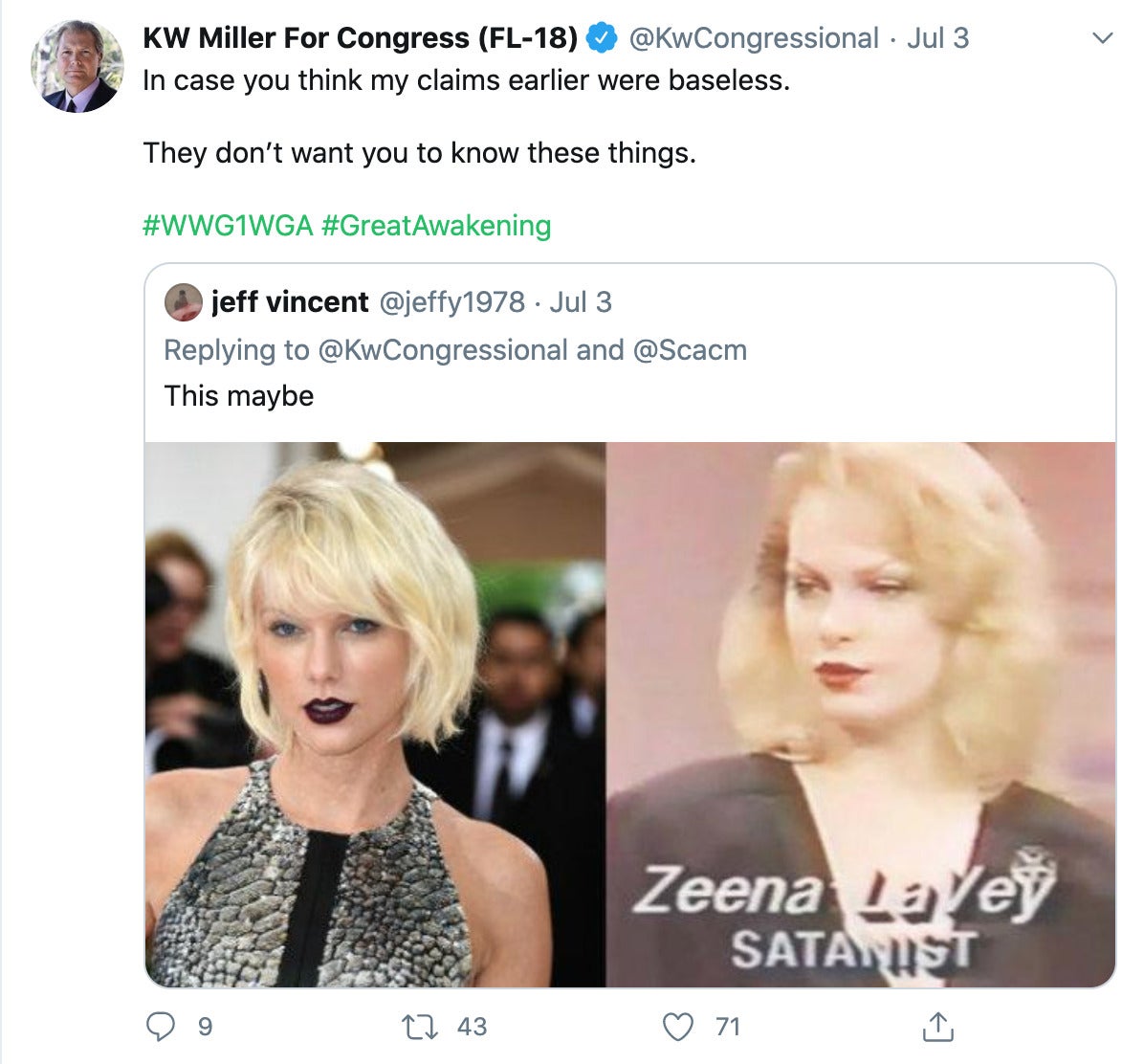 In a live stream from July 3, Miller's language became more ominous. After bizarrely claiming that his "codename" has been "Mr. Nobody" for 30 years, Miller discussed showing up at his enemies' homes.
"Let's put it this way: If Mr. Nobody shows up at your doorstep, you got a problem," Miller says. "I am the boogeyman and I'm coming after the leftists, the liberals, the RINOs, and the globalists."
Miller went on to ask his viewers to follow his lead before suddenly suggesting that he had been working with the president behind the scenes for the past four years.
"People like me don't get involved unless we mean business," he said. "Time to clean up, folks. Time to clean up and take this country back."
Miller's latest posts more and more attempt to mimic those of QAnon. The candidate on July 5 tweeted out a vague prediction about July 6 being an important day due to the date holding a secret code referencing the letter Q.
"Look out for an important day tomorrow," Miller tweeted. "07/06/2020 7+6+2+2 = 17 17th letter in the alphabet? Get ready. It's going to be a big one."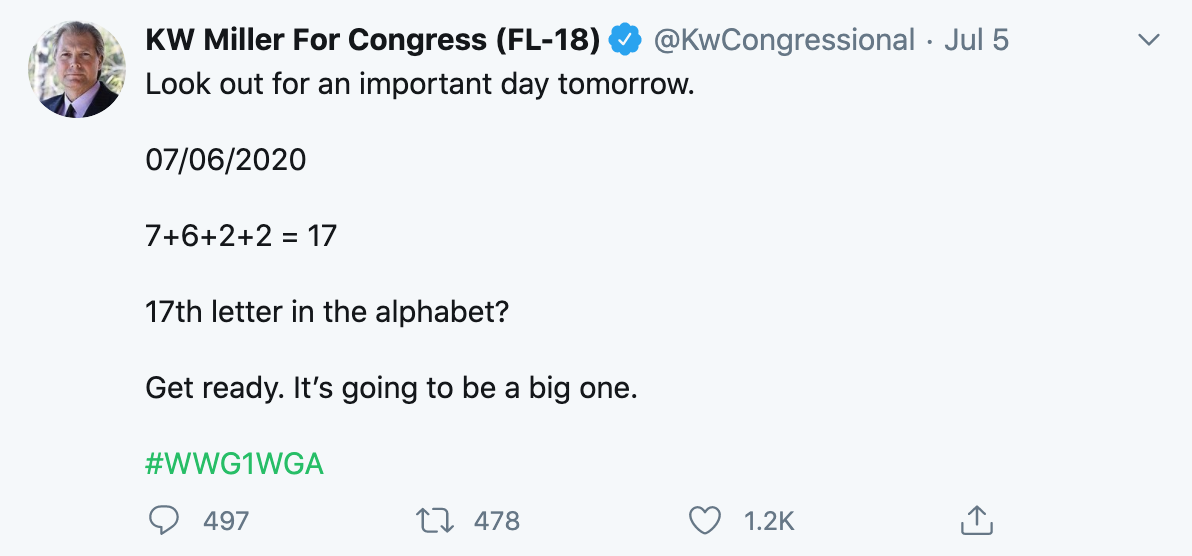 Of course, no majorly significant event followed. But that hasn't stopped Miller from attempting to crown himself as even more significant than QAnon. That assertion appears to have upset many of the conspiracy theorists Miller has so desperately attempted to harness.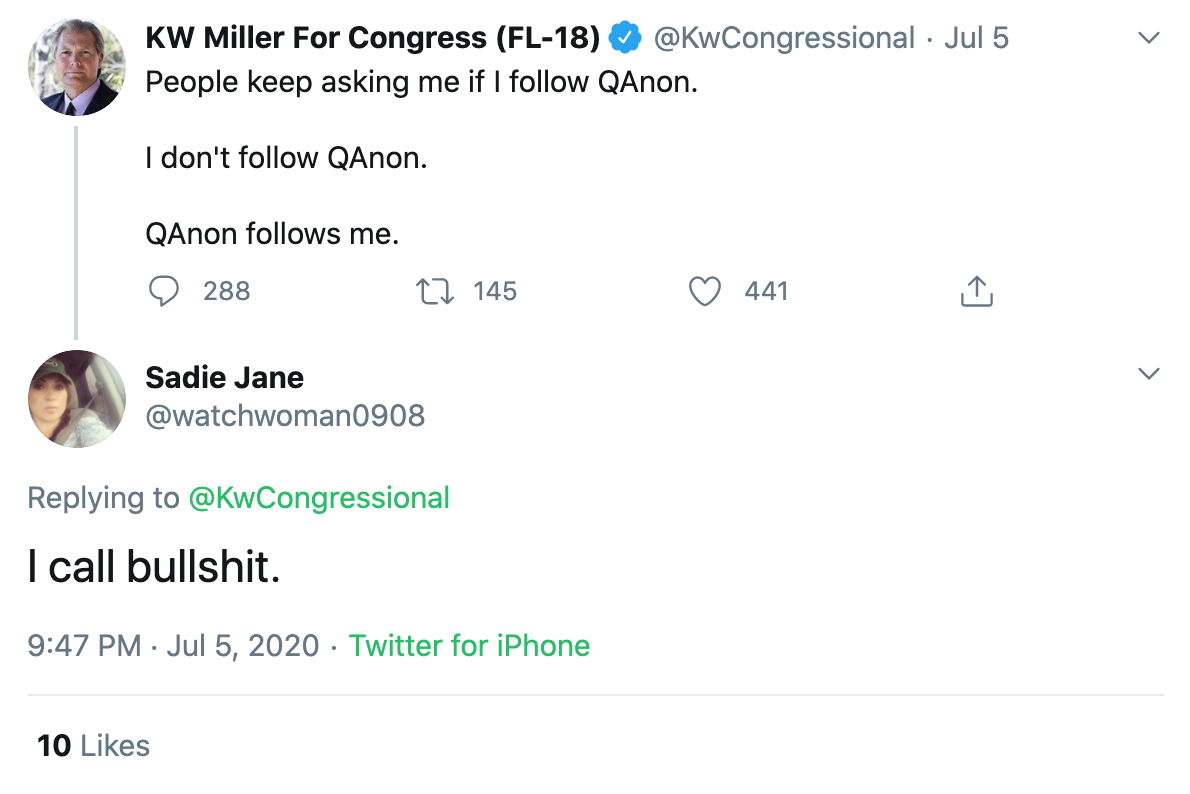 Miller finally found the viral attention he'd been seeking on Saturday after stepping up his rhetoric to falsely claim that music artist Beyoncé is pretending to be African American.
The tweet, which has been shared over 30,000 times, stirred outrage among fans of the singer.
"Beyoncé is not even African American. She is faking this for exposure. Her real name is Ann Marie Lastrassi. She is Italian," Miller said. "This is all part of the Soros Deep State agenda for the Black Lives Matter movement. BEYONCÉ YOU ARE ON NOTICE!"

Miller is already attempting to cash-in on the controversy. The candidate just two days later requested to appear on the popular radio show "The Breakfast Club" to "help wake up the African American community to the deep state activities and secretive affiliations of many of their idols."

The candidate's tweets have increasingly centered around criticizing Black celebrities following the widespread attention received from his remarks on Beyoncé. At the same time, Miller is promising voters that he'll "heal racial divides."
Miller has attacked artists such as Pusha T, Big Sean, Nicki Minaj, Lalah Hathaway, and Patti LaBelle. Even singer Ariana Grande, Miller alleges, has been turned into an "Afro-Latino" by the entertainment industry to demean Christopher Columbus.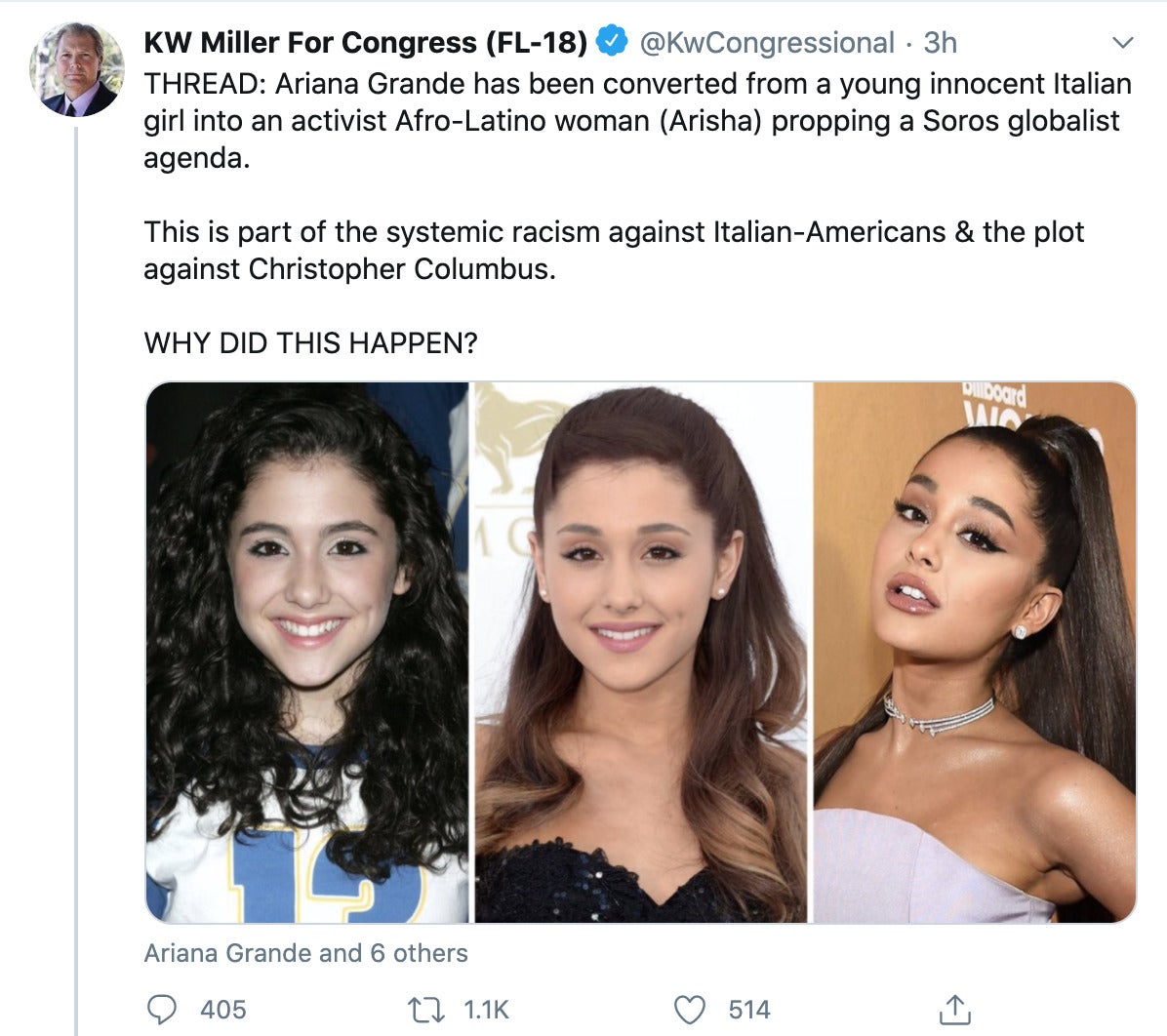 Politicians aren't safe either. Miller has now seemingly resorted to combining his criticism of legislators and those in pop culture, accusing Rep. Alexandria Ocasio-Cortez (D-N.Y.) of conspiring with fans of Korean pop music to "undermine our president."
In reality, Ocasio-Cortez merely praised K-pop fans for pranking a Trump rally by requesting a large number of tickets without any intention of showing up.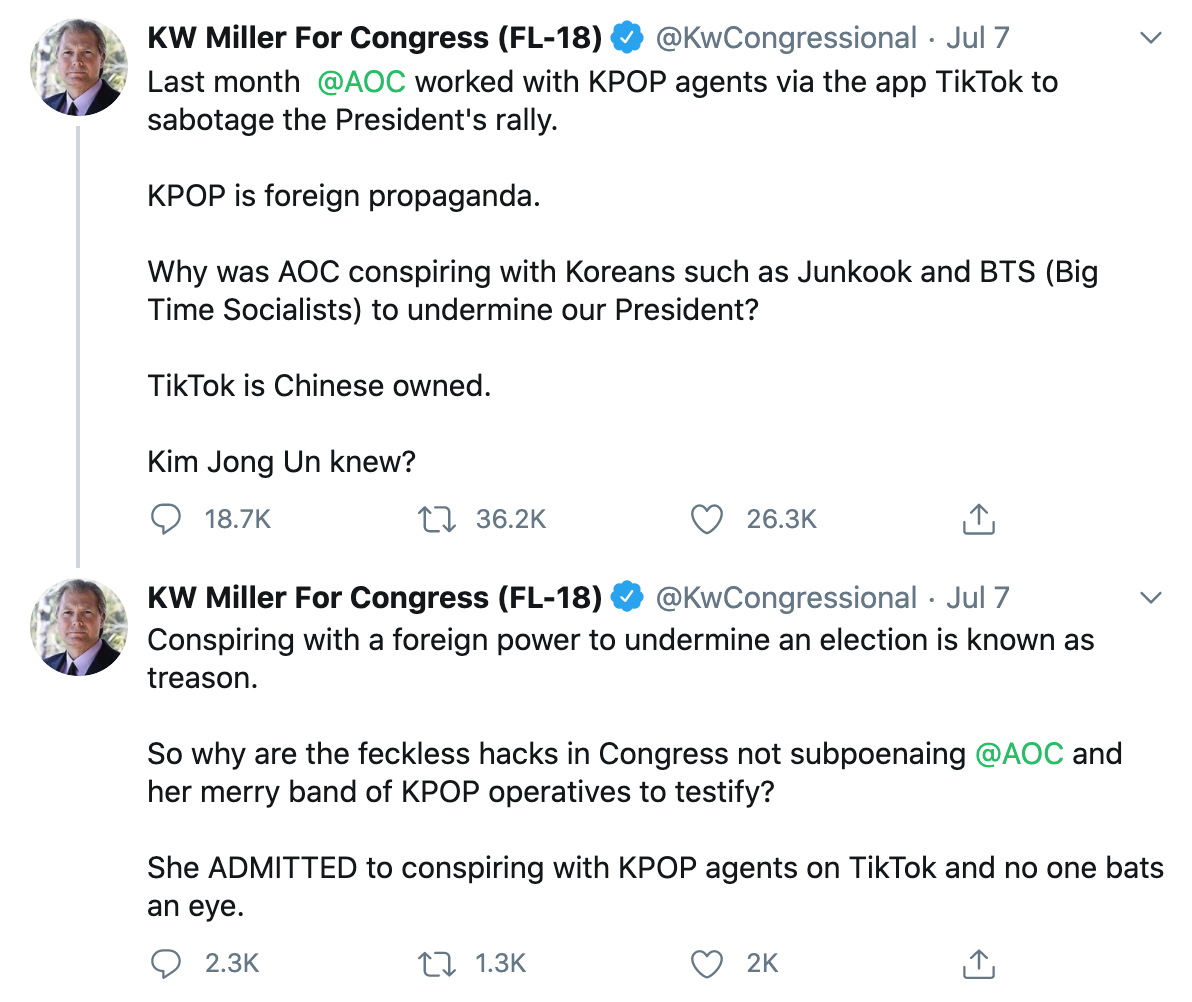 Despite repeatedly criticizing the media for failing to reach out to him regarding his remarks, Miller did not respond to requests for comment from the Daily Dot.
Given Miller's overnight shift from little-known candidate to conspiracy guru, it remains uncertain if the candidate's beliefs are genuine or merely are an attempt to garner funds and notoriety.
While Miller's political chances may seem like a long shot, several QAnon adherents will appear on general election ballots this fall.
READ MORE: