Frequent podcast listeners are more than familiar with advertisements from companies like Hello Fresh and Casper–some might even be able to recite commercials verbatim. Podcasting network Luminary is on a mission to change that. The service, which launched in April, hopes to hook listeners with exclusive shows and no ads for $7.99 per month. "We want to become synonymous with podcasting in the same way Netflix has become synonymous with streaming," Luminary's co-founder and chief executive Matt Sacks told The New York Times in March.
It's a bold new vision for podcasting, which is simultaneously a saturated yet relatively static industry. "We're thrilled with the interest we've seen since we launched a little more than two months ago, both in premium subscribers listening to our premium content as well as free app users," a spokesperson said when asked how Luminary would describe what success looks like to the company. 
But Luminary still has many hurdles to clear. Will its push to experiment with other business models be a net positive for podcasting?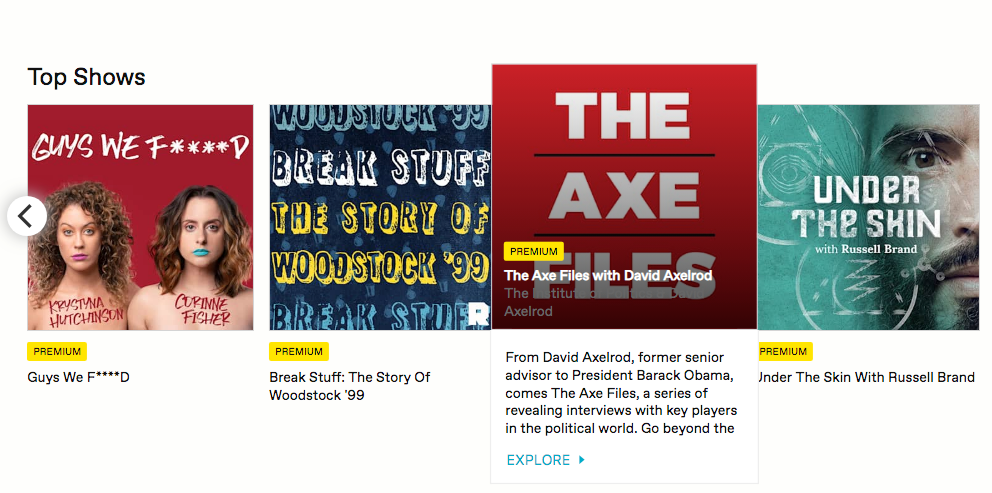 What is Luminary?
Luminary is both a podcasting network as well as an app that downloads and plays podcasts. 
As a network, it's partnering with top-tier talent, including names like director-actor Lena Dunham, writer Roxane Gay, and former senior presidential advisor David Axelrod, all of whom are creating exclusive content for Luminary. The network plans to debut about 40 exclusive shows in its first year. 
The Luminary podcast app is available for iOS, Android, and via the web. Some of the podcasts available via the app are only on Luminary, but others are found on nearly any podcast app for free. Luminary also offers recommendations, similarly to what Netflix and Amazon do.
You can download the app for free and sign up for an account for free. With the free app and service, you can listen to non-exclusive shows and get recommendations. You still have to listen to advertisements, though. If you pay $7.99 per month for a Premium account, the ads disappear and you get access to the exclusive content.
Ruffling industry feathers
At launch, technical issues created controversy for Luminary podcasts. According to Business Insider, it prevented podcast creators from seeing how many listeners downloaded or played their shows. Luminary has since corrected the problem, but not without backlash.
Luminary has also struggled with podcast creators and networks withholding content from the app. The New York Times podcast "The Daily" and "Reply All" from Gimlet are the two most notable examples. As of publishing, Luminary still doesn't have access to these podcasts. Gimlet is owned by Spotify, which has its own ad-free, premium subscription service for both podcasts and music alike. It hardly makes sense for Spotify, which charges $9.99 a month, to let another podcast network and app sell access to an ad-free version of its show on another platform for a slightly lower price.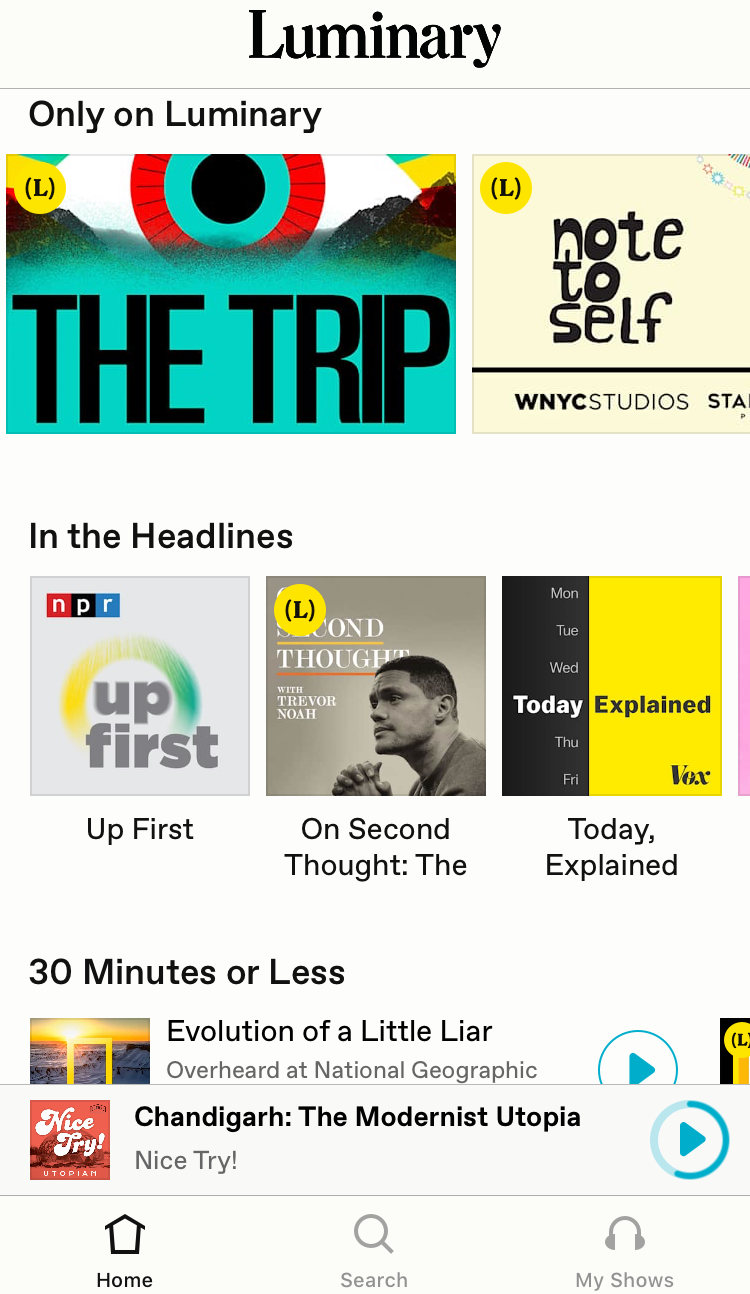 Evolving the podcast business model
As podcast listeners know, many of the best apps for playing podcasts don't have any skin in the content game. In other words, apps like Apple Podcast, Google Podcast, Pocket Casts, and Overcast don't care which shows you play. That's not the case when the podcast app is also trying to make a buck by getting you hooked on its original content, which is behind the paywall.
Though it's a rare setup, Luminary isn't the only company that's both a podcast network and app. There's also Himalaya, which launched a few weeks before Luminary. Unlike Luminary, Himalaya isn't going after celebrities and public figures to create new shows. Instead, it lets anyone apply to have a podcast that they can distribute on the platform. Himalaya's podcast-makers can set up a virtual tip jar on the platform. It's unclear from Himalaya's website whether the company gets a cut of these tips.
When asked about its business model, a Luminary spokesperson pointed out that the company is equally invested in both the content and the app. "We invested in technology to create an app that improves the user experience by making it easier to find and listen to great content. Since launching, we have focused on incorporating user feedback to continuously refine and improve the experience." Of course, recommending content is simple when you have invested in exclusive content and want people to pay for it.
Podcast listeners and ads
A report on podcast revenue from IAB and PwC estimates that marketers spent $479 million in 2018 on advertising placement in podcasts in the U.S., a surge of 53 percent from 2017 when it was estimated at $314 million. The report also notes that listeners respond well to ads in podcasts. (If you need more convincing that podcast listeners like ads, try any episode of The Anthropocene Reviewed by writer John Green. He has such a mastery of language and storytelling that it's often not until the call to action that you realize he's pitching a product.)
Baked-in ads that are read by the host and part of the podcast (and can't be changed) are no longer the only option. Many shows now use dynamic ads instead. Dynamic ads drop into place at the time of download to make sure they're still relevant when the listener hears them. According to the IAB and PwC report, dynamically placed ads rose from 41.7 percent of all podcast ads in 2017 to 48.8 in 2018.
Through it all, the number of podcast listeners continues to increase year over year as well. If all this is true, it begs the question: Why disrupt the current business model at all?
An ever-changing media landscape
Much of Luminary's catalog remains unreleased, and the app has only been available for a few months. It may simply be too soon to tell whether its model will be strong enough to last. Regardless of how it fares, the fact that Luminary is trying new approaches will likely benefit the industry, according to Manoush Zomorodi. Zomorodi is the co-founder of Stable Genius Productions and host of three podcasts: ZigZag, IRL, and Note to Self, which formerly aired on WNYC and is now becoming part of Luminary's lineup.
"Podcasting needs to experiment with multiple business models just like all media (especially news organizations) do," she said via email. 
Zomorodi, a radio and podcasting veteran, points out that the media landscape is continuously in flux. Revenue streams will certainly change, she says, but so will the content. The technology used to deliver media will change, too. "Will audio just become one more thing all content creators do? How will smart speakers change the audio experience? Will things become siloed with the professionals going for big money like TV creator partnerships with Netflix/Amazon Prime, but in podcasting's case, Spotify, Luminary, and maybe Apple? Will advertisers start to double down on small, niche content that has the most engagement with listeners?" Zomorodi asks. Luminary, and others, are asking the same questions–and hoping they find some answers along the way.