Bumbling political tricksters Jacob Wohl and Jack Burkman seem to be trying to convince the public that Ghislaine Maxwell hired them to undermine the federal charges against her.
Most are unconvinced.
This morning, the Daily Mail published a lengthy tale of sex, scandal, and intrigue alleging that Maxwell paid the pair of failed far-right scam artists $25,000 to smear Jeffrey Epstein's victims and get the federal prosecutor investigating her fired.
The piece relies primarily on a single source, Kristin Spealman—a model and paralegal who's lately been shopping stories to multiple outlets, including the Daily Dot—and a lobbyist disclosure form Burkman filed claiming to represent a company Maxwell purchased a home through.
Spealman claims that Wohl and Burkman previously attempted to hire her to smear Sen. Ted Cruz (R-Texas) and Rep. Nancy Pelosi (D-Calif.), which she also told Salon last month. She told the Daily Mail that they spilled the beans about Maxwell over drinks at Burkman's house earlier this month.
As proof, Spealman provided the Daily Mail with a photo of an electronic copy of a false statement they supposedly asked her to read about Cruz, and some notes she claimed to have written after their conversation at Burkman's.
It is possible that the records were created to back up the story, or that Burkman and Wohl lied to Spealman about being hired by Maxwell in hopes she would again go to the press.
There's also the possibility that given she is connected to them after trashing them, she's just as involved in their publicity stunts as they are.
Spealman did not return a voicemail seeking comment. Her Twitter account, which Salon referenced last month, is suspended.
To many, Maxwell hiring Burkman and Wohl for any purpose seems extremely unlikely; using a shell real estate company to officially hire the pair to lobby Congress and the Department of Justice, as the Daily Mail reports, even less so.
Unsurprisingly, the more you dig into the story, the more holes appear.
Last month, Spealman detailed the pair's antics to Salon. It was not a flattering tale. Yet in spite of this, mere weeks later they supposedly trusted her enough to invite her to Burkman's home for drinks, where they then discussed their representation of an extremely high-profile client, as the Daily Mail reports.
Further, Burkman's lobbying disclosure form has the correct address for Granite Reality, but says his firm was hired by Granite Realty, a separate New Hampshire-based company. Granite Realty told the Daily Dot they "absolutely did not" hire Burkman and Wohl.
Additionally, the lobbying disclosure filed by Burkman does not contain any proof he was really hired by Maxwell. It is merely a document typed up by Burkman boasting of claims of representation.
Nothing is required in the disclosure form that forces Burkman to show the claim is legitimate and Burkman provides no evidence it is.
Both Burkman and Wohl implied that they had been hired by Maxwell.
Via text, Wohl said, "I'm not authorized to comment on client matters."
"I can't comment on client [matters]," said Burkman via text.
Neither responded to follow-up questions attempting to confirm whether they represent Granite Realty or Granite Reality. It is possible that the misspelling is a typo—either caused by carelessness or based on the same error appearing in other coverage of the purchase.
It is also noteworthy that Burkman filed the lobbying disclosure one day after the name of the firm that Maxwell used to buy a home was made public. That news came after her highly publicized arrest.
Some have suggested that he read about the purchase and thought that being associated with the Epstein case would lend him clout. As strange as it may sound to most, strange is kind of he and Wohl's thing.
Even the Daily Mail notes that there is no evidence that Burkman has any relationship with Attorney General William Barr, whom Spealman claims he bragged about influencing to fire Maxwell's prosecutor. It also concedes, as has been previously reported, that President Donald Trump wanted the prosecutor fired for two years prior to his resignation in June. Maxwell was charged two weeks after he was fired..
Burkman and Wohl are notorious for concocting bizarre smears against public figures such as Sen. Elizabeth Warren (D.-Mass.), Dr. Anthony Fauci, Robert Mueller, Pete Buttigieg, and others. Their efforts to convince the public of tall tales, like that Warren was an adulterous dominatrix cougar, have routinely been thoroughly debunked.
Some do believe that Maxwell hired Wohl and Burkman.
"…[T]o all those saying it's untrue: The reason Jeffrey Epstein got away with what he did is that almost everyone ignored these kinds of stories in the British media. Ignoring this doesn't make it untrue. Investigate!" tweeted Miami Herald journalist Julie K. Brown, who broke the Epstein story.
As with anything associated with the two, others are skeptical, however.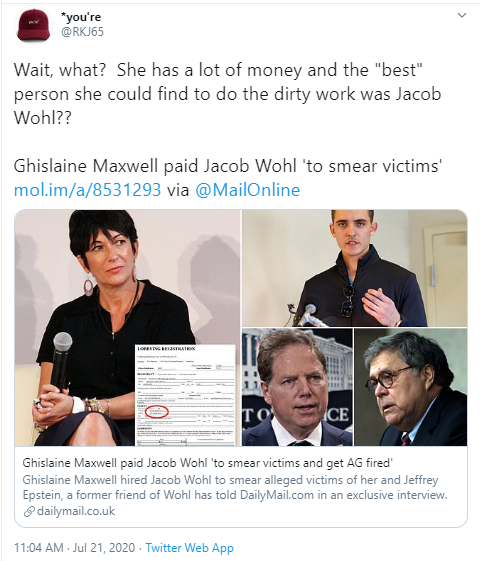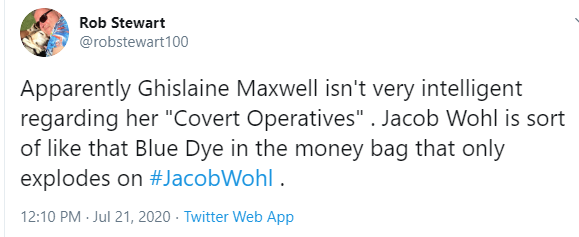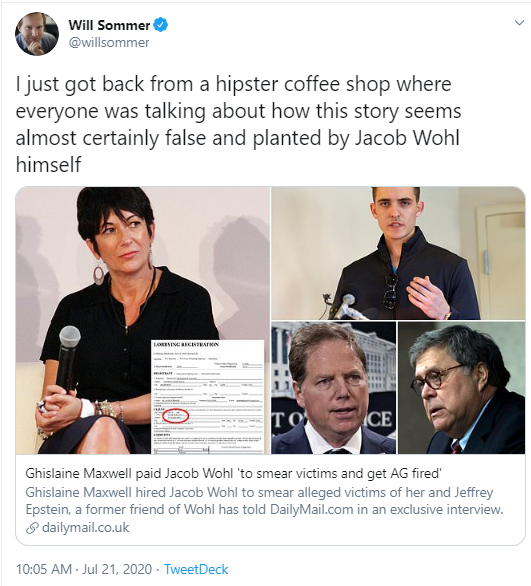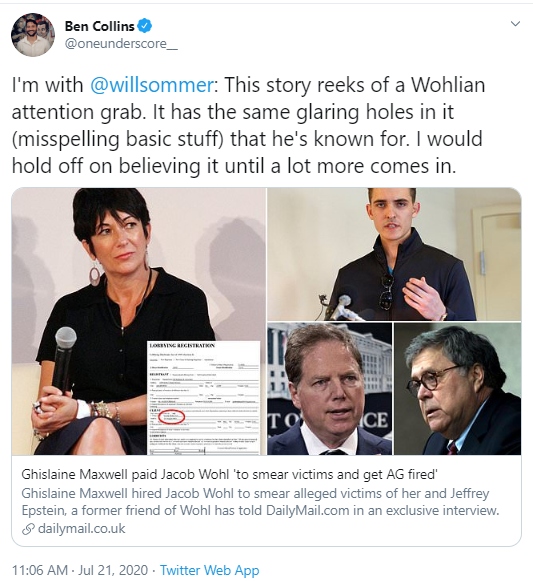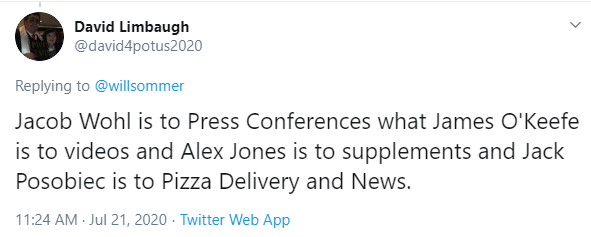 Time will tell if this story, like so many others involving Wohl and Burkman, falls apart.
READ MORE: