Blundering GOP political operatives Jack Burkman and Jacob Wohl are apparently not following the rules on Twitter. 
The duo, known for the sham press conferences they hold in Burkman's Arlington, Virginia, driveway to smear political rivals, seem to be running afoul of the social media company's bylaws. 
A source close to the duo spoke to the Daily Dot and stated that Wohl is Burkman's "moderator" now and has control over many of Burkman's online accounts, from his email address to his Twitter page.
"I think Jacob Wohl is moderating his [Jack Burkman's] Twitter account," the source told the Daily Dot. The source then explained that Wohl has taken over Burkman's life in the pursuit of making Burkman "famous." 
The source continued by highlighting Burkman's inability to operate Skype and his own Twitter account.
As the Daily Dot reported last month, Burkman's lobbying business in Washington, D.C., is on the decline with clients that want no part in his political stunts and smears. 
Burkman and Wohl are working out of his Arlington home, what the duo bill as the "2020 election headquarters." They claim presidential hopefuls including John Delaney and Sen. Bernie Sanders (I-Vt.) have come to face vetting in the hopes of garnering the "Burkman-Wohl Seal of Approval."
Wohl, who is set to be back in a California courtroom in December on security fraud charges, is said to be posting to Burkman's Twitter page.
It is clear there is a level of coordination, as he frequently shares Burkman's tweets to his personal Telegram account to promote them, often coming within seconds after it is posted to Twitter.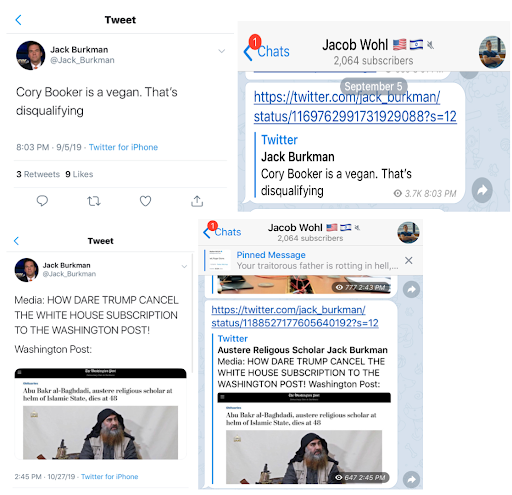 Burkman, who has previously told the Daily Dot that he doesn't operate his Twitter account, uses a flip phone and declared it's the only phone he has. In an Oct. 20 interview with the Daily Dot, Burkman declared, "you see this, this is my phone, I don't know how to… I can't tweet, I email my tweets to the radio syndicator." 
Yet most of Burkman's tweets on his Twitter account are sent out using an iPhone. 
Wohl, who was reached by the Daily Dot for comment, claims he occasionally takes part in "sending tweets which are sent by the guy at Radio America." 
The tweets in which Wohl takes part in crafting, he claims, are posted to Twitter via Radio America, a conservative radio station where Burkman produces a YouTube show called Behind the Curtain.
Radio America, based in Arlington, Virginia, says it excels "at creating distinctive programs of the highest caliber that are both entertaining and informative." 
Burkman's programming is not on the official programming schedule on Radio America's website. 
The duo stated to the Daily Dot that Rich McFadden, an employee of Radio America who oversees the production of Burkman's show, posts all the content to Burkman's Twitter account, not Wohl.
McFadden has not returned the Daily Dot's multiple requests for comment on the story. 
Representatives that answered the phone at Radio America told the Daily Dot there is no PR department at the radio station and continued to direct the Daily Dot to McFadden's voicemail. 
Wohl went further to explain to the Daily Dot that while he "occasionally sends tweets" to be published to Burkman's account by Radio America, the format is often not to his "liking." 
In an email provided to the Daily Dot by Wohl, he tried to backtrack that, claiming he just advises McFadden and Burkman on what to post to Twitter.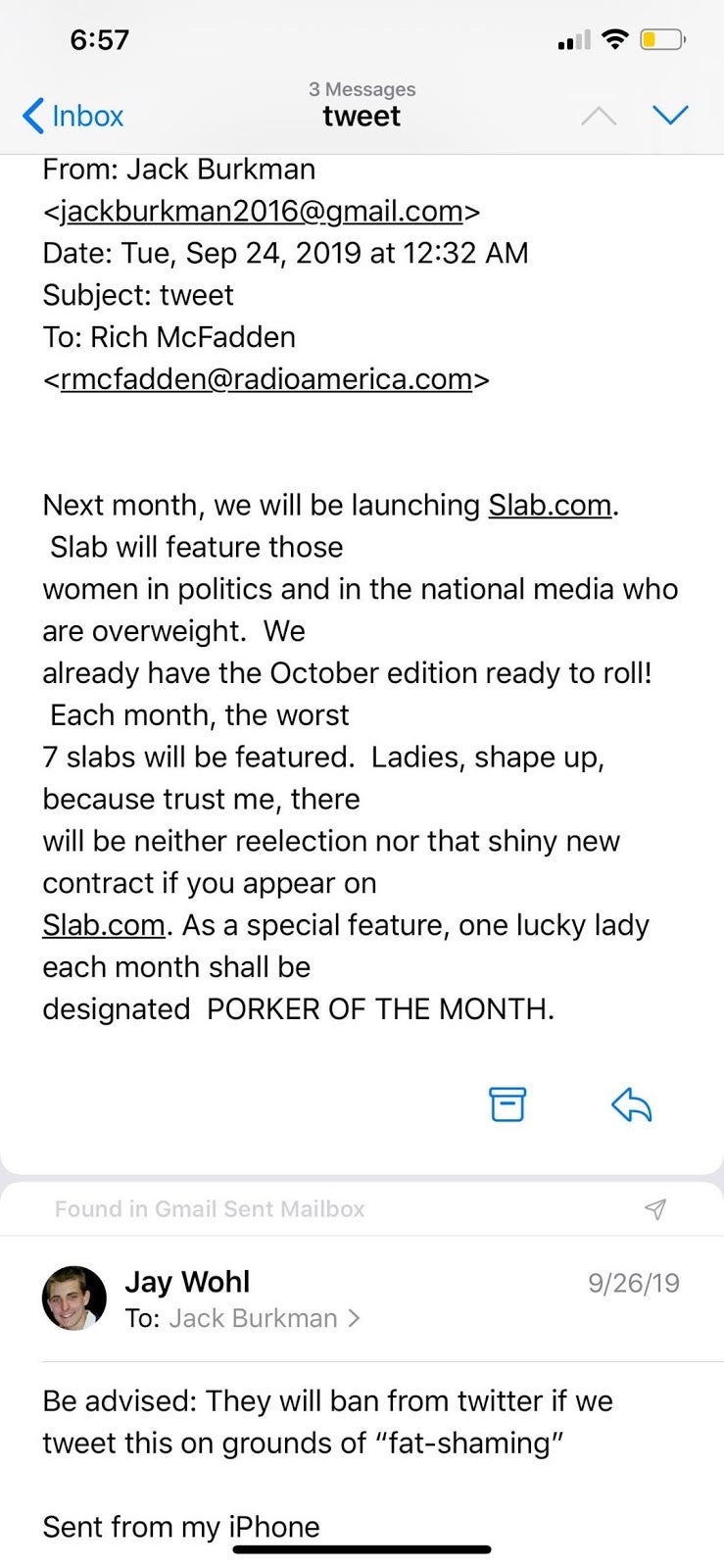 A source familiar with the matter told the Daily Dot that Burkman pays Radio America to produce the show, which has only a handful of total views. 
In light of the Daily Dot asking whether Wohl operates Burkman's Twitter account, Wohl posted to his Instagram story, declaring that he does, in fact, have a Twitter account, but uses it to "browse."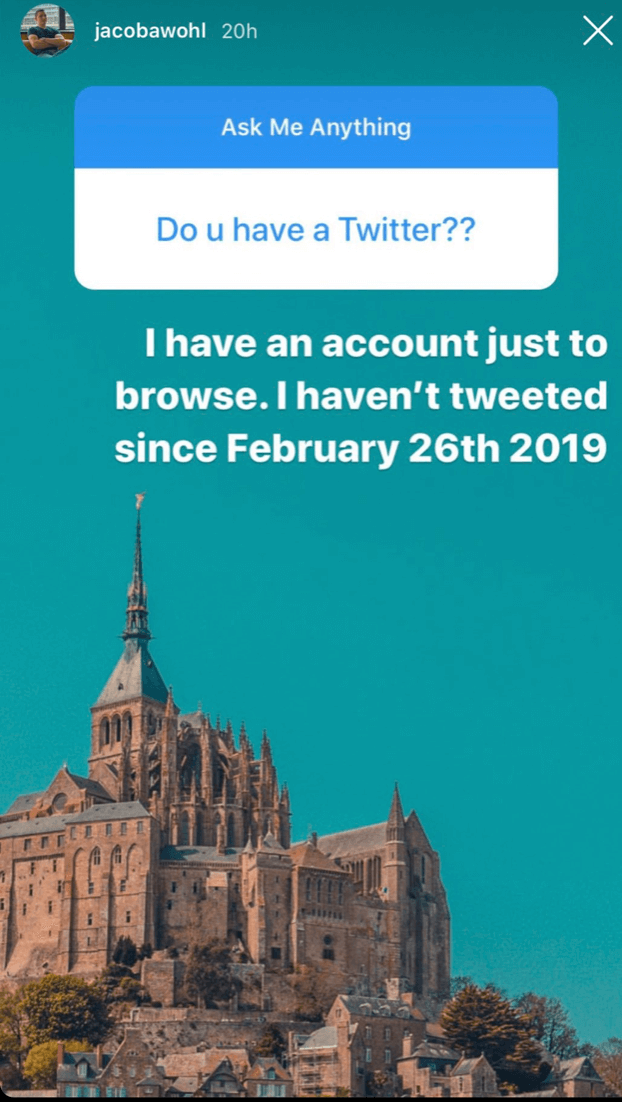 A Twitter spokesperson issued the following statement to the Daily Dot, "Jacob Wohl's account was suspended for multiple violations of the Twitter Rules, specifically creating and operating fake accounts."
But with Wohl likely operating Burkman's account, it could potentially be hit with a permanent suspension for violating its policy on impersonation.
Update 7:44am CT, Nov. 22: On Twitter, Burkman denied allegations Wohl runs his account, saying the "only person" who posts from it is him.
The only person who runs my twitter account is me

— Jack Burkman (@Jack_Burkman) November 22, 2019
This story has been updated.
READ MORE: