Sen. Ted Cruz (R-Tx.) was spotted not wearing a mask on an American Airlines flight, leaving many people wondering whether he was violating the airline's coronavirus policies.
A photo of the Texas senator was posted on Twitter on Sunday by user @hossenhenad. It shows Cruz sitting, looking at his phone and holding a coffee cup. He does not have a mask on.
"Captured today at 10:45am—@TedCruz on a commercial flight, refusing to wear a mask," @hossehenad wrote, adding in a later tweet: "For those asking, this was on an @AmericanAir flight—their policy clearly states that masks should be worn on the flight."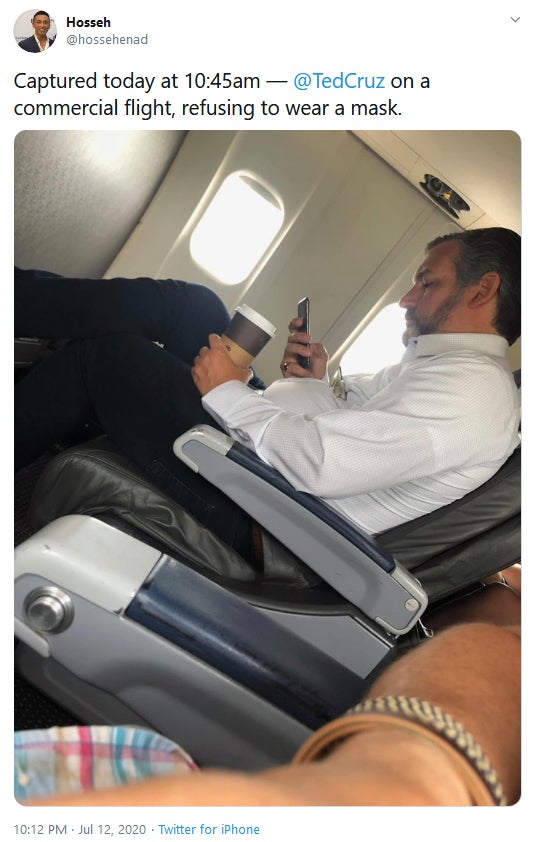 @hossehenad's tweet has gone viral, being retweeted more than 35,000 times.
The Twitter user posted another photo of Cruz at the gate that shows him again not wearing a mask.
American Airlines does have a policy requiring masks on flights. However, it also notes that the face covering can be removed while eating or drinking, and Cruz is holding a coffee cup in the first photo.
The airline has responded to multiple tweets about the photo, saying that the matter is being reviewed.
The company's Twitter account has responded to several people with: "We are committed to protecting the health and safety of all customers, and we are reviewing the details of this matter."
A representative for Cruz did not immediately respond to a request for comment by the Daily Dot. However, a spokesperson told USA Today the senator took off the mask to drink the coffee and put it back on afterward.
"Consistent with airline policy, he temporarily removes the mask while eating or drinking," the spokesperson told the newspaper. "Yesterday, during his flight he removed his mask to drink and put it back on afterward. We should all practice common sense measures to slow the spread of the virus."
This isn't the first plane-related viral moment for the Texas senator.
In 2018, amid his Senate race, Cruz was spotted looking at a photo of his Democratic challenger Beto O'Rourke. The photo sent the internet into a frenzy of memes.
READ MORE: