I've never owned a phone with a display larger than five inches. This isn't some kind of revelation or aberration—with over 500 million iPhones sold to date, and a large number of Android devices before the phablet revolution—most smartphone owners are in the same boat.
Since smartphones became a serious thing in 2007, I've owned a Blackberry (2.5-inches), a few iPhones (3.5-inch and 4-inch), a Samsung Galaxy S4 (5-inches), and a Moto X (4.7-inches). My adventure with the 5-inch Samsung Galaxy S4 only lasted six months, before I headed back to an iPhone.
That's not to say I haven't dabbled into the land of giant phones. Thanks to my career choice, I've used nearly every high-end phone that's been released in the last four years. Every HTC One, Sony Xperia, and Samsung Galaxy Note. While there have been some good options for someone looking for a device with a screen larger than five inches, for me, nothing ever stuck.
I had no desire to use a stylus, and many Android apps didn't look great on phablets until recently. These phones were good, not great. Compared to the much smaller iPhone and the 4.7-inch Moto X—which, for my money, was the best Android phone on the market for the past year—there was no reason to give a bigger phone any further consideration.
When Apple announced the iPhone 6 and iPhone 6 Plus earlier this month, I didn't even think about which one I would get. It was the iPhone 6 Plus, without question. The two biggest factors that determine which smartphone I buy are battery life and display quality. The iPhone 6 Plus checks both boxes.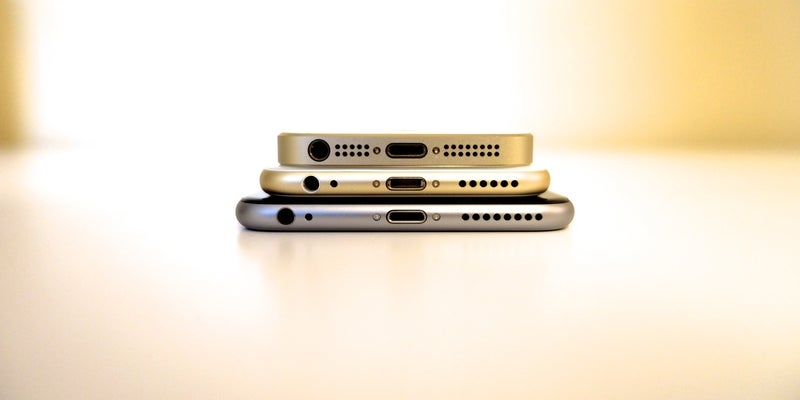 And of course, there's the hand thing: I have huge hands. Hands that can make normal sized objects look tiny. With that said, the iPhone 6 Plus doesn't feel huge. 
The iPhone 6 Plus definitely large, but it doesn't feel as big as the Samsung Galaxy Note 3, and is considerably smaller than the HTC One Max, its two biggest competitors at that size. Even the yet-to-be-released Samsung Galaxy Note 4 is thicker, wider, and heavier than the iPhone 6 Plus.
What is astonishing is how good the 5.5-inch display looks on the iPhone 6 Plus. It's really baffling that the 1080p screen on the 6 Plus looks considerably better than any other 1080p display on a smartphone—most with much better pixel density—and noticeably better than the Quad HD (2,560 x 1,440) display on the LG G3.

The iPhone 6 Plus display is actually viewable in direct sunlight and viewing angles have been substantially improved. Videos—now in full HD—look excellent, and using the camera on the iPhone 6 Plus is better than ever, thanks to the huge 5.5-inch viewfinder. The display, which peeks over the edges of the device, makes the now very necessary back swipe feel fluid, as there is no noticeable difference when transitioning from bezel to the display. 
The magicians in Apple's hardware division have done an amazing job making the iPhone 6 Plus the best display I've ever used.
When it comes to battery life, most phablets have been pretty good at holding a charge. The iPhone 6 Plus is a different beast. As I write this, it is 5:11pm. After a full day of work—checking emails, reading articles, and surfing Instagram and Twitter for countless hours—my iPhone 6 Plus battery is at 82 percent. If you have ever owned an iPhone, this would seem to be a typo. Good battery life is something iPhone users cannot relate to. The iPhone 6 Plus will be a revelation to many. For the first time in its history, Apple has produced an iPhone that can consistently last a full day without dying.

It's hard to understate the excellent battery in the iPhone 6 Plus. As someone who has at least five lighting cables in various places to avoid being caught with a dead iPhone, a battery this great is the last thing I expected Apple to deliver. After four days using the device, I don't check the battery to see if I need a charge, I just look to marvel at it.
The iPhone 6 Plus isn't for everyone. You may not want such a large device, especially if you're coming from an iPhone. It will challenge the seams of your skinny jeans. I'm pretty sure the iPhone 6 Plus will boost the man bag industry to unseen heights.
Despite the challenges it may pose to your outfit, the iPhone 6 Plus is undoubtedly the best phone over five inches. It's the best phone period, if you can handle it. What it isn't is small, and that's something that iPhone users have to get used to. At this point, it doesn't look like we're going back to the era of smaller phones. The phablet is here to stay, and we finally have a truly great one.
Photos via Micah Singleton