You're out to eat with friends, and finally the massive check arrives at your table. Do you split it evenly? Should each person note what they want charged on their credit card? Or does one person foot the tab and get paid back by the rest? The latter is often the simplest case, and Venmo is one option for doing that. But what is Venmo? And how does Venmo work?
In the field of peer-to-peer mobile payments, Venmo is now king. The app makes it straightforward to make payments to friends, and get paid back, too. Read on to find out everything you need to know about how Venmo works and how to make the most of its features.
What is Venmo?
Here's a quick primer to the popular payment app.
Venmo is a popular peer-to-peer payments app available on iOS and Android.
It lets you quickly and easily send money to friends and contacts with just a tap.
Venmo was founded back in 2009. Braintree acquired the company in 2012. That company was then acquired by PayPal in late 2013.
The name "Venmo" is an amalgamation of two words. "Vendere," which means "to sell" in Latin, and "mo" which is short for the word mobile.
The Venmo app is also well known for its public feed of transactions. It resembles a social media feed in some ways. You can like and comment on these transactions. People often simply use emoji to describe the "reason" (real or fictional) for their payment. It's pretty cute when you come across it.
Though given the latest focus on personal privacy in tech, you can make your transactions private. However, you still need to include a note regardless.
Venmo used to allow for payments on the web in addition to its mobile apps. The company announced it would be phasing out that option in June 2018.
How does Venmo work?
Venmo works pretty simply. Here's how.
Venmo works by linking with your bank account and (optionally) a credit or debit card. Transactions made with either your bank account, debit card, or with your Venmo balance are free. A standard three percent fee applies to credit card transactions.
You don't need to add any money to your Venmo account. If a friend pays you, you will need to request to withdraw those funds. That money ends up in your account the next business day.
You can use Venmo with contacts, as well as with select businesses. Venmo uses encryption to keep transactions and app data secure.
Money sent to you on the app within Venmo, is also available for another transaction in the future. Perhaps having money ready to go the next time you're splitting a check at dinner.
How to use Venmo
Here are a few tips on how to use Venmo.
First off, download the app from the App Store or Google Play. You can then create an account using your email address or Facebook account. You'll need to create a password and verify your email address before you can link and verify a bank account.
The app does this one of two ways. The first is by you inputting the username and password that you use for online banking. The second is by manually inputting the account number and routing number. When you choose this method, Venmo will send a less than $1 micro-transfer to your bank account. It will also send along a micro-withdrawal.
You should see this within three business days of signing up. And you should make sure you have at least $2 in your account before signing up to avoid overdraft fees. From there, you can also choose to link a credit or debit card.
After that, you can add friends on Venmo, either searching by name or username. You can also grant the app access to your contacts. Alternatively, if you link Venmo to your Facebook account, it can search through your Facebook friends.
In person, you can also add friends via QR code. Simply open the Venmo code scanner and point it at the QR code pulled up on their phone's screen. Once scanned, the app will take you to their profile page, where you can add them as a friend.
READ MORE:
How to send or receive money on the Venmo app
Venmo is so popular because it's so easy to use. Here's how to send and receive money on the Venmo app.
To make a payment to someone, tap the circular icon in the bottom right of the app.
Then, select which friend you want to make a payment with.
Input the amount, and tap whether you're requesting money from them or paying them to complete the transaction.
Here's one last thing to note. Directly above the Pay button is a button that shows who can see the reason for this transaction.
Select either Public, Friends, or Private. In the latter case, the transaction is completely hidden from the app's timeline. Nice!
Otherwise, the description of your transaction will be public. Minus the exact dollar amount, of course.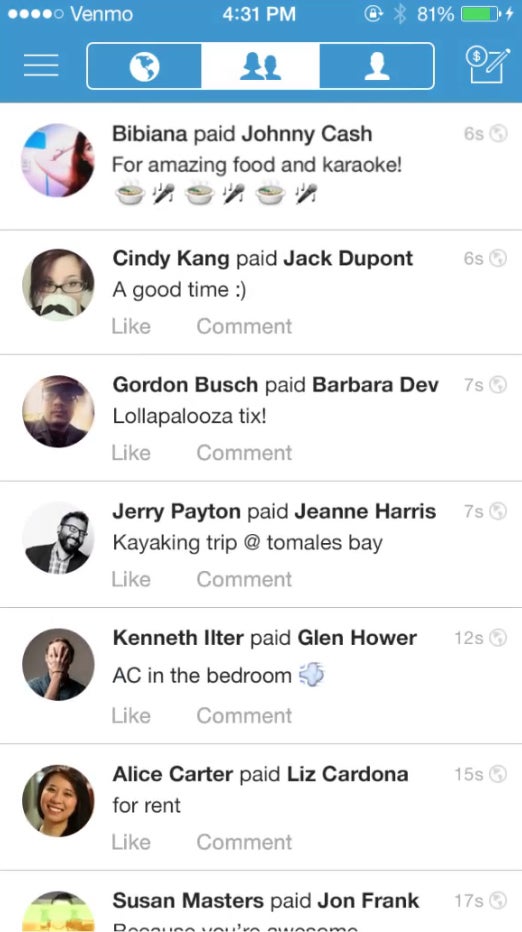 How to use Venmo privacy settings
Setting up the privacy settings in the Venmo app is easy to do. Here's how.
In the Privacy section, you can select a default privacy option for transactions in the app.
In this menu, you can also edit the visibility of your past transactions.
If you made a number of public transactions in the past, you can switch them to Friends or Private, instead.
It's a good idea not to make your transactions completely public. It could prove to be a privacy concern at some point.
Venmo users can also make the app a little more secure. In the PIN Code & Fingerprint section, you can choose to protect access to the app further. In the case that someone gains access to your phone, this ensures that they won't be able to open the app. Your payments and wallet will be safe.
Then there's the Friends & Social section. You can opt to let the app automatically add contacts or Facebook friends to be added to your Venmo. And like most apps, you can also head to the Notifications section to adjust what alerts you get.
It's a good idea to keep at least some of these alerts switched on. If your app gets hacked or there's some other kind of fraudulent activity, you'll know instantly.
READ MORE:
As with all payment apps, there are some considerations to make before downloading Venmo. The company has received criticism in the past for its low security levels. Enter, scammers. The app continues to grow rapidly with over 40 million active accounts. Its acquirement by PayPal will be sure to ease a few fears over its safety. However it's important to understand the associated risks with how Venmo works before you link up your bank details.
Criticism over public transactions
Venmo has received the most public criticism over its transaction feed. While you can set the privacy level of your transactions, many people choose to keep theirs public.
If you do this, it is browsable by anyone. In fact, some websites and organizations aggregate this information for evidence of illegal payments. (After the Super Bowl, the Outline found evidence of a whole lot of illegal betting, for example. Another site, Vicemo, shows a feed of publicly shared drug, sex, and booze-related transactions.)
Luckily, staying anonymous on the app is pretty simple. If you don't want your transaction information shared with anyone else, you can simply set activity to private.
Scams and hacks on the platform
While Venmo works to ensure it's a secure app for users, it's also vulnerable to the occasional spammer or hacker. In some cases, people will create fraudulent Venmo accounts with stolen credit card credentials.
If, for example, a person does this and purchases an item you're selling, the could be withdrawn. Meaning, of course, you're out of profits from your sale. Buyer, and seller, beware.
One particular scheme operating under the name Andy Mai has accrued more than $125,000 in reversed transactions since 2014. At least 10 victims were left with no option but to turn to the police. Bummer.
Another risk is simply someone hacking into your account. Perhaps by obtaining your login information. Then, they could use it to steal money or request money from other people.
In December 2019, some Venmo users were being spammed with requests to pay other users. BuzzFeed News reports that users were being sent numerous requests to pay users who appeared to have inauthentic profiles. The idea seems to be that those users would hit "pay" by accident instead of denying the request.
Similarly, police departments have warned Venmo users to ignore texts claiming to be from the app. The texts would tell users they need to log into their account and including a a phishing link.
The company has also struggled with processing transactions with keywords they've flagged. Of note, users can struggle to send transactions with Arabic names in the subject. Also, users who have entered phrases related to Cuba have found their transactions put under review.
Of course, Venmo is not always the best option if you are buying or selling on an online venue. This includes Craigslist or Facebook Marketplace. It's important to understand how to use Venmo safely, which is generally to make payments between trusted friends. In fact, Venmo's security section says:
Venmo is designed for payments between friends and people who trust each other. Avoid payments to people you don't know, especially if it involves a sale for goods and services (like event tickets and Craigslist items). These payments are potentially high risk, and you could lose your money without getting what you paid for. Venmo does not offer buyer or seller protection.
FTC settlement
Following reports of hacks and transaction fraud in 2016, the FTC announced a settlement with Venmo.
One such problem with the app at the time was the way it handled notifications. The app would tell users that a payment had been deposited in their account. However, it was in fact it was still under review. Scammers were able to take advantage of this discrepancy. This allows for goods to be taken from a seller and paying fraudulently before a transaction sees reversal. Pretty sneaky, sis.
The FTC also found Venmo did not live up to its claim of bank-level security. They cite Venmo's failure at the time to notify users when an email address or password was changed. Venmo also failed to notify users when when their account was accessed from a new device. This seems like a major oversight.
What is Venmo debit card?
Venmo also partnered with Mastercard to launch a physical debit card that links to your Venmo account. It works just like a bank account or debit card. With a Venmo Debit Card, users can also set up to direct deposit their paychecks into their Venmo account.
To get a Venmo card, simply apply on the site. Because it not a credit card, no credit check is required. As long as you have a Venmo account, you are eligible.
With it, users can withdraw cash from ATMs, and use the card to pay at businesses that accept Mastercard. Much like a credit card, Venmo cardholders can use the app to pause the card. You know, if it's lost or stolen. It is linked to the user's bank account through Venmo. Just in case your balance in the app is low.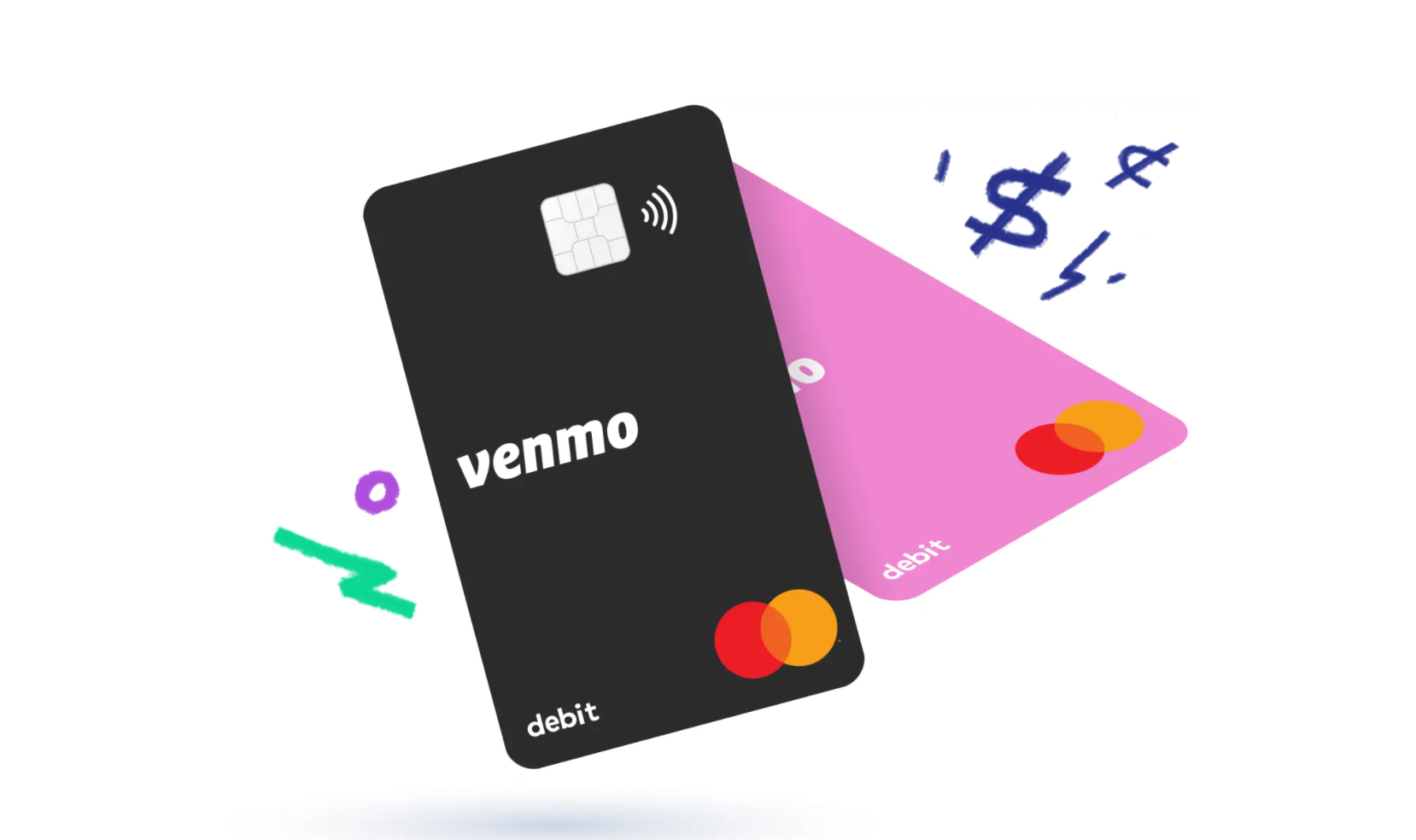 Should you use Venmo Card?
Venmo card operates like a traditional bank debit card, so if you have one and are comfortable with it, there's no need to switch. Venmo pledges to get direct deposits from paychecks faster to users, so if that appeals to you, signing up for Venmo card may help speed that process up.
Unlike most traditional debit cards, Venmo card does offer some rewards programs, like a cashback partnership with Dosh.
What is Venmo credit card
As part of its efforts to vertically integrated your money—alongside banking and a debit card—in December 2020, Venmo introduced a credit card.
Like its debit card, it is backed by a legitimate company, with Visa supporting the Venmo credit card. It can be managed through the Venmo app, and can be paid off by using your Venmo balance.

The credit card includes a personal QR code to help friends easily pay you back.
Should I use Venmo credit card
Much like mainstream credit cards, it contains no annual fees and some rewards. Awards go straight to your Venmo account, with 3% back on "top spend" items.

The Venmo credit card being accessed and managed through the Venmo app can make money management easier and simpler for some, but if you already have a credit card through MasterCard or Visa, getting a Venmo card seems like an unnecessary addition.
Venmo-Grubhub-Seamless integration
As the coronavirus pandemic forced Americans into their homes, many leaned heavily on food delivery apps. It's been a boon to Venmo. It's been integrated into these apps for almost two years now. Pretty handy. Especially if you love to eat out.
Grubhub and Seamless have Venmo integrated into its apps which helps you more easily split payment among friends, family, or coworkers when you order food delivery. (Even though you shouldn't be doing big orders with people right now).
You can't however, use Venmo through browser ordering on Grubhub and its partner site Seamless. You must use the food delivery apps to pay with Venmo. Simply go to "My Seamless" on the app and click "Add a new payment" under "Payment" to link your Venmo account. With Grubhub, just change the payment option when you go to the checkout order, and request money right away as you place your order.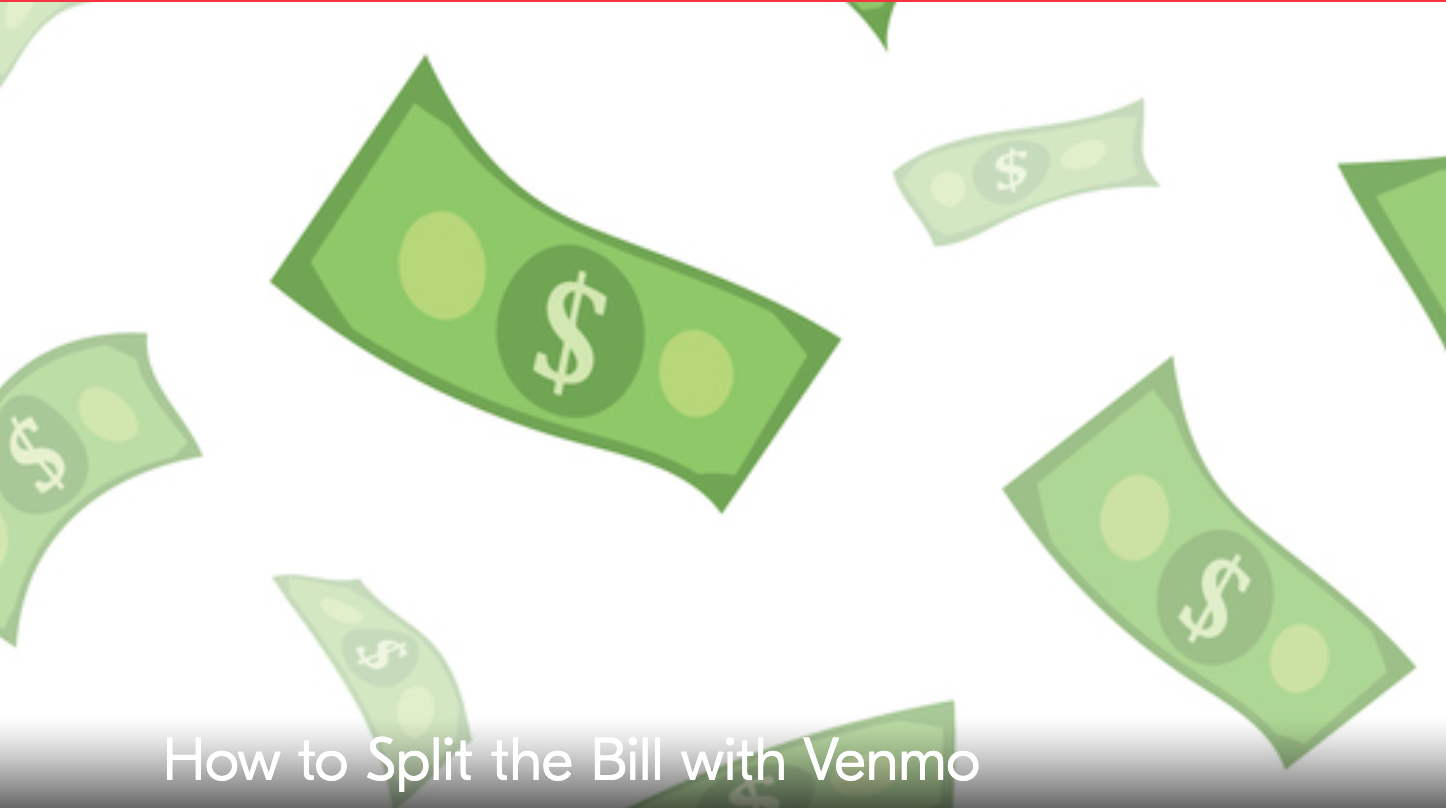 How Venmo works vs PayPal vs Google Pay vs Apple Pay Cash
Venmo has a lot of competitors in the peer-to-peer payments space. Depending on your preferences, one payment app may be better than the other. Here are a few tips to ensure a happy Venmo experience.
Keep it amongst friends
If you're purchasing a product from someone you don't know—or don't know very well—you should use PayPal instead of Venmo. Unlike Venmo, PayPal offers some degree of buyer protection in the case that your purchase doesn't arrive in the promised condition, or if there's fraudulent activity involved. Venmo does not. If you're purchasing items online or on a mobile app, while you can use Venmo, Apple Pay, Google Pay, or PayPal may be more secure options. (Although it's worth noting that some retailers have Venmo business accounts.)
Fun factor
Compared to PayPal, Apple Pay Cash, or other payment apps, Venmo definitely wins on making a traditionally boring chore—paying people—and making it fun. If you've got a bit of voyeur in you, scrolling through the app's transaction feed can be a source of curiosity and entertainment. Deciding how to describe your own transactions is also enjoyable.
Convenience
What payment service is easiest to use? If you've been conversing with a friend you owe money to over text message, using Apple Pay Cash or Google Pay (formerly Google Wallet) may technically be the simplest choice. This may certainly be the case if your recipient doesn't use Venmo or PayPal—why make them sign up for a new app? However, if you're both already on Venmo, or if you haven't set up Apple Pay or Google Pay, it's a no-brainer. And Venmo vs. PayPal—the Venmo interface makes the transaction a bit quicker than PayPal's, if you're in a crunch for time.
So the next time you're sitting around the restaurant and your friend says "How does Venmo work?" you know where to send them to find out more. Happy cashing!
---
Read more of the Daily Dot's tech and politics coverage