If you want to send money to friends, these days you've got a number of options. You can use an app like Venmo, use Zelle, or even send money through your favorite messaging app, like iOS' Messages or Facebook Messenger. You can also use the PayPal app.
Have you ever wondered about what PayPal is, or how the payment service actually works? Look no further. Here's everything you need to know to get started on PayPal—or decide whether to use it, or one of its many  competitors.
What is Paypal?
PayPal is one of the oldest and well known of these money-sending options—even if it's not the oldest mobile alternative available. PayPal lets you make a payment to a friend or retailer without them having to handle your credit card or bank account information. Other services such as Stripe and Apple Pay do this as well.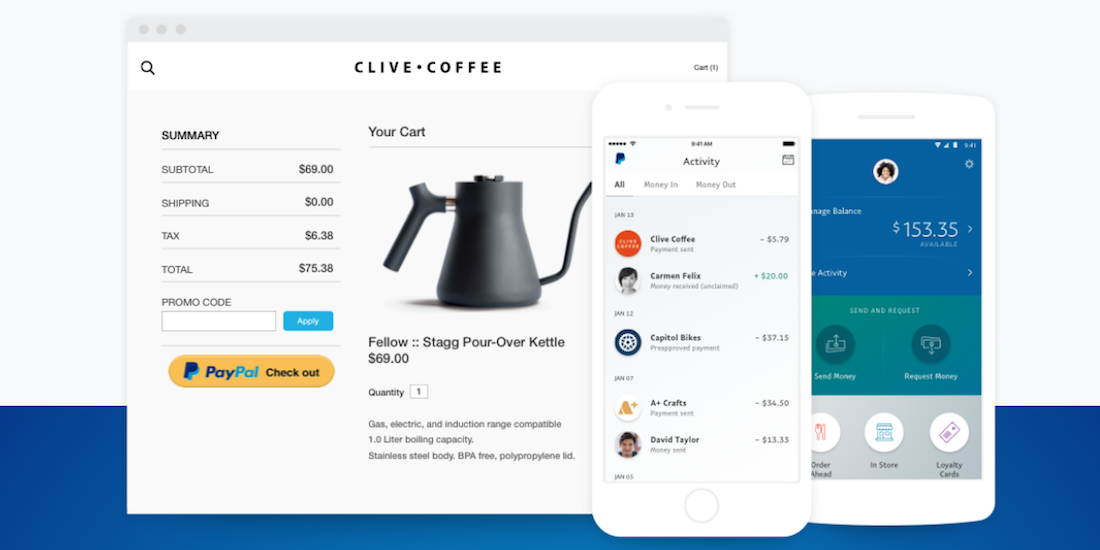 How does Paypal work?
When you first sign up for Paypal, you'll link it to your bank account or a credit/debit card by providing all of the necessary info. If you're using a bank, that'll mean your account and routing number. Paypal will then confirm your account by depositing or charging two small amounts, which you'll then confirm (and the company will retract). Once you're all set up, you'll just log-in to your account with an email address and password, and PayPal handles the payment part of the equation.
There are a few benefits to this:
1) Faster transactions
Sometimes, using PayPal can make transactions quicker, since you don't have to tap in all of your credit card information to make a purchase. If you link multiple cards or accounts, you can select which one you want to use once you've logged in.
On top of that, you can enable PayPal's One Touch option, which keeps you automatically logged into a particular device and browser for up to 180 days.
2) Extra transaction security and protections
PayPal encrypts your transactions, which helps keep your payment information secure. It also offers Purchase Protection in the case of a shipping error, damage during shipping, or if you're sent a product that doesn't match its posted description (particularly if you purchase something on eBay).
3) Free transactions with friends and family
Need to chip in for pizza? Owe your mom $20? Waiting for your friends to pay you back after grabbing a tab at the bar? Paypal allows you to send payments to family and friends for free in the U.S. Otherwise, here's how the fee structure break down:

What are the potential downsides of Paypal?
Not everyone is a fan of PayPal. PayPal is frequently the target of phishing scams, so if you're not attentive about the source of emails (or click links sent via email), you could be susceptible. The FBI is also investigating incidences where individuals' identities were stolen and then used to open new PayPal accounts or make PayPal transactions.
PayPal has also come under fire for its Credit option, which was formerly called "Bill Me Later." Some users accidentally began using the service or began using it under false pretenses. They were then were charged late fees for not making payments on time (which PayPal paid a $25 million penalty over). Others have simply experienced a number of issues with the service.
How do you use the PayPal app?
To get started with PayPal, first you need to create an account. We recommend using an email address you don't link to a lot of other apps or service. This is one account you don't want to get hacked. From there, you'll go through the setup process, which includes linking your account to either your bank account or a credit or debit card.
Once you're setup and the app is downloaded, it's relatively straightforward to use. From the app's main screen you can check your PayPal account balance and see a listing of your recent activity, much like a bank or credit card statement. You can also send or request money.
1) Send or request money
To send money, tap the Send Money button in the app. Then, tap out the name, email address, or phone number of the person you want to send money to. (When you've used this a few times, a list of recent contacts will show up below this field, making it easy to re-send money to a friend or family member.) From there, tap out the amount you want to send. On the next screen you can confirm that amount and add a note as to why you're sending the money.
You can also choose the payment type: Personal, which incurs no extra fees, or Purchase, which takes a 2.9 percent cut plus a $0.30 transaction fee from the amount you're sending to the recipient. You can also choose which account you want to draw money from. When you're ready hit the "Send now" button, and your recipient will see the funds in their PayPal account instantly.
To request money, the process is similar. You select a contact, an amount, and then get a chance to review your request before sending it through. This option is useful, say, if you're the roommate in charge of collecting rent and utilities each month—you can bill your roommates the amount needed, and they can pay it quickly and easily.
2) Other features
The PayPal app includes a number of other options, too. If you want to collect money to go towards a specific cause or purchase, you can create a Money Pool. This lets you collect money from the contacts you share it with, and then use it or redistribute it as needed. You could use it to collect money to fund an upcoming party, for example or feasibly to settle up something like Super Bowl bets (although, like Venmo, PayPal prohibits "transactions for gambling activities" in its terms and services).
You can also use PayPal to donate to your favorite charities, for in-store purchases, and to order food or restaurant deliveries from nearby stores. The app can also collect loyalty cards for retailers, too.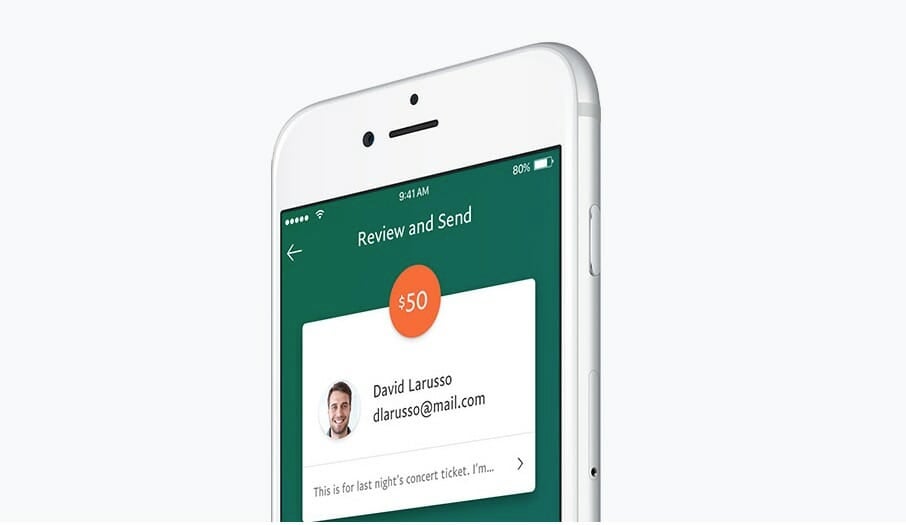 Does PayPal have other apps?
PayPal actually has three different apps: the original PayPal app, which lets you send and receive money from friends or businesses; the PayPal Business app, which is designed for business owners to manage invoicing, purchases, and account activity; and the PayPal Here app, which acts as a mobile point-of-sale system.
On top of that, PayPal actually is the parent company of Venmo. So, if you use Venmo, while you're getting a different interface and experience, you're still using a PayPal-owned app.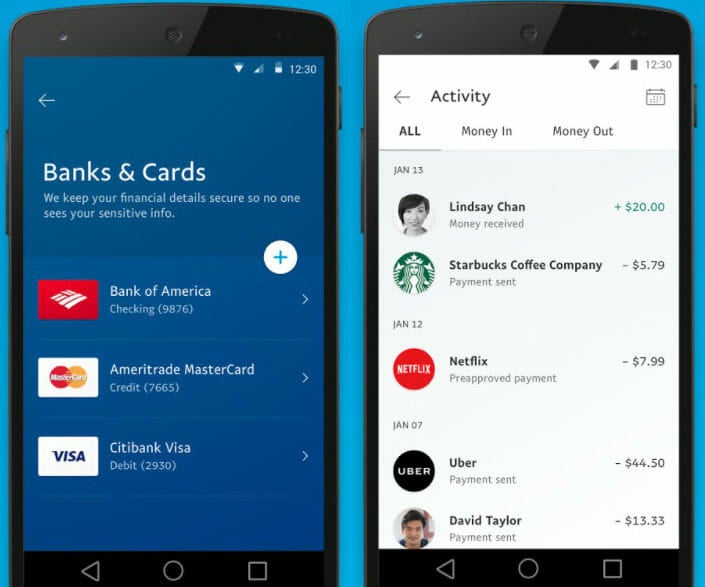 Paypal vs Venmo vs Google Wallet
Here's how PayPal compares to other peer-to-peer payment options such as Venmo, Square Cash, Apple Pay, and messenger-based payments.
1) Wide retail acceptance
Since PayPal has been around so long (it was founded back in 1998!), it has the advantage of being widely accepted by a number of individuals and retailers. In fact, you can use it as payment on a number of apps and websites, including Walmart, Best Buy, Ulta, and Nike.
Other apps, such as Venmo and Square Cash, can only be used for peer-to-peer payments. Virtually no (traditional) retailers accept payments from those apps. However, options like Apple Pay and Android Pay, because they use NFC technology built into your handset, are accepted at a number of brick-and-mortar retailers that have systems that accept contactless payments.
2) A clunkier interface
The PayPal app interface definitely isn't what you'd consider"slick." Compared to Venmo, Apple Pay Cash, or Facebook Messages, sending a payment to a friend takes a few extra taps. The PayPal app experience isn't as streamlined as some of its competitors primarily because the app offers a number of other features beyond just peer-to-peer payments.
3) Security
According to some experts, using PayPal to make payments online is safer than entering in your credit card information—but that's essentially the same level of privacy protections you'd get from using Apple Pay or another option, too.
4) Speed
Like most of its competitors, PayPal delivers funds practically instantaneously. However, while most apps take a day or two to process that payment and deliver it to your bank account (PayPal is no exception here), PayPal does have the option of an "Instant Transfer," which charges an extra $0.25 to immediately transfer funds to a MasterCard or Visa debit card. It's a nice option to have if you need that money now. Venmo, the PayPal app's main "competitor," also offers this same service.
Editor's note: This article is regularly updated for relevance.