.PayPal is one of the oldest online payment systems, and today, it's also one of the biggest. The service has more than 227 million active users and handles payments for more than 17 million websites and organizations. It also handles peer-to-peer transactions in its mobile app. However, despite its popularity, many have qualms about the service. Most importantly: Is PayPal safe to use?
It's a good question, and one that's smart to ask of any app or service that handles delicate data like your financial information. There are certainly pros and cons to using PayPal, and as with any online payment platform, there are risks involved. If you're thinking of using PayPal for your company or using the app to send payments to friends, here's what you should know.
PayPal is a digital service that lets you make payments to friends or businesses without them having to handle your bank or credit card information. You can use PayPal with websites online, or with one of its mobile apps. PayPal offers four different mobile apps, depending on your needs: its main, consumer-focused PayPal app; PayPal Business, which lets retailers manage purchases, invoicing, and other account activity; PayPal Here, its point-of-sale system; and fast-growing peer-to-peer payment app Venmo.
Is PayPal safe?
PayPal has a number of security and privacy precautions to safeguard against issues such as fraudulent transactions and identity theft.
1) Buyer and seller protection
Firstly, PayPal offers a protection program for both buyers and sellers on its platform. If you purchase physical goods online, PayPal will fully reimburse you (plus postage) if it doesn't arrive or doesn't match the seller's posted description. For sellers, PayPal will ensure you receive full eligible payments in the case of an unauthorized payment or if a buyer says she never received their purchase. Both programs have some eligibility requirements.
2) Encryption
PayPal utilizes end-to-end encryption in all of its transactions and outlines some of the techniques it employs on its website, which helps keep all of the details for your transactions secure. (You can learn more about how encryption works here.) These include using a TLS connection (a secure connection over HTTPS), key pinning (which ensures you only connect to a legitimate PayPal server for transactions), and following data security standards such as PCI-DSS (the Payment Card Industry Data Security Standard).
3) Additional security options
Whenever you send or receive a payment, PayPal will email you a confirmation—a good way to know your transaction was successful, or alert you if something is amiss. PayPal offers a form of two-factor authentication it calls the PayPal Security Key. With this enabled, you're sent a one-time PIN for each log-in via SMS.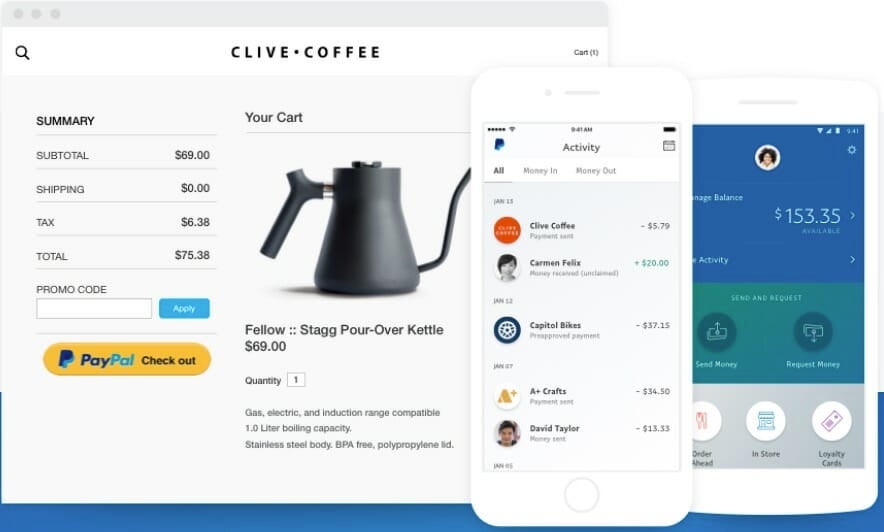 What are the risks of using PayPal?
Still, PayPal is a frequent target for scams, and as such, carries some risks. The biggest risk comes if you re-use passwords or log-in information between PayPal and other websites. If another site has been hacked in the past, and you re-use that information, hackers have an easy way into your account. (And it's worth noting that a lot of websites, apps, and services have been hacked over the past few years.)
PayPal users also sometimes find themselves at the pointy end of phishing scams. These emails or messages try to lure you into revealing your log-in information to a site pretending to be PayPal. From there, a hacker can access your account and make payments on their own behalf—often locking you out of your own account in the process. To avoid these scams, double-check the authenticity of any email you receive that claims to be affiliated with PayPal. Be sure to look at the sender's email address and where any of the email's links lead before clicking on them. If you're worried about your account, it's far better to log in directly to your account from PayPal's homepage and inquire from there.
Signing up for the PayPal Security Key (covered above) will also provide another layer of protection should someone try to hack into your account.
So, is PayPal safe?
As long as you hold your PayPal log-in credentials close, don't reuse passwords, and enable two-factor authentication, using PayPal shouldn't be any more risky than using any other payment app out there—or a credit card, for that matter. Compared to other forms of payment, PayPal does offer more guarantees in case you get ripped off, as long as you qualify. And PayPal has years of experience that have helped forge its current security practices. If you're savvy about spotting spam emails (or at least not clicking on their links), you shouldn't have any major issues using PayPal.