Thanks to the magic of apps, you can have booze delivered right to your doorstep. 
The function of Minibar, which launched Wednesday, is simple: You sign up with your iPhone or iPad, then just pick and click a bottle of liquor or wine. It's like a Party Barn on wheels, assuming you live in New York City. 
Sure, it has its issues—IRL alcoholism is an ugly thing—but it seemed the perfect app to review. (It's difficult to beat getting my employer to reimburse me for sitting at home and drinking.)
"OMG. This now puts booze on par with pizza for ease of delivery if it works well," my coworker Grant Robertson told me as he downloaded it and placed his own order.
The only problem is that it's not a good app. By that I mean Minibar is quite buggy. I had to enter my address twice, and my credit card several times. At one point Minibar simply locked up, wheel in the center of the screen happy to spin forever. I don't use my iPad often, but this was the first time I've ever had to do a hard shutdown. When I first entered my zip code, it told me only Manhattan customers would get speedy service, and I live in Brooklyn. That's the kind of second-rate service you usually get from cabbies.
As a fan of Justified who grew up a few miles outside Kentucky, I chose bourbon. Minibar has a dozen of them. Since I'm well familiar with Kings County's version, I went with the other local hooch on the menu, a small bottle of Widow Jane. It didn't give me an estimated delivery time, so I tried to check my status under "Orders," which marked my bottle's status as "Delivered," a claim that turned out to be very untrue.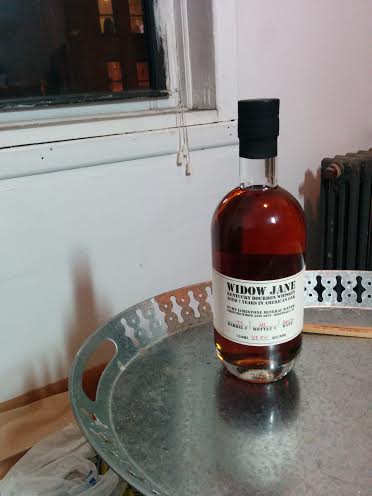 As I poked around the app for a number to call (which kind of defeats the purpose, since liquor delivered by phone order is already a thing in my neighborhood), they called me first.
"Hi, Kevin? This is Lara from Minibar. You just tried to order a 200-mL bottle? Well, we're out of stock, unfortunately, so we're just going to send you a 750 mL bottle instead. Since you placed the order already, we won't charge you extra."
At this point in the story, I'd like to point out that I have a lot of integrity when it comes to ordering liquor to my house on the company dime and complaining that the technology behind it isn't perfect. I never mentioned to her that I was writing about her service, so this was in no way a plot to get a better review. Unless she googled my name before calling me, in which case she's a schemer who has played us all.
Then I had an email confirmation, which estimated an hour. And it was right: A guy came to my door 55 minutes later, had me sign a receipt (you pre-pay tip), and handed me a bottle.
Business was doing OK, he said, but he clearly didn't want to chat: He had bottles to deliver. So he gingerly stepped around the day's slush, into his dark, late-'90s Pontiac, and onto his next delivery adventure. While he was less than friendly, Minibar's Twitter personality is quite amiable. 
@natashaattal @chrissyteigen Wine is practically fruit – we say go for it! You deserve it.

— Minibar (@MinibarDelivery) February 5, 2014
Would I use Minibar again? Likely, no. My local liquor store delivers with a simple phone (with no room for glitches). So the convenience of staying home is already available, sans iOS-created meltdowns—and if what I'm looking for is some witty repartee with my bartender, the lackluster exchange I had with the delivery guy isn't going to cut it.
But I will say this: If you should ever be tasked with sitting at home for work and there's a new booze-delivery app in your area you're asked to order and then drink free booze from, Minibar has got you covered.