Shortly after Facebook revealed it's getting in on the passive location-sharing action, Google has decided to do… the exact same thing, right down to the name of its feature. According to an AndroidPolice report, Google is preparing to launch a service called "Nearby." Not to be confused with Facebook's "Nearby Friends," of course.
In addition to the omission of one word in its naming scheme, there are a few differences between Facebook's app and Google's. The reportedly forthcoming service for Android devices will allow for location-based interactions and alerts between users and their friends, places, and things. Facebook's is strictly limited to telling you what friends are… well, nearby, so it's more focused on simply finding your friends than giving you an idea of all the things going on around you. Apple is doing something similar with iOS 8, though the feature isn't as far-reaching as Nearby; it alerts you when you're near a Starbucks, Apple store, or Costco. Now this could be annoying, but at least at the moment it doesn't appear it needs too much of your personal data. 
Nearby on the other hand… well, here's how Nearby is explained in Google's own language, which AndroidPolice says was exclusively obtained and is highly reliable:
Nearby lets you connect, share, and do more with the people, places, and things near you.

When Nearby is turned on for your account, Google can periodically turn on the mic, Wi-Fi, Bluetooth, and similar features on all your current and future devices. Google+ and other Google services need this access to help you connect, share, and more.

When you turn on Nearby, you're also turning on Location History for your account and Location Reporting for this device. Google needs these services to periodically store your location data for use by Nearby, other Google services, and more.
That's a lot of permissions you're giving Google access to with Nearby. A few things to understand about Nearby, though: You can turn it on and off. You don't have to give this app access to your mic, Wi-Fi, location history (yikes), or anything else. You also have the ability to choose who Nearby works with, meaning if you want the app to interact with other Nearby users, you can decide which ones. For instance, you're probably OK with your friends getting alerts when you're around or doing something fun in their area (I said probably). You might not want your boss getting a ping if you're around the corner at Hooters when you went home early because you had a "sinus thing."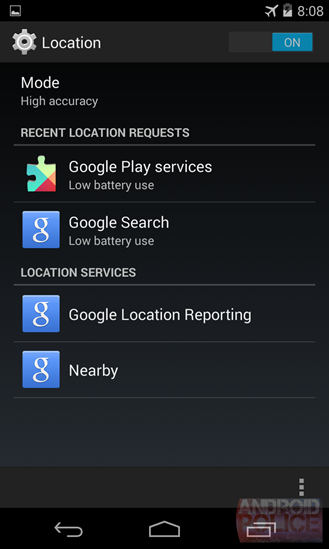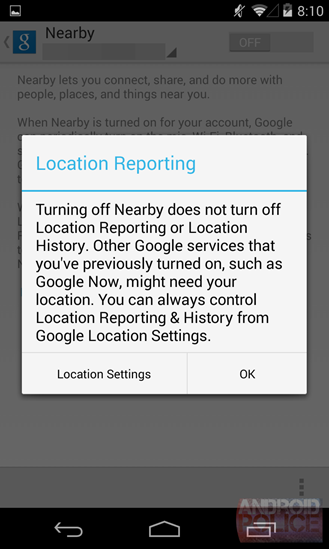 At the end of the day, Nearby could be a fun and useful feature for Android users. But it's important to realize the breadth of its capabilities and that in order to use it without somehow sharing information you'd rather not, you're really going to need to dissect the privacy settings. As columnist Violent Blue so aptly put it in a recent editorial on the overreach of Google+: "… We [are] all little more than webs of flesh spun over packages of saleable data." The same can likely be said of any service that wants access to the long list of information Nearby needs.
H/T AndroidPolice | Screenshot via Google