A few months ago, we reported that dermatologists were developing an app to diagnose their patients' skin ailments remotely, rather than requiring them to book appointments. While it sounded like a pretty good idea at the time, in retrospect, we probably should've realized that much like any other new technology, 90 percent of its early adopters would use it to take dick pics.
Apparently, that's exactly what's happened with First Derm, an "online dermatologist" app that allows users to anonymously upload photos of their warts, rashes, and bruises so they can receive an informal diagnosis from a certified dermatologist withing 24 hours. Only this time, it's not to sexually harrass anyone.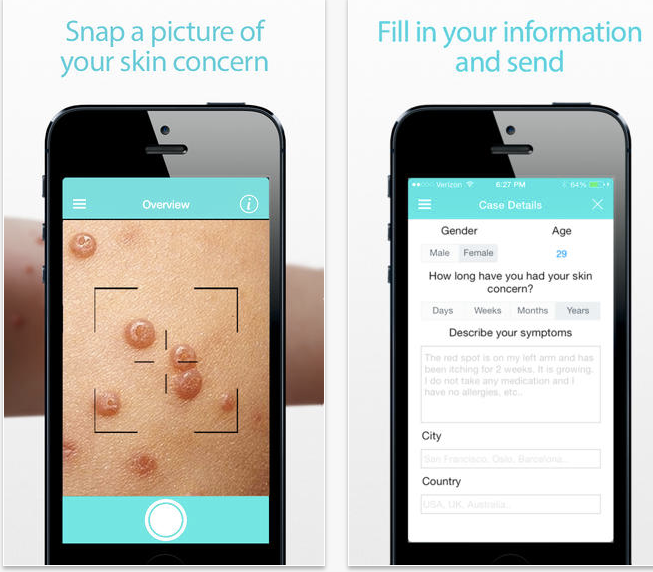 Screengrab via First Derm/iTunes Store
First Derm founder Alexander Borve reports that since the app launched in the United States in January, more than 70 percent of its users are sending in photos of "blow the waist" ailments, meaning that dermatologists are getting an awful lot of dick pics from neurotic dudes bugging out over that one-night stand with that nursing student a few years back.
According to TechCrunch, FirstDerm allows you to obtain a diagnosis from a board-certified dermatologist for about $40. All you have to do is snap two photos of your specific ailment, and you'll get an approximate diagnosis the next day. FirstDerm is completely anonymous, and you don't need to supply the app with any personal information.
The high number of genitalia photos First Derm receives isn't so surprising in itself—after all, there's still a great deal of stigma surrounding sexually transmitted infections, so it makes sense that those who spot a new bump or blister where there wasn't one before would prefer seeking medical help anonymously, rather than going to the doctor.
That said, one does wonder how many of First Derm's flash-happy users are actually concerned about a mysterious wart or bruise or pimple on their junk—and how many are just plain exhibitionists. For those in the latter category, zip it up, dudes. Take that shiz to Snapchat.
H/T TechCrunch | Photo by Daquella manera/Flickr (CC BY 2.0)