Pakistan temporarily blocked Twitter on Sunday in response to the promotion of the third annual Everybody Draw Mohammed Day.
The offending material—depicting the prophet Mohammed on the microblogging site—was linked to a drawing competition on Facebook, according to Mohammad Yaseen, chairman of the Pakistan Telecommunications Authority.
Depictions of Mohammed, regardless of context, are considered blasphemous by many Muslims and often result in legal action in the Middle East.
According to local Pakistani newspapers Dawn and Tribune Express, Facebook has agreed to address the concerns raised by the Pakistani authorities, but Twitter will not likely do the same.
"We have been negotiating with them [Twitter] until last night, but they did not agree to remove the stuff, so we had to block it," Yaseen said.
Everybody Draw Mohammed Day started on May 20, 2010 to exercise freedom of expression. The event was prompted by the backlash from some Muslims after two South Park episodes depicted Mohammed as a bear. On Everybody Draw Mohammed Day, Pakistani authorities responded by blocking Facebook from its residents.
On Sunday, social networking sites such as Twitter, Facebook and Reddit were awash with crude depictions of the religious icon.
The blocking of Twitter by Pakistan was met with swift criticism from online communities.
"Twitter blocked in Pakistan!" tweeted Asim Haneef, a journalist for Al Jazeera. "Hats off to the brilliant policy makers that run the country…"
Others continued to post pictures of Mohammed on the site.
"In celebration of 'Everyobody Draw Mohammed'," Mark Smothers tweeted, "here is a picture of Mohammed drawn by a Muslim."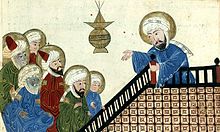 On Reddit, many users took up the celebration with deliberate irreverence.
"Eh, close enough," said user wegodeep after posting a photoshopped image of Jesus wearing a turban and carrying a sword.
"Happy Draw/Post Mohammad Day! I made it easy for you," read the title of a post submitted by skeptix that created a template for a template for an image macro of Mohammed.
Later in the day, Pakistan took back its decision and restored access to Twitter.
"Dear All yes I spoke to [Prime Minister] and informed how people are feeling about it," Rehman Malik, Pakistan's Interior Minister, tweeted. "The [Prime Minister] ordered to reopen the twitter."
Photo by dannyman