Eric Trump fell for a viral video on Twitter Tuesday that alleges to show supporters of ex-Democratic presidential candidate Michael Bloomberg dancing to Maroon 5's "Moves Like Jagger."
"This is so awkward / uncomfortable and once again proves that you can't buy personality or enthusiasm," the president's son said. "America sees right through this crap…"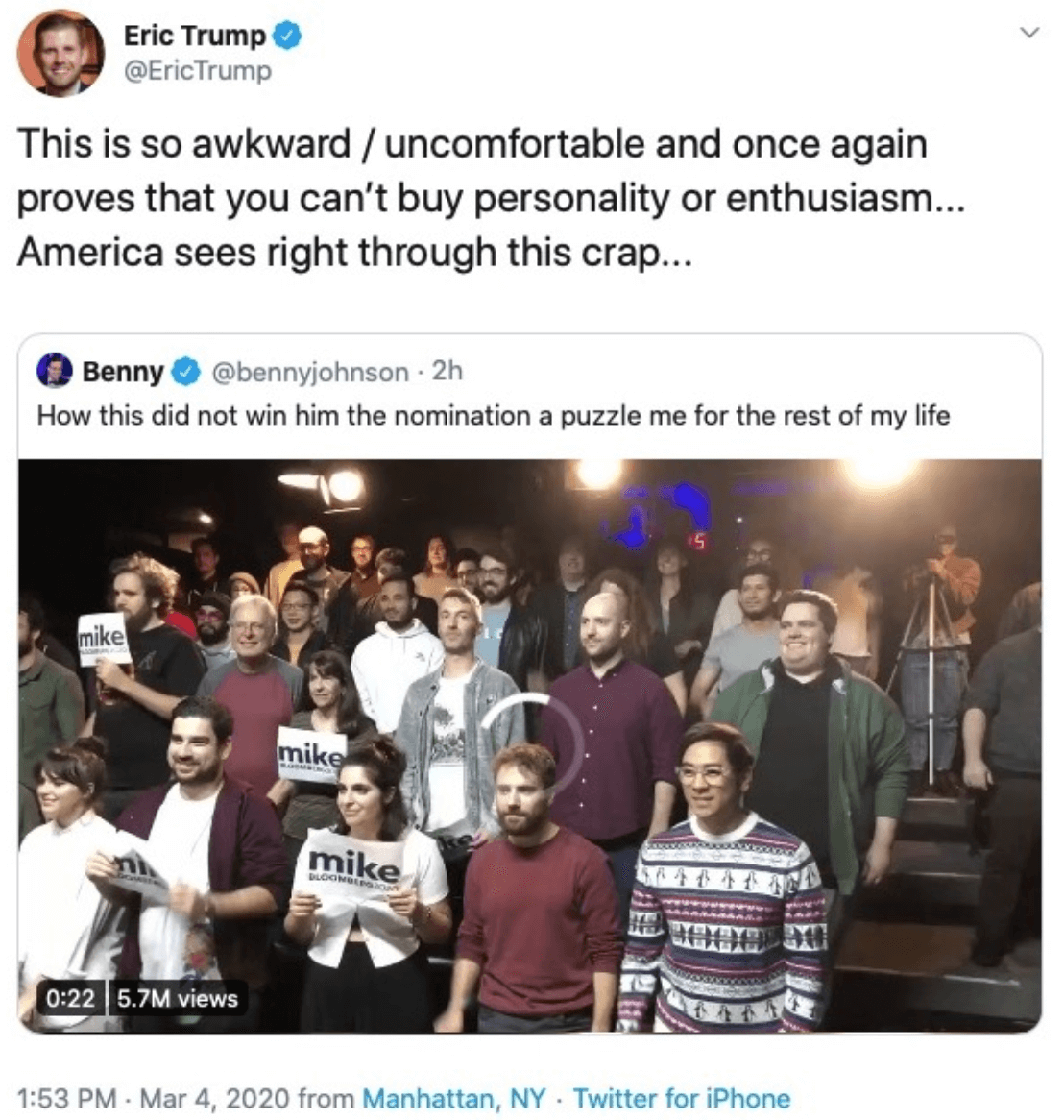 But the video isn't from Bloomberg's campaign. In fact, it isn't even new.
The clip was first posted to Twitter last December by Nick Ciarelli. Who's that, you ask? Well, he isn't a campaign intern like he claimed at the time. Ciarelli is part of a comedy sketch group, which created the dance.
And despite the footage being thoroughly debunked nearly three months ago, the fake song-and-dance routine made it's way onto Trump's radar Wednesday thanks to Benny Johnson, the Chief Creative Officer for Turning Point USA (TPUSA).
Johnson shared the video as if it were authentic, even though the Bloomberg team had refuted the footage in December as well.
The official Team Bloomberg Twitter account even argued that Ciarelli "does not have moves like Bloomberg" at the time.
Still, the young Trump wasn't the only prominent figure to fall for the ruse.
Sebastian Gorka, the former deputy assistant to President Donald Trump, also shared the video last December and still has the tweet up to this day.
Trump appears to have caught on, however, and deleted his tweet at some point Wednesday evening.
The fake Bloomberg video was intended to imitate the same awkward feel as the official dance produced by supporters of ex-candidate Pete Buttigieg. The song, "High Hopes" by Panic! At The Disco, was not enough to keep the former mayor's campaign alive, though.
This post has been corrected.
READ MORE: