Eric Trump tried to tweet a jab at former President Barack Obama on Monday while praising his father's recent crossing into North Korea—but his original attempt was called out for including some wrong dates.
President Donald Trump stepped into North Korea over the weekend and shook hands with the country's leader, Kim Jong-un.
Eric Trump tweeted a photo of Obama peering into binoculars, on the South Korean side of the demilitarized zone (DMZ), side-by-side with a photo of his father and Jong-un from over the weekend.
"DMZ 2008 vs. DMZ 2019 #KeepAmericaGreat" Eric Trump tweeted.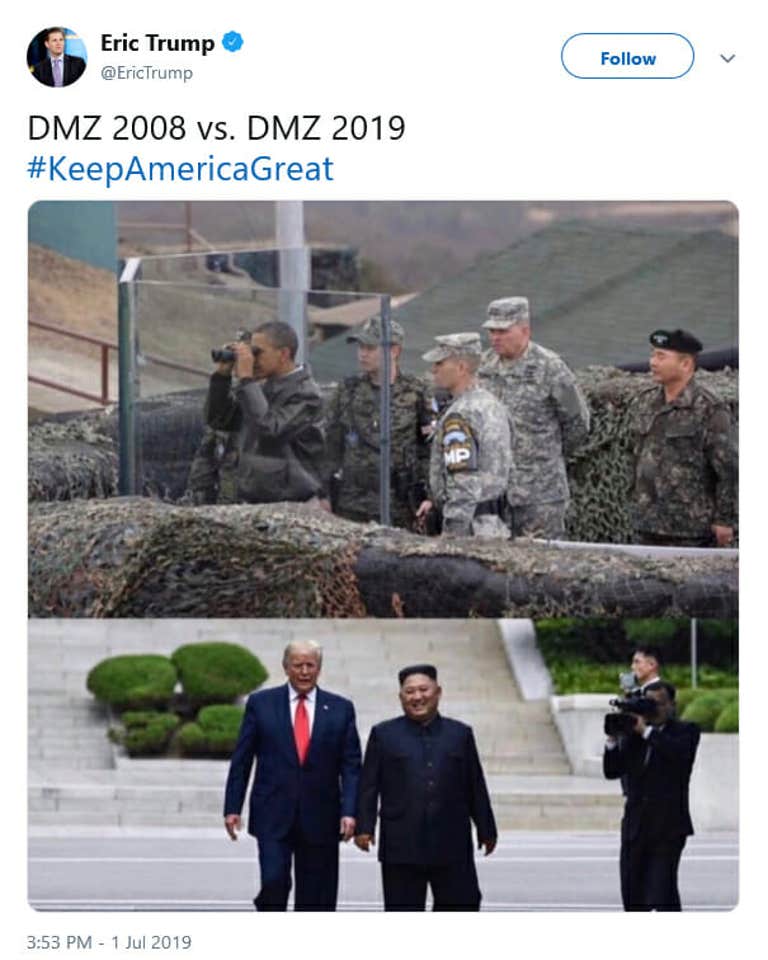 However, as many people quickly pointed out, Obama was not president in 2008 and it appears the photo the president's son used was taken in 2012, when Obama visited the DMZ.
The tweet had thousands of responses, many of which pointed out the error:
https://twitter.com/MattBiks/status/1145809771808694272
Obama was not president in 2008. That photo was taken in 2012.

— Renato Mariotti (@renato_mariotti) July 1, 2019
https://twitter.com/ggfletcher/status/1145800231277223937
Barack Obama was not president, and did not visit the DMZ, in 2008 https://t.co/EJoGeRVHMN

— John Harwood (@JohnJHarwood) July 1, 2019
Making junior look like "the smart one" one tweet at a time pic.twitter.com/ztsASUpzoj

— Molly Jong-Fast (@MollyJongFast) July 2, 2019
The president's son deleted the tweet hours later, replacing it with another one that got his same point across, this time with some more pointed jabs at Obama by using his campaign slogans.
"This was Obama at the DMZ in March of 2012. This is Trump at the DMZ in June of 2019. #ChangeWeCanBelieveIn #YesWeCan #KeepAmericaGreat," he wrote.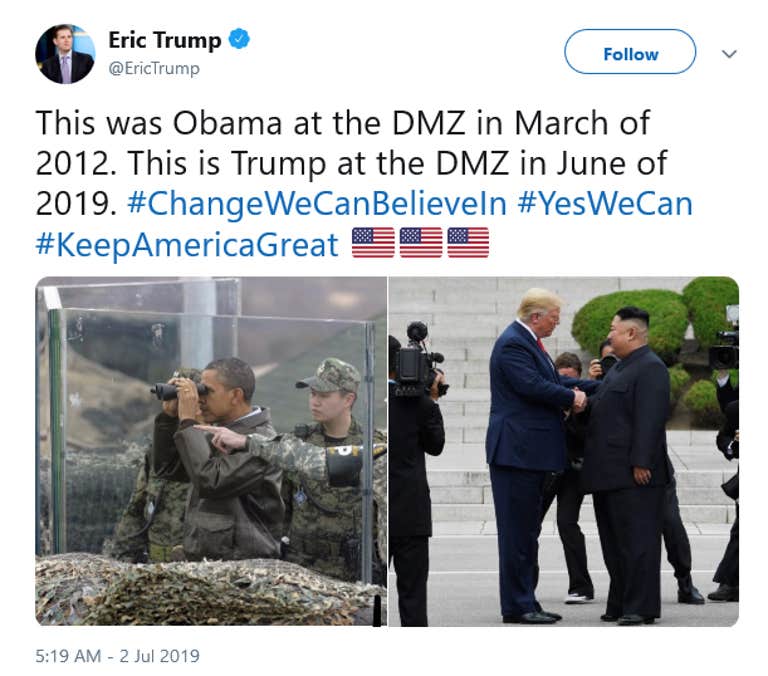 Okay.
READ MORE: 
Got five minutes? We'd love to hear from you. Help shape our journalism and be entered to win an Amazon gift card by filling out our 2019 reader survey.