Amazon recently expanded its lineup of Echo smart speakers with updated versions of existing models and a handful of entirely new audio products. One of the most anticipated amongst these additions is its new subwoofer, the Amazon Echo Sub.
The subwoofer has long been a mainstay in home audio systems, but in the streaming and smartphone age, its bass-boosting talents may be under-appreciated. Amazon hopes to change that with its take on the low-frequency loudspeaker, which connects to other Echo devices in your home for voice-controlled music streaming.
Would your home benefit from an Echo Sub? Here's what you should know before buying.
What is the Echo Sub?
The Amazon Echo Sub is a subwoofer designed to augment your existing Echo devices by providing deep bass. Unlike other Echo devices, it's not Alexa-enabled—it doesn't have Amazon's digital assistant built-in. Instead, it's what Amazon considers a "companion device," a product meant to augment your existing Amazon Alexa setup or something purchased as part of a package with other Echo devices. It delivers low-end audio with 100W of power.
READ MORE:
How is it different from a "normal" Amazon Echo?
Unlike the $99.99 Amazon Echo, the Echo Sub is much larger. (To produce bass, a speaker needs space.) This device has a 6-inch woofer compared to the 2.5-inch subwoofer and .6-inch tweeter in the 2nd generation Amazon Echo. It's roughly 8 inches tall and 8.3 inches in diameter, compared to the Echo's 5.8-inch height and 3.4-inch diameter. The device is also quite a bit heftier than the Echo. It weighs 9.3 pounds compared to the Echo's 1.8 pounds.
What Echo products does it work with?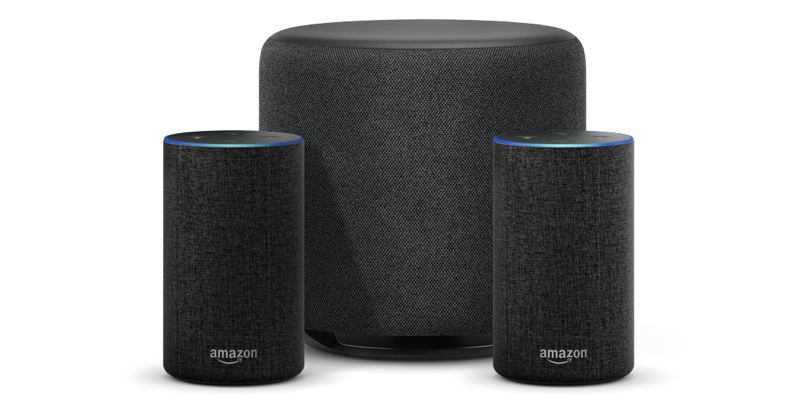 At the moment, Amazon says that the Echo Sub is only compatible with the Echo (2nd Gen) and Echo Plus (2nd Gen). If you don't already have one of these devices—or intend to buy one or more alongside your Echo Sub purchase—you won't be able to reap full functionality out of the device.
How do you set the Echo Sub up?
To get started with an Amazon Echo Sub, first plug it into a power source, then open the Alexa app. Next, follow the onscreen instructions to wirelessly connect this new Echo device with your account. Once connected, your Echo Sub will automatically be called into action when you play music through Alexa.
You'll likely want to set the Echo Sub on the floor, either your near your TV or centrally located in one of the main rooms in your home. (Or in the room where you jam out to music most, if that's a different space.)
READ MORE:
Echo Sub cost and availability
The Echo Sub costs $129.99 alone, but it can also be purchased as a set with pair of Amazon Echo speakers. The set is normally $329.97, but as of publishing, it's available at a discounted $249.97 for Prime members. The Echo Sub ships on Oct. 11.
Looking for more help? Here's what you need to know about Amazon Alexa and how to use Amazon Alexa as an intercom system, Amazon Prime Pantry, Amazon Lockers, Amazon Prime Wardrobe, how to sell on Amazon, Amazon Prime membership and if it's really worth it.