On May 4, against all odds, Dogecoin surged to the finish line in Aaron's 499, a nationally televised NASCAR race in Talladega, Ala.
The generous, fun-loving fans of Dogecoin—a jokey Bitcoin alternative branded with the face of a precocious Shiba Inu pup—had successfully sponsored the #98 car, driven by Josh Wise and painted on all sides with the coin's goofy logo.
As the "Dogecar" raced to 20th place, NASCAR cheered on Wise on Twitter, and TV commentators praised the Dogecoin community—a group of  nearly 90,000 people who subscribe to Reddit's r/dogecoin community—for collectively donating more than $50,000 to wrap #98 with Dogecoin branding. It was thought to be the first time a NASCAR vehicle had been sponsored through crowdfunding.
What the commentators didn't mention—because hardly anyone noticed—is that buying that NASCAR sponsorship wasn't really a team effort. Rather, it was disproportionately the work of one man, Alex Green, founder and director of Moolah, the preeminent company that exchanges dogecoins for other kinds of currency.
Over the past four months, Moolah has quietly cornered the market on all things Dogecoin, attempting to turn an Internet novelty into serious business. The company has solicited more than $500,000 in investment money from users, according to investor documents obtained by the Daily Dot, while Dogecoin's early crusaders have since largely disappeared from the scene after openly clashing with Green and his growing legion of supporters.
What no one realized on May 4—the day of Dogecoin's greatest triumph—is that those checkered flags signaled the beginning of the end for the Web's favorite currency.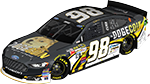 To understand Dogecoin, you first have to realize it's supposed to be dirt cheap. A single dogecoin is worth around $0.000225, at the time of this writing. Such a low price lets users give away their imaginary Internet joke money without batting an eye.
The first-ever dogecoin was mined (or "dug," if you want to follow the coin's dog-themed parlance) on Dec. 8, 2013. It was the brainchild of Jackson Palmer, an Australian excited by digital currencies like Bitcoin. He really liked the Doge meme, so he called it "dogecoin," slapped that Shiba Inu's face on it, and unleashed it into the world.
Other cryptocurrencies don't come with a built-in joke. And they're certainly not as easy to give away as Dogecoin. A single bitcoin will cost you about $650, at current rates. Because of its heavy price tag, people often buy just a few bitcoins at most, then hold onto it tightly like a greedy gold speculator.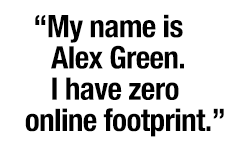 By contrast, you can often get dogecoins for free, just by asking. Or you can buy them for ridiculously cheap—a few dollars will get you thousands. You can "tip" someone 10 dogecoins for posting an amusing comment on Reddit, the den for Dogecoin enthusiasts, without costing yourself half a penny; indeed, for many users, tipping is all they do with it.
Because it's so cheap and easy to throw around, and because, hey, it's patterned after a funny dog picture, Dogecoiners are known to tip all the time, and without hesitation. At times, Dogecoin has been traded significantly more frequently than any other cryptocurrency, even though there is relatively little you can buy with it.
People excited by Palmer's idea quickly went to work. On Dec. 15, one user created an automated Reddit account to broker donations, meaning you could tip your friends or charities with just a Reddit comment. Another user created a similar "tip bot" for Twitter.
In January, others created the Dogecoin Foundation, which raised nearly $30,000 in Dogecoin to fund a real-life Jamaican bobsledder's Sochi Olympic dreams. Another member, Eric Nakagawa, set up a fundraiser, Doge4Water, that raised $32,000, almost entirely converted from dogecoins, for clean water in Kenya.
On Feb. 7, Ben Doernberg, an early member of the Dogecoin Foundation, hosted a wild Dogecoin-themed party near Wall Street in New York City, complete with musical chairs, people in all sorts of costumes, and real-life Shiba Inus, brought by a dog shelter. 
It wasn't just a handful of fanatics that jumped on the Dogecoin train, either. For eight days between Dec. 20 and Feb. 4, Reddit's r/dogecoin was the fastest-growing of the site's 440,000 subreddits. By the time of Doernberg's party, more than 50,000 people had subscribed to r/dogecoin, which wasn't yet even two months old. 
People started tipping like crazy. Some days in that period saw more than 150,000 dogecoin transactions in a 24-hour period. No other cryptocurrency has ever been traded with anything even close to that kind of frequency. Even Bitcoin, four years older than Dogecoin and with more than five times as many active users, has never hit 100,000 exchanges in a day—even when it was worth next to nothing.
Someone else noticed this frenzy. He was quiet at first, but Alex Green had a different vision from most of r/dogecoin. He saw a burgeoning empire, and a way for himself to sit on top.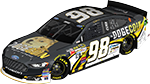 When it comes to his life offline, Green is a fiercely private person. He registered an earlier version of the website of his burgeoning company, Moolah.ch, on Dec. 30. He took the Reddit username moolah_ on Jan. 2. It was February before he finally told customers and the rest of r/dogecoin his real-life name.
"My name is Alex Green," he wrote. "I have zero online footprint."
As moolah_, Green is highly talkative and takes a combative tone with his critics. He also uses his Reddit persona to personally address customer issues that reguarly make their way on to the subreddit.
In March, Green filled out the paperwork to register Moolah as a proper U.K. company. At first, he wanted to provide digital wallets that could be used for multiple kinds of online currencies, then to sell Dogecoin ATMs, which still have not shipped. But his ambition quickly became for Moolah to be a "full stack digital bank," he later told the Daily Dot. He envisioned the company not just as a service to exchange Dogecoin for a bunch of other kinds of currencies, including both Bitcoin and U.S. dollars—Moolah already does that now—but as the eventual "displacement of PayPal" as the go-to handler of financial transactions on the Internet.
Like other users, Green started tipping others in r/dogecoin. But unlike most users, he tipped big enough for others to notice. In February, he saw a fundraiser called Cancer for College would get Will Ferrell to shout out anybody who donated $1,500. Green said he didn't realize he was typing in British pounds, rather than dollars, and so he accidentally gave $2,466 of his own money. To date, just over 2,500 people have viewed the nine-second video of Ferrell somberly thanking r/dogecoin.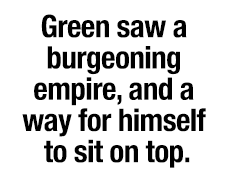 Green's next major act of charity would not go so unnoticed. The day after the Ferrell donation, Green tipped another r/dogecoin user a whopping 2 million dogecoins, or about $1,500. The subreddit was abuzz with talk about Moolah, the company that users said would take Dogecoin "to the moon!"
Eventually, however, skeptics' scrutiny wore him down. Green eventually admitted that the generous tip "was a planned PR stunt."
More users pestered him, and he snapped. "I do not need to give an explanation," Green wrote on the subreddit. "If you are uncomfortable with us, do not use our services."
He added, correctly, that it was a viable, albeit sneaky, form of paid advertising: "We saw verifiable numbers and sign-up conversions coming directly from reddit posts made shortly after the tip (and in regards to it)," he added. "So yes, it was effective."
(Update: As Green later pointed out in his rebuttal to this piece, Moolah also sponsored the New York City Dogecoin party in February.)
Dogecoin was an untapped market, and Moolah quickly billed itself as the go-to place to trade it. No one stood to make more money from the currency than Green.
On March 24, he captured the community's attention again with his tips. Attempting to join the fundraiser to drape Wise's NASCAR car in the Doge logo—Moolah handled the transactions for the fundraiser but didn't come up with the idea—Green again accidentally overpaid by an order of magnitude. He was still loopy from celebrating his engagement the night before, he said, and instead of giving 2 million dogecoins ($1,500), he gave 20 million ($15,000) of the $50,000 target. 
Like before, Green appeared to shrug it off and challenged other users to match him. It worked. One did, and the Dogecar came to fruition, with at least 60 percent of its funding coming directly from Green or at his urging.
Green got more than just customers from Moolah's sudden publicity. He was in the midst of the first of what has now become four rounds of fundraising for his company, and that's where things get tricky.
Called "Pie"—as in, that's what you're getting a slice of—each round of funding aimed to raise 250 BTC, or about $160,000. Three rounds have since completed, and according to investor documents obtained by the Daily Dot, a fourth one had raised 94.2 BTC more by mid-June. In total, that's worth more than half a million dollars.
"How many people look back on a company like Microsoft and say 'man if only I would have invested,'" Moolah COO Landon Merrill wrote on a February r/dogecoin thread encouraging people to invest. "Moolah is giving you that chance now."
The U.S. Securities and Exchange Act, a law to keep gullible Americans from getting taken for a ride with shady investments, makes it generally illegal to openly advertise and sell investment shares, called securities, to non-accredited American investors, unless they're first registered with the federal Securities and Exchange Commission (SEC). In June, the SEC charged another Bitcoin entrepreneur, Erik Voorhees, for soliciting money for investments in two startups, which he advertised on Bitcoin forums and Facebook. He settled with the SEC for $50,844.
A number of finance attorneys who spoke with the Daily Dot agreed that slices of Pie certainly constituted securities, and a number of investors confirmed to the Daily Dot that Moolah never vetted whether they were accredited before selling. A search of the EDGAR database, which tracks SEC filings, turns up nothing for Moolah, even the exemptions they might want to file—like one for companies that raise less than $1 million in a year.
"Moolah's share offerings must either be registered with the SEC or qualify for an exemption. They may not be in technical compliance, if they're not checking to see if their investors are accredited or not accredited," said Houman Shadab, professor and codirector at New York Law School's Center for Business and Financial Law, after the Daily Dot showed him Moolah documents provided by investors.
"This type of failure could have potentially serious consequences for the company," Shadab said.
Only that first round of Pie was openly bandied about by Moolah employees on r/dogecoin; subsequent ones were mentioned on the company's official blog and referenced in the subreddit but otherwise appear to be confined to an invitation-only subreddit for existing Pie holders. Green has insisted that he hardly sold to Americans: "The vast majority of people involved with the Pie are not based in the United States. And by vast majority, I am talking 95%+," he wrote in May.
But a screengrab obtained by the Daily Dot, from a followup post the invitation-only r/MoolahPie subreddit, indicates Green didn't actually check where his investors were from before taking their money. There, a Moolah employee asks current investors where they're from. At least 20 users chime in to say they're from somewhere in the U.S. Multiple investors, including several Americans, told the Daily Dot that they didn't go through any sort of accrediting procedure before becoming investors.
If Moolah didn't check off every legal box before getting money from investors, it would hardly be the first company. "Many startups get ahead of themselves and just start raising money," Shadab said.
Moolah's confused timeline extended to its registration with regulatory bodies like the Financial Crimes Enforcement Network (FinCEN), a U.S. government division devoted to tracking financial information like money laundering. In a March 23 blog post, Green wrote that Moolah was "pursuing action" with FinCEN, in addition to other bodies, but that took a while. He told the Daily Dot on May 16 that Moolah had filed "numerous forms with FinCEN." On May 22, Green emailed me that he had "final confirmation" that his company had actually filed those forms. They appeared in the FinCEN database, which the agency told the Daily Dot is updated at most every five business days, a few days after that.
Christine Duhaime, an attorney who specializes in financial and institutional regulatory compliance and is working on a book about Bitcoin law, said the lax filing schedule is common for cryptocurrency-related startups.
"A lot of companies don't get the full on, complete advice on anti-money laundering issues," she said. "I think they get scared over the cost. A lot decide to not to [register] in the U.S., or decide to assume the legal risk of doing business anyway. That's what a lot of online gaming companies do—they know it's not legal, but they accept the legal risk."
Throughout this confusion, much of Green and Moolah remained shrouded in mystery. That no one outside of Moolah had ever seen his face became such an established theme that the company's COO, Landon Merrill, jokingly tweeted a "picture" of Green: a person wearing a cardboard box on his head. Moolah's location repeatedly changed, too. The company was registered with a Swiss address, then Moolah announced plans to create a physical office in Ireland, then in England. Green refused to even confirm to the Daily Dot that more than one of his employees had ever met him in person, though he later wrote on Reddit that he had just taken two to see a movie.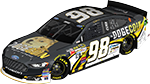 On April 30, a week before the NASCAR race was set to start, Green and Merrill had a Skype chat with two members of the original Dogecoin Foundation, Dogecoin creator Jackson Palmer and Ben Doernberg. Video of the conversation surfaced a month later, and it remains one of the few known instances that anyone in the Dogecoin community who doesn't work for Moolah has seen Green's face.
Clocking in at over an hour, it's painful to watch: Much of it is Green and Doernberg going in circles about what's best for Dogecoin, with Doernberg repeatedly asking for more transparency from Moolah and Green, who vapes almost constantly, threatening to sue him for harassment.
"If you step a foot out of line, myself and Landon will drag you through a court," Green tells him at one point. "If you cause problems, it's going to end badly for you."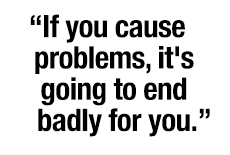 What's not in contention is who, by that point, had captured r/dogecoin's heart. "We're far bigger than the foundation," Green says at one point in the video. Neither Palmer nor Doernberg argue him there. "The public has not sided with you. They're happy with what we have answered."
In that sense, Moolah absolutely won. After their talk, Doernberg resigned as a moderator of r/dogecoin. He quit the foundation a week later, noting "I still have not seen a detailed explanation as to why Moolah.io believes they are exempt from the laws that generally prohibit the issuing of a security to un-accredited American investors."
Palmer stepped down as a moderator, too. On May 8, Eric Nakagawa, who created Doge4Water, stepped down from both the foundation and as a moderator. Other formerly prominent members joined suit. Green announced his own farewell to r/dogecoin the same day Doernberg did, though he resumed commenting on it the next day.
On June 6, one of the remaining moderators, lleti, admitted being hired by Moolah—though that only lasted for a few weeks, before he or she resigned as a moderator.
But as its leaders were wrestling to be king of Shibe mountain, Dogecoin's foundations were crumbling beneath them. The mood of r/dogecoin has gotten darker in recent weeks, and users know it. It's "a dark time for shibes," one user wrote. People take tips but don't return them, others lament. "Doge used to be a happy fun place," wrote another, and users wonder why they should still bother.
In late June, r/dogecoin attacked a gaming accessory company called Ultra PRO after discovering it had filed to trademark "doge" for a line of products based on the Shibe meme. The company insisted it was a defensive mark to keep it from getting sued; Green promised to file an opposition, and Palmer pleaded to r/dogecoin to not praise him too highly for it.
Green responded with a thread titled "Jesus fucking wept," for which he later apologized. But the comments from the community there told the real story. "Who the fuck is Jackson [Palmer] and why does he have a itch in his ass for Moolah?" one wrote. "I've seen what Moolah can do, but what the fuck is Jackson doing?"
The elephant in the room, though, is that, as a functioning cryptocurrency, Dogecoin already peaked months ago, and it has declined steadily since. While the subreddit sits as the 293rd biggest place on Reddit, it hasn't seen a significant jump in subscribers since March. The heyday of rapid Dogecoin trading are long gone; the last time it was traded more than 50,000 times in one day was Feb. 17.
Dogecoin's value has plummeted steadily as well, from a market cap of $87 million on Feb. 12 to $19.3 million on Monday. As of this writing, it sits behind not only Bitcoin in total price but also lesser-publicized and lesser-traded cryptocurrencies like Litecoin, Peercoin, and Darkcoin.


Screengrab via coinmarketcap.com
Of course, there's always the chance Dogecoin could rally. The community went on to vote Josh Wise, hardly a NASCAR superstar before it got involved, into the All-Star race on May 17. The Dogecar will appear in the official NASCAR 2014 video game. And a wildly successful T-shirt sale means that Wise may get the Shibe on his car later this season, though it likely won't wrap his entire car. Some of it has nothing to do with Moolah: On Tuesday, a new group Dogecoiners announced they were starting a new Dogecoin Foundation.
And just as no one stood to gain from a surging Dogecoin as Green, no one stands to lose as much as him if it fails, either.
Back in May, after I watched the Skype video, I asked Palmer about the fun being sucked out of Dogecoin.
"This is a really weird situation that I feel I've been caught up in here—and I by no means want to perpetuate this drama by commenting on it, nor does Ben," he replied.
Doernberg refused to comment for this story, citing legal threats from Green.
"I personally take things within this community a lot less seriously and try not to get hot headed," Palmer said. "It's a dog on a f#$!ing coin, after all."
A dog on a coin that's worth $19 million—a number that's shrinking every day.
Update: Green has responded to this article on the Moolah blog here, and says Moolah was a sponsor of the Dogecoin party in New York City. We have updated the article with this information.
Clarification: Reddit user lleti has stepped down as a moderator of r/dogecoin, not from Moolah. We have updated the language above for clarify.
Update 2: In October 2014, Green admitted he had legally changed his name soon before starting Moolah. He then disappeared, with users claiming he still had at least $1.4 million of their money.
Additional reporting by Rob Price and Ned Donovan.
Photo remix by Jason Reed