Stranded 900 years in the future, the crew of the U.S.S. Discovery are officially free from the constraints of classic Star Trek canon. Last season saw them take a one-way trip forward in time, defeating a malevolent supercomputer that was doomed to kickstart the apocalypse. (Yes, this was pretty close to the same plot as Picard.) We begin season 3 with a new showrunner (Michelle Paradise) and a wholly new setting, with several fresh crewmembers set to join the cast. The first is Cleveland "Book" Booker, introduced in the Michael Burnham-centric season premiere.
Star Trek: Discovery, Season 3
RELEASE DATE:
Oct. 15, 2020
CREATORS:
Alex Kurtzman, Bryan Fuller, Michelle Paradise
STREAMING:
CBS All Access
Discovery improves on its character-focused storytelling while repeating some of its past mistakes, bringing Michael Burnham and her crew to a dystopian future where the Federation no longer exists.
Continuing an upward trajectory from the first two seasons, Star Trek: Discovery is getting better and better at showing its main characters having fun, hanging out, and supporting each other emotionally. However, we're still stuck with a few recurring problems: too much time spent on pointless action scenes, and hints of another tiresome season-wide arc about saving the galaxy. Discovery is always more interesting when it focuses on smaller, more personal stakes. The moral messaging is also wildly uneven, as we slalom between inspiring speeches about teamwork and diplomacy… and scenes where the heroes blast nameless goons into smithereens. Spoiler note: This review includes spoilers for episode 1, and some general impressions from the next three episodes.
When Michael arrives in the future, she's all alone. Discovery was meant to follow her through the wormhole, but instead Michael finds herself stranded on an alien planet with no way to contact her ship. With no idea of when or where she's landed, she tracks down the nearest lifesign, which turns out to be our new character Book (David Ajala), a courier. A courier for what, you may ask? Well, that's all connected to the very different political landscape of the year 3188.
For one thing, the Federation no longer exists. For another, warp travel is kaput. Just over a century ago, most of the galaxy's dilithium exploded at once, destroying every ship with an active warp core. This obliterated interstellar travel and eroded long-distance communications, fragmenting the Federation and turning dilithium into an elite currency. Book's job is to transport possibly-illegal goods on his cool invisible spaceship, working on behalf of an Orion/Andorian trade syndicate. (The show doesn't explain what happened to civilizations that don't rely on dilithium to power their warp drives, like the Romulans. Hopefully they'll address this soon, because otherwise the whole idea of a dilithium-scarcity apocalypse makes no sense.)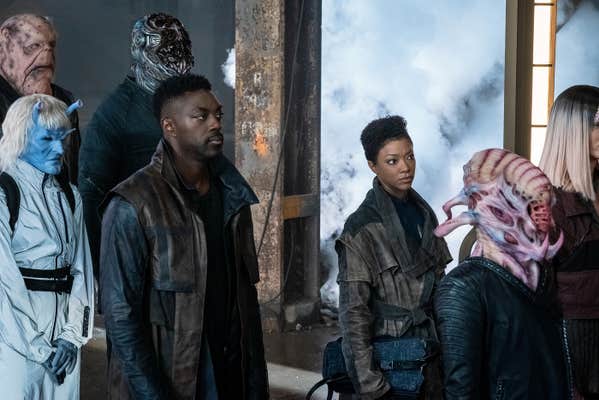 As a devoted Starfleet officer, Michael is devastated to hear the Federation is gone. But she has more urgent problems at hand: finding her ship, and figuring out how to survive. She has no choice but to ask Book for help—an interesting reversal of an iconic scene from "The City on the Edge of Forever," where Captain Kirk praises one of the most beautiful phrases in the English language: "Let me help." Well, Book isn't so enthusiastic about bailing out a total stranger, but they come to an agreement: He'll take Michael to the nearest courier station in exchange for a percentage of her "antique" Starfleet equipment. It's a far cry from the post-capitalist world of classic Trek.
Episode 1 does a lot of heavy lifting to establish Book as a new main character, cementing his role as Space Boyfriend Material on par with Channing Tatum in Jupiter Ascending. In addition to being handsome and charming, he's introduced as a morally ambiguous Han Solo type… and then revealed to have a secret soft side, including a psychic link with plants and animals. He also has a pet cat called Grudge; obviously a very important addition to the cast.
Spoilers for later episodes are totally verboten, but as a Star Trek fan who really wants to love Discovery, I'm stuck with similar mixed feelings to the last two seasons.
Discovery boasts what may be the best cast in the franchise. Sonequa Martin-Green is a total star. Doug Jones is delightful as Saru, building on last season's journey of self-discovery. I'm enjoying the hell out of the mean lesbian/mean gay solidarity between Stamets (Anthony Rapp) and Reno (Tig Notaro), and it's great to see more screentime for recurring officers like Keyla Detmer. However, it's increasingly weird to see Michelle Yeoh's Philippa Georgiou onboard, because a) she's a hugely famous actor in a relatively small role, and b) the character is a sadistic, murderous despot, who is just… hanging out with no redemption arc. Like, she literally used to eat members of Saru's species for dinner! Georgiou should be a melodramatic cameo villain like the Master in Doctor Who, or Q in The Next Generation. I fear that Discovery's creative team wrote themselves into a corner by making her join the crew.
As for the new setting, I can only hope we're not in for another epic drama about Discovery undoing an apocalypse. Episode 1 offers a rather bizarre view of the now-defunct Federation, with Michael meeting a lone officer who has been manning a single Starfleet outpost for years. I think we're meant to sympathize, but he really just seems like a sad fanatic, displaying a cargo cult attitude to the concept of Starfleet. The Federation was a diplomatic infrastructure of planetary alliances, supported by a quasi-military, quasi-scientific fleet. It wasn't a religion. And it certainly isn't something that Michael Burnham can resurrect in its original form.
Starfleet officers are meant to follow a certain moral credo, but there's also a long history of trigger-happy Starfleet admirals, corrupt bureaucrats, and evil spies. Every series has portrayed the Federation as a flawed utopia, with Discovery, Deep Space 9 and Picard leaning heavily toward the "flawed" end of the scale. It makes sense emotionally for Discovery's crew to miss the good old days, seeking any sign of home in a strange land. But this desire clashes with their own policy of non-interference in other cultures. If they try to rebuild the Federation 900 years in the future, it will be like someone showing up in medieval Britain and attempting to reinstate the Roman Empire.
As with Picard, this idea suggests a rather confused political message. Both shows portray their heroes as an optimistic light in a grimdark setting. But those settings are dominated by one-note political issues, represented either as a mystery to be solved, or an enemy to be defeated. The actual worldbuilding is very simplistic. For instance, our first glimpse of 32nd century culture is meant to seem eye-catchingly dystopian, but it's a totally generic cyberpunk city with neon holograms and black leather costumes. We can easily accept that life was better under the Federation, but surely more would've changed in 900 years.
Despite traveling centuries into the future, it feels like Discovery is still stuck looking back to the past. I can only hope that over the coming episodes, the crew will realize the best way they can uphold Starfleet's legacy is by doing so on their own terms. Not by trying to bring back what they lost, but by helping people themselves, like a kind of vigilante humanitarian vessel. A bold interpretation of the franchise's original premise—and perhaps a more politically relevant one too.
Star Trek: Discovery season 3 premieres on CBS All Access on Oct. 15.