Elisabeth Vogler's Paris Is Us feels like someone smoked a bowl while watching Tree of Life and said, "I can do that." It's the kind of film where the only two choices, if you're engaging with it, are love and hate. The proper experience, probably, is to feel both. At times the film feels like it's achieving Werner Herzog's elusive "ecstatic truth," which Herzog described as a "deeper strata of truth in cinema" that is achieved "through fabrication and imagination and stylization." Paris Is Us has the ambition and pretension of a film school project, but Vogler has the talent to back it up. 
Paris Is Us

RELEASE DATE:
2/22/2019
DIRECTOR:
Elisabeth Vogler
STREAMING:
Netflix
Anna, a young woman living in France, questions what it means to be happy and to live authentically in a world from which she feels isolated.
Paris Is Us has a threadbare narrative, which gives the film more time to spend with its protagonist, Anna (Noemie Schmidt). She's moving through life at her own speed, which doesn't quite match up with her boyfriend's plans—or anyone's, really. Anna prefers to live in the moment. She wants experiences, but she also questions the idea of experience itself. While her boyfriend, Greg, has his life all mapped out, Anna's mind is elsewhere. Vogler keeps us in Anna's headspace, and the first thing that becomes clear is her loneliness. The fragmented narrative highlights this constantly. Whether Anna is with friends or by herself, she never seems comfortable. This creates an unshakeable sense of isolation.
Visually, there's no denying the influence of Tree of Life cinematographer Emmanuel Lubezki on Vogler, who acts as her own cinematographer here. The fluidity of the camera, from shots of running feet to elongated shadows, creates a sense of the ephemeral. The film looks familiar and unrecognizable at the same time. Paris Is Us also goes heavy on voiceover, with Anna offering ruminations on life throughout the film. Sometimes the pseudo-philosophy is cringeworthy. Other times she's right on the money, like when she says, "We need magic, desire," to make life bearable. It doesn't always work, but Anna always sounds like someone who's trying to figure things out.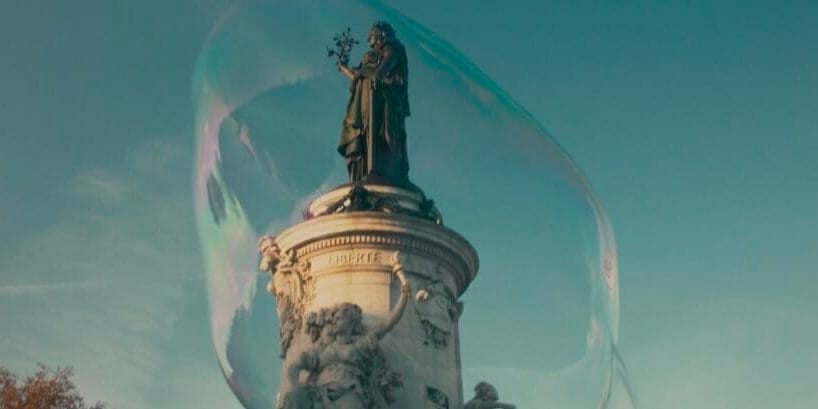 One of the defining moments in Anna's life is the end of her relationship with Greg. He wants her to follow him to Barcelona to scratch a few more things off his list. She doesn't go. Later, she sees on the news that a plane bound for Barcelona has crashed. She wonders if Greg was on that plane. It says a lot about Anna's headspace and the film's goal that she doesn't break down or try to call him right away. Anna lives in the moment and for the moment; future plans and structure scare her. If experiences tether us to other people and the world, how can we afford to spend our time living other people's experiences?
Once you get in that mindset, Paris Is Us hits you with its biggest brain tease. Through narration and conversation, Anna talks about The Simulation. She warms up the audience by speaking about how she enjoys watching her sister play The Sims. Then she knocks us down by questioning if life is all a computer program. The film cuts to Anna, all dressed up and made up, standing in an empty auditorium, watching. In hindsight, the specter of red-pill, dude-bro wokeness hangs over the image. But in the moment, it works.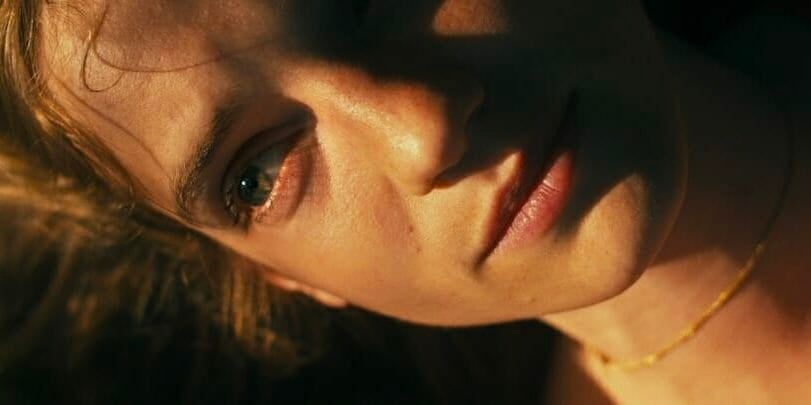 Schmidt deserves credit for her excellent performance as Anna. The camera spends a lot of time right on her face, giving her nowhere to hide. Her acting is seamless and urgent. The movie needs Anna's narration for some of the ideas it wants to explore, but you could mute the film and Schmidt's expressions would still convey all we need to know about her emotions. Anna is searching for emotional authenticity, be it through once-in-a-lifetime events or watching copies of copies. This calls to mind Abbas Kiarostami's Certified Copy, another great film about radically changing relationships and realities that also places emotional truth above all else.
Paris Is Us is maddening at times and delightful at others. I have no idea how many people will dig it, but I know a lot of people will hate it. It will spark something in you, one way or the other. That's the kind of experience worth seeking out.
Still not sure what to watch tonight? Here are our guides for the absolute best movies on Netflix, must-see Netflix original series, documentaries, docuseries, and movies.
Need more ideas? Here are our Netflix guides for the best war movies, documentaries, anime, indie flicks, true crime, food shows, gangster movies, Westerns, and movies based on true stories streaming right now. There are also sad movies guaranteed to make you cry, weird movies to melt your brain, and standup specials when you really need to laugh. Or check out Flixable, a search engine for Netflix.