When: 10:30pm ET, Wednesday, Feb. 21
Where: Staples Center in Los Angeles, California
Streaming: NBA League Pass
Memphis Grizzlies vs. Los Angeles Lakers: Preview
The upstart Memphis Grizzlies and the Western Conference-leading Los Angeles Lakers will lock horns Friday night in what could be a preview of an intriguing first-round playoff matchup.
LeBron James continues to play at an MVP level in his 17th season, averaging 25.0 points, 7.8 rebounds, and a league-leading 10.8 assists per game. Defensive Player of the Year candidate Anthony Davis has proven to be an ideal complement to LeBron, leading the Lakers in scoring with 26.6 points per game.
Memphis is currently sitting eighth in the West, and hope to hold off the Portland Trail Blazers, San Antonio Spurs, and the Zion Williamson-led New Orleans Pelicans. The electric Ja Morant, who was selected second behind Williamson, is the surefire leader for Rookie of the Year.
Aside from Morant, the Grizzlies have talent along the frontline, in second-year player Jaren Jackson Jr. and rookie Brandon Clarke. (The 20-year-old Jackson's development, in particular, is one to watch over the next few years.)
Stream NBA League Pass: 3 ways to watch NBA League Pass games
Cost: $30-$45 per month
Sling TV devices: Amazon Fire TVs, Android Fire Stick, Apple TV, Android TV, Roku, Xbox One, Google Chromecast, Oculus Go, and iOS and Android devices
Sling TV local channels: NBC, Fox (check your local availability here)
Channels included: TNT, ESPN (Sling Orange, Sling Orange + Blue), NBC Sports (Sling Blue, Sling Orange + Blue), and NBA TV (with add-on), ESPN3 (NBA on ABC games are simulcast on the channel with Sling Orange subscription.) You can watch NBA League Pass through the app.
Sling TV provides two base channel package options, each priced at $30 per month. Sling Orange includes three ESPN channels, while Sling Blue includes sports channels like NFL Network, NBCSN, and local channels.
Sling TV provides two base channel package options, each priced at $30 per month. Sling Orange includes three ESPN channels, while Sling Blue includes sports channels like NFL Network, NBCSN, and local channels. (Sling Blue customers in select markets get NBC, where some matches appear; see if yours has it here. Sling Blue also brings Fox News Channel, MSNBC, and Headline News as part of its regular slate of channels, with Fox Business Channel available for those who get the Sling Blue News Extra add-on.
If you're Team "Why Not Both," Sling Orange + Blue combines the two for just $45 per month. Other features include a Free Cloud DVR tier for all subscribers (allowing 10 hours of recording a month), the ability to record all live linear channels, and no VOD preemption on any channels. New subscribers get $10 off the first month.
To add beIN SPORTS and ESPN Deportes and maximize your sports-watching potential, you'll want to add either Sports Extra: Sling Orange ($5 per month) or Sports Extra: Sling Blue ($10 per month, but essentially includes NFL RedZone.)
Spanish-speaking viewers have quite a few options. For bilingual families, you might consider the Español: Best of Spanish TV package for either Sling Orange or Sling Blue for 24/7.
Game-changing feature: Price. Sling TV allows you to stream NBA games without breaking the bank.
---

Cost: $49.99 per month
YouTube TV devices: Google Chromecast, Roku, Apple TV, Android TV, Xbox One, iOS and Android devices
Local channels: NBC, CBS, Fox, ABC, the CW (enter your ZIP code here to check your availability)
Channels included: ABC, NBA TV, TNT, NBC Sports, ESPN
Like Hulu with Live TV, YouTube TV offers just one package of channels, and it's a stacked lineup for sports, with everything you need to stream NBA games. YouTube TV also includes FS1, Big Ten Network, SEC Network, and CBS Sports Network. (You can find the full list of YouTube TV channels here.)
Game-changing feature: You can add up to six accounts per household, and each one of those accounts gets unlimited cloud DVR. Even better: You can fast-forward through ads in recorded programs.
---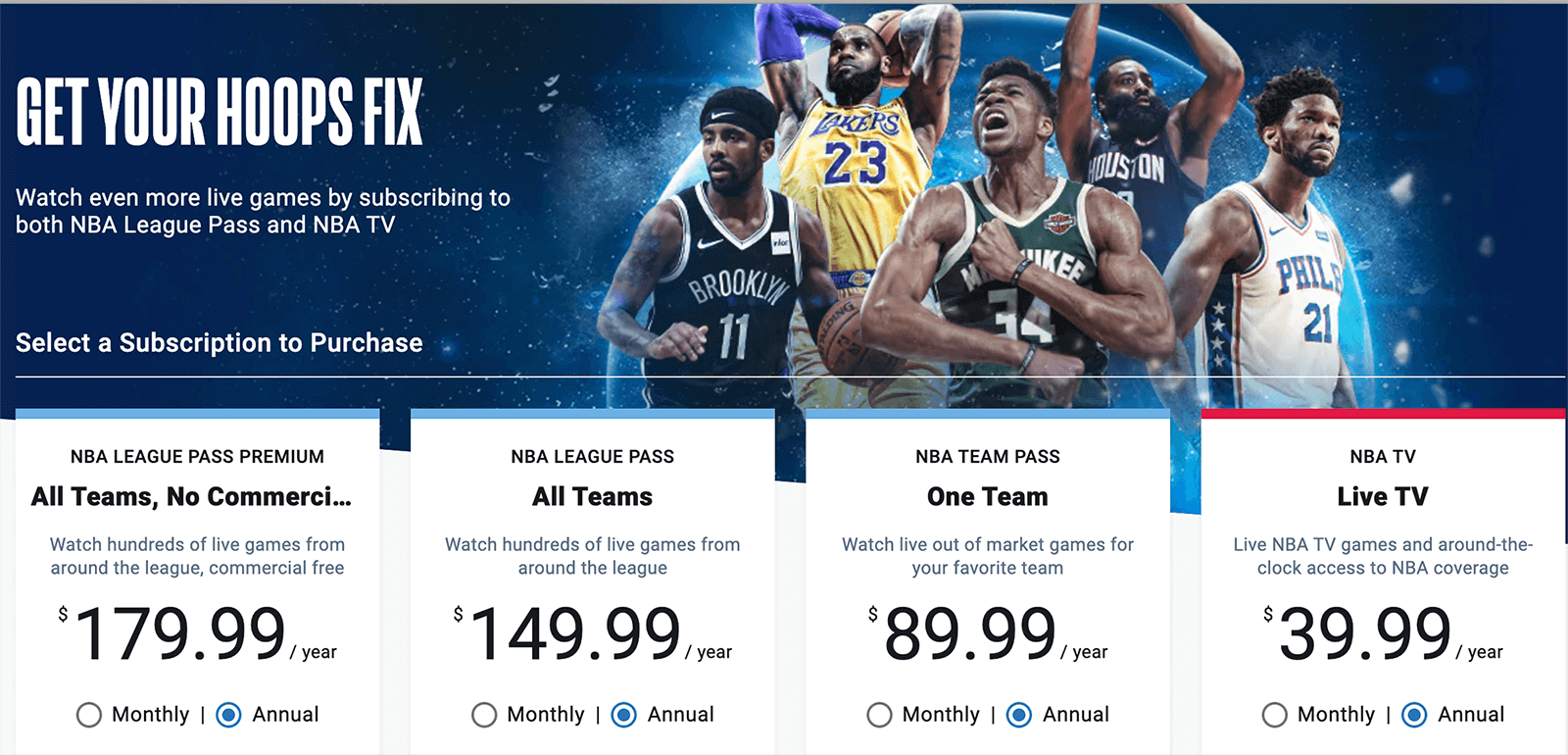 Real ballers splurge for NBA League Pass. The premium service lets you stream more NBA games than you could possibly count (basically everything that's not already on national TV or subject to local blackouts). It's a bit pricey, but you can save some money with NBA Team Pass, which follows the same broadcast restrictions but focuses on one specific team (all the games for the New York Knicks, for example). If you're only interested in specific matchups, you can buy single NBA games, and new this year, you can purchase just the fourth quarter for $1.99. Both NBA League Pass and Team Pass also offer games in VR.
You can order NBA League Pass and NBA Team Pass online from NBA.com or as part of B/R Live or a Sling TV subscription. No matter which one you choose, it's going to cost the same.
NBA League Pass price breakdown (the Christmas sale edition):
NBA League Pass (all teams): $199 per year or $28.99 per month (now down to $149.99 for the remainder of the season)
NBA League Pass Premium (all teams + in-arena stream): $249.99 per year or $39.99 per month (but now just $179.99 for the remainder of the season)
NBA Team Pass (one team): $119.99 per year or $17.99 per month (but now available for $89.99 from Christmas through the rest of the season)
NBA League Pass Audio: $9.99 per year
NBA League Pass single games: $6.99
NBA League Pass fourth-quarter action: $1.99 per game
NBA League Pass devices: Amazon Fire TV and Kindle devices, Roku 3 and 4, Apple TV, Android TV, Samsung smart TVs, Xbox One, PlayStation 3 and 4, Amazon Alexa and Amazon Echo, Samsung Gear VR, Google Daydream View, PlayStation VR, Windows Mixed Reality, iOS, and Android devices
---
Memphis Grizzlies vs. Los Angeles Lakers: What to watch for
If the playoffs started today, the Lakers would host the Grizzlies. It likely would not be a long-lasting affair, given Memphis' youth, inexperience, and lack of high-end depth. However, it would provide a youthful and energetic team playoff experience that would serve them in future post-season trips.
The Lakers, of course, have been dominant for most of the season, and currently lead the West. But how they've accomplished their record, particularly against Western Conference foes, is critical. Their 23-4 away record suggests the Lake Show can be taken on the road with little worry.
The Daily Dot may receive a payment in connection with purchases of products or services featured in this article. Click here to learn more.