Sometimes, amidst all the noise and hoopla leading up to a Conor McGregor fight, you can almost forget an actual fight is going to take place. A single athletic contest pales in the face of such overwhelming promotional madness and media frenzy, all that trash talking and tweeting and Instagram posting and all those long blustering interviews about $80 million paydays and Reebok advertising campaigns. This is especially true when McGregor has been away from MMA, as he was for the last 15 months.
Then his return becomes almost the entire story and the fight merely its occasion. Thank goodness then that Saturday night, after several long weeks of prelude, all that marketing noise will depart the stage at last and leave McGregor and his opponent, Donald Cerrone, alone to do honest work on ESPN+. All the money and whiskey commercials in the world won't mean a thing then.
When that great moment finally arrives, Cerrone will be forced to face certain ugly truths about himself, truths that have been there throughout his 15-year career but that will be brought into their boldest relief yet by McGregor. Because—no surprise—the UFC is welcoming their rainmaker back by tailor-making a fight for him. There will be no grappling genius waiting to expose McGregor's flaws, no
unbreakable striker with an iron chin able to cool his resolve. Instead, he'll get Cerrone, who is a brilliant mixed martial artist but whose tactical frailties and psychological makeup play perfectly to McGregor's strengths.
Cerrone is a notorious slow starter, for example, while McGregor reacts to the bell like a prisoner released. McGregor is a relentless pressure fighter who delights in breaking others' wills, and Cerrone, for all his experience, is known to break. Cerrone shrinks from big moments. McGregor was born for them.
But things aren't hopeless for Cerrone. McGregor has his weaknesses as well. The longer his fights go on and the more grappling heavy they are, the shakier he looks. More than once during his UFC career, McGregor has looked for the exit when a fight turned ugly and exhausting. A smart Cerrone would hammer away at these weaknesses, grabbing onto McGregor and refusing to let go, tiring him out and draining him, rather than going punch for punch. But all indications are that Cerrone the daredevil, the adrenaline junkie, the self-proclaimed "cowboy," who brazenly flouts any clause in his UFC contract requiring him to stay away from snowmobiles, motorcycles, or jet skis, is having his way with Cerrone the savvy veteran once again. He wants to engage McGregor in a striking contest because that's the challenge. Something in him can't resist courting catastrophe.
But while he may be cursed by self-destructive tendencies, Cerrone does have circumstance on his side.
All the pressure is on McGregor to win. He's the one in the prime of his athletic life, not Cerrone. He's the one who fought and talked his way into mythic status and tens of millions of dollars. He's the one who re-created MMA in his image and bent its biggest promotion to his whims. He's the one whose return to the cage is trumpeted as a major occasion. He's the cultural icon. McGregor takes the burden of not only his fighting reputation into the cage but countless business relationships built on the myth of his near-indestructibility. If he loses, the foundations of his carefully constructed, highly lucrative world shake. If Cerrone falls, there would be no such shame, and no greater resonance. Win or lose, he'll walk away from Saturday's fight as an MMA legend slowly succumbing to the ravages of time who went out a hero by taking on one of the best fighters in the sport. Such a legend might be even more romantic in defeat.
Here's everything you need to know to watch McGregor vs. Cerrone without cable.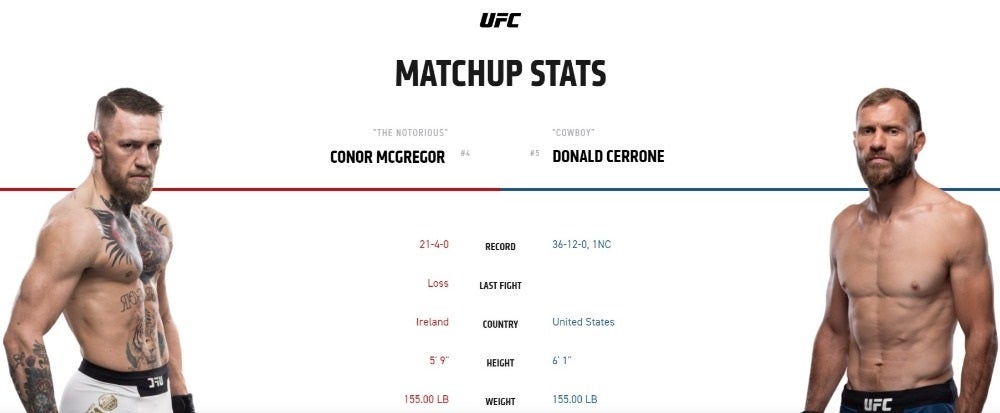 UFC 246: Conor McGregor vs. Donald "Cowboy" Cerrone
When: Saturday, Jan. 19, at 10pm ET
Where: T Mobile Arena in Las Vegas
Streaming: ESPN+
UFC 246: How to watch McGregor vs. Cerrone
Thanks to a huge seven-year deal, ESPN+ is now the only way to watch UFC 246 (and all subsequent UFC PPVs). Aside from ESPN+ becoming your one-stop shop for the MMA promotion, the OTT service also offers the UFC PPVs for $5 less than you used to have to pay. Here's how it all breaks down:
UFC 246 cost:
In other words, you can buy UFC 246 for a one-time price of $59.99, but if you spend just $20 more, you'll also receive one year of ESPN+ for free. That's a $50 value, and if you're a big MMA fan, that's a nice deal. Along with plenty of exclusive live events (see below), you can also watch plenty of UFC Fight Night events every year with ESPN+.
If you don't currently subscribe to ESPN+, you can purchase UFC 246 from your desktop or smartphone here. If you already subscribe, you can easily buy the PPV from the ESPN app by simply clicking on the event in the ESPN+ tab.
One thing to remember: Only the UFC 246 main event card will be featured on ESPN+, and you will have to pay the $59.99 PPV fee (full schedule and watch guide below). Here's the main event card:
Conor McGregor vs. Donald Cerrone
Holly Holm vs Raquel Pennington
Aleksei Oleinik vs. Maurice Greene
Claudia Gadelha vs. Alexa Grasso
Anthony Pettis vs. Diego Ferreira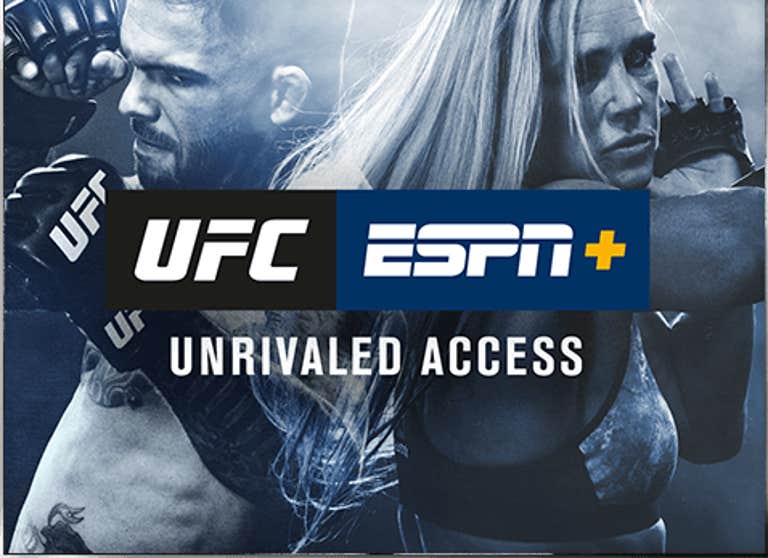 Devices: Chromecast, Amazon Fire Stick and Fire TV, Apple TV, Android TV, Roku players and TV, Oculus Go, Xbox One, PlayStation 4, Samsung smart TVs, and iOS and Android devices
ESPN+ is ESPN's subscription streaming service. It works as an extension of the ESPN app that you probably already have on your mobile device. Have you noticed the live events, articles, or series tagged with a gold "E+" that lives in the corner of the app? Those are the ones that are locked behind the ESPN+ paywall. It's literally thousands of events per year, including the aforementioned UFC Fight Nights and a bunch of exclusive Top Rank boxing events. You'll also get all of the best 30 for 30 episodes, daily MLB action, every out-of-market MLS game, international soccer matches, and more college sports than you can dream of.
Along with access to a number of original series, your ESPN+ subscription also gives you fewer ads across the ESPN network.
TL;DR: It's a pretty great deal and essential for just about every sports fan.
UFC 246 live stream: ESPN prelims
In case you need a reminder: Your ESPN+ subscription will not allow you to watch the ESPN prelims for free. You'll still have to have a cable or live TV subscription to watch it on the network beginning at 8pm ET. Here are the matches you'll be able to watch on ESPN:
Roxanne Modafferi vs. Maycee Barber
Andre Fili vs. Sodiq Yusuff
Tim Elliott vs. Askar Askarov
Drew Dober vs. Nasrat Haqparast
If you don't already have a way to watch ESPN online, every major live TV streaming service carries the channel, and all of them offer at least a one-week free trial before you need to start paying. Once you download the ESPN app and punch in your credentials, you can watch the prelims and the main event from one convenient location. Here are a few options for you:
2) Sling TV
3) YouTube TV
Cost: $49.99 per month
Devices: Google Chromecast, Roku, Apple TV, Android TV, Xbox One, iOS and Android devices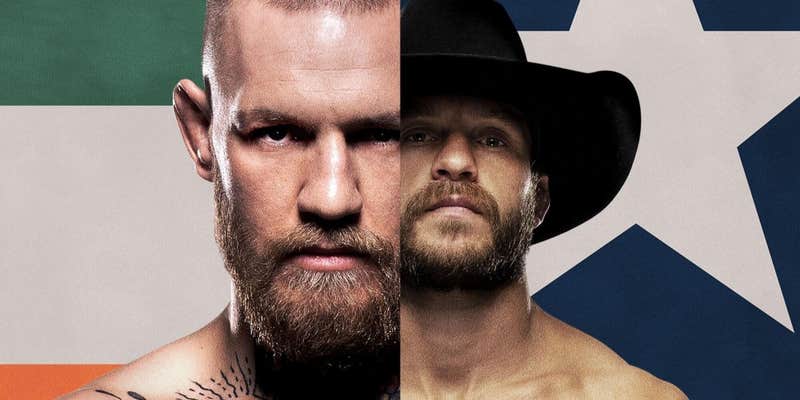 UFC 246 live stream: Fight Pass early prelims
For the die-hard fans out there, UFC's Fight Pass carries the early prelims, which start at 6:15pm ET. Here's the full Fight Pass lineup:
Aleksa Camur vs. Justin Ledet
Brian Kelleher vs. Ode Osbourne
Sabina Mazo vs. JJ Aldrich
UFC Fight Pass launched in 2014. The service hosts the early undercard bouts of every UFC PPV, and it's also where you'll find the smaller, more local UFC events that aren't picked up by ESPN (it's even begun hosting more boxing cards). The app is incredibly versatile. You can download it via Apple TV, Xbox One, Xbox 360, Amazon Fire TV, Chromecast, Roku, Samsung smart TVs, LG smart TVs, and iOS and Android devices.
Conor McGregor vs. Donald Cerrone live stream schedule
All times in ET.
Main card | 10pm on ESPN+
Conor McGregor vs. Donald Cerrone
Holly Holm vs Raquel Pennington
Aleksei Oleinik vs. Maurice Greene
Claudia Gadelha vs. Alexa Grasso
Anthony Pettis vs. Diego Ferreira
Prelims | 8pm on ESPN
Roxanne Modafferi vs. Maycee Barber
Andre Fili vs. Sodiq Yusuff
Tim Elliott vs. Askar Askarov
Drew Dober vs. Nasrat Haqparast
Early Prelims | 6:15pm on Fight Pass
Aleksa Camur vs. Justin Ledet
Brian Kelleher vs. Ode Osbourne
Sabina Mazo vs. JJ Aldrich
For a year-round sports fix, sign up here and check the "sports" box to receive our weekly boxing newsletter. You'll hear about all the biggest fights and best knockouts from the Daily Dot's streaming sports guru Josh Katzowitz.
The Daily Dot may receive a payment in connection with purchases of products or services featured in this article. Click here to learn more.