By now, most of us are familiar with the term "tea," but not in the context of, say, the hot beverage made by steeping dried, crushed tea leaves in boiling water—but as in the goss. You know, the dirt, juice, scoop… whatever you want to call it. The tea can be sipped, served, or spilled, depending on whether someone is simply enjoying a good bit of gossip or spreading it on their own.
But how did this bit of internet slang become so ingrained in our collective vernacular? The most obvious origin is that it was ostensibly derived from imagery of housewives or little old ladies sitting around drinking tea while sharing the neighborhood gossip.
What does 'tea' mean?
Urban Dictionary's top definition dating back to 2003 states that tea is "gossip or personal information belonging to someone else; the scoop; news Spill the tea about what happened at the club."
Usage of the word really picked up steam in the drag community—the Black drag community, in particular—as another entry from 2010 states:
In the drag community, tea is particularly juicy or sought after gossip or info. Often, but not always, drag drama is associated. Tea is often served during or after drag pageants, especially in online chat sites like Carrie Fairfield where gossip feeding frenzies involving the latest drag related news are a common occurrence.
According to Merriam-Webster, the very first known appearance of the word "tea" in its current slang context came from the 1991 research publication, "One of the Children: An Ethnography of Identity and Gay Black Men," by William G. Hawkeswood.
"Straight life must be so boring. Because everyone conforms," quoted a subject known only as Nate. "These gay kids carry on … They give you dance and great tea." Given the source, it only makes sense that, eventually, the word made its way to the drag scene.
The sipping tea meme
The term "tea" took on a whole new life, however, when Lipton released the following "Be More Tea" commercial in a joint promotion with the film Muppets Most Wanted, which was released March 21, 2014.
Within months, the still image of Kermit drinking a cup of tea quickly spread across the internet like wildfire as a subtle form of call-out culture—typically paired with a snarky caption followed by, "…but that's none of my business."
An Instagram account @thatsnoneofmybusinesstho amassed over 130,000 followers at the time, in just four days after its June 20 launch, and just a few days later a Tumblr account called Kermit the Snitch also began sharing memes.
The "but that's none of my business" meme later took on new life in 2016 when a photo of LeBron James crying while embracing teammate Kevin Love became a viral meme after he led the Cleveland Cavaliers to its first NBA championship title in franchise history.
READ MORE:
Many were quick to compare the photo to the Crying Jordan meme. The goofus who ran the Good Morning America Twitter account at the time proceeded to troll the internet by asking the question: "Does #CryingLeBron join other meme greats like #tealizard, #CryingJordan and #smockin / the mask? Tweet us!"
Does #CryingLeBron join other meme greats like #tealizard, #CryingJordan and #smockin / the mask? Tweet us! pic.twitter.com/4xoDahAk1Q

— Good Morning America (@GMA) June 21, 2016
To give credit where credit is due, both "tea lizard" and "smockin" were the inventions of Weird Twitter user @trillballins, but from that day forward, the Kermit tea meme was largely referred to as "tea lizard."
The tea meme was eventually cemented into meta history in April 2017 when even Kermit the Frog himself tweeted it out. (He probably refers not to be called "tea lizard," though.)
#ItsNotEasyBeing meme… But that's none of my business.

— Kermit the Frog (@KermitTheFrog) April 6, 2017
Drinking tea reaction GIFs
Of course, Kermit is far from the only meme to play off the term, as others GIFs including Morticia Addams, the rapper Dreezy, and Wendy Williams declaring that "the tea is exceptionally good today" have all become popular examples.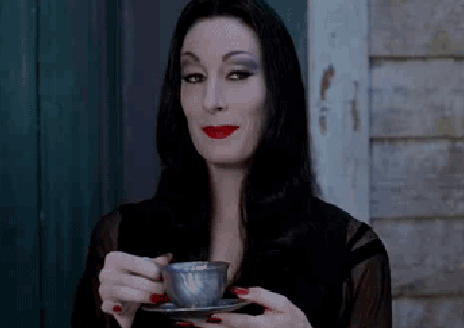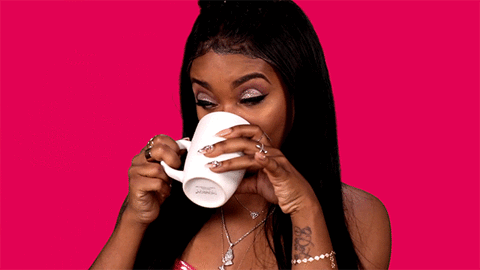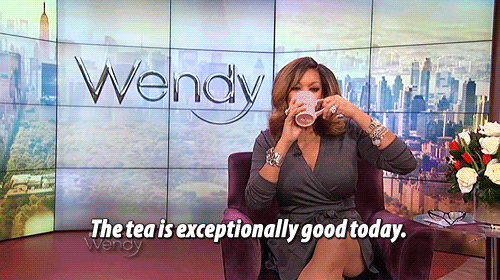 However you prefer your tea—hot, iced, black, or with sugar—we can probably all agree that tea is best served salacious AF.