People are dunking on a Brazilian beauty salon after it advertised an impressively useless anti-coronavirus product: A mask so thin that you can literally see through it.
Zilda's Beauty Center posted a photo on Facebook praising the mask for its ability to let people see your face underneath. Sure, it's breathable and transparent…but it doesn't protect anyone from all the gross, possibly infectious droplets emerging from your nose and mouth.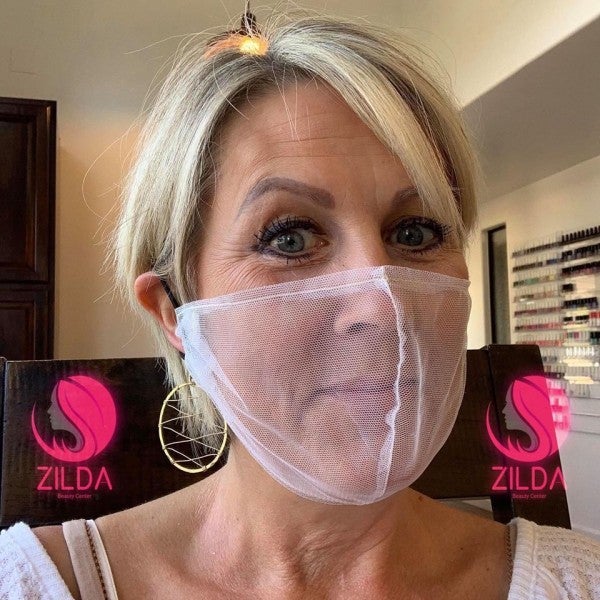 Redditors quickly nicknamed it the Karen mask, referencing the trend of middle-aged white women filmed having temper tantrums when asked to wear masks in shops. In general, women are actually more likely to wear masks and follow pandemic safety measures than men, but the idea of a useless, transparent mask is unmistakably Karenish, putting personal vanity and comfort ahead of other people's safety.
You don't need medical expertise to understand why this mask is a stupid idea. According to the Centers for Disease Control and Prevention, people should wear cloth face coverings "in public settings and when around people who don't live in your household, especially when other social distancing measures are difficult to maintain."
Those masks aren't a fashion choice; they're designed to slow the spread of disease by catching particles when you breathe, talk, sneeze, or cough. Effective non-medical masks generally include several layers of fabric, which is basically the opposite of the thin, gauzy "Karen mask" we see here.
Opaque masks do have their downsides, although not in the way the most vocal complainers think. There's no physical danger to wearing a mask, as proven by the many people who already wear face-coverings every day, either as part of their workplace safety gear, or traditional Muslim clothing like niqabs. Your breathing will not be affected by a mask.
However, widespread mask usage could be a major problem for people with hearing issues, because it prevents them from reading lips or facial expressions. This is the best argument for using transparent face masks, although the "Karen" mask is definitely not the answer. Plastic screens would be a more practical solution, but as people scramble to buy face-coverings, cheap fabric masks remain the most popular choice.
READ MORE:
H/T to Tech Times