A group of students' clever hack for getting free pizza from Domino's has TikTok viewers debating the ethics of their choices.
The video, which has been viewed nearly 4 million times so far, shows the group of friends piling slices of pizza into containers they brought into the restaurant.
The TikTokers use the viral "nobody's going to know" sound for their video.
The container gets slid into bags under the table, and a new pizza is eventually brought out by a Domino's server.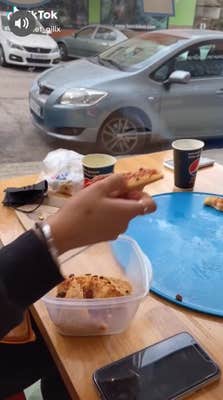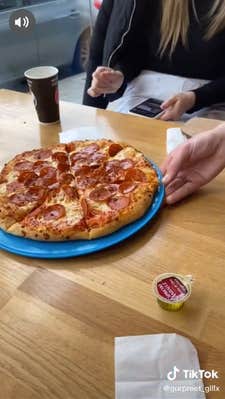 The original uploader, @gurpreet_gillx, explained in a comment that their Domino's has "a deal where you get a free pizza everytime you finish a pizza."
"We paid €7.50 each and got 4 pizzas and refill drinks so yh Spain do it right," she added.
Anyone who has ever been a broke student knows the struggle of trying to feed yourself. The combination of little money, a lack of free time, questionable access to kitchen appliances, and still trying to be social with friends can lead to some really creative thinking when it comes to food and entertainment.
As such, most of the comments were supportive of the friends taking advantage of a major franchise's in-store promotion.
"If I worked at domino's I wouldn't even care cause at the end of the day that doesn't affect my pocket so I would just pretend I didn't [notice] that," @mariatello.r replied.
"Best thing about this is it's not even stealing," agreed @j66yed.
However, not everyone agreed with that position.
"This is stealing," claimed @oxtasx. "Because it is in house consumption only. Same with an all u can eat buffet. U r not allowed to bring containers and take it with u."
"Yeah because a couple of students struggling with money is going to affect a multi billion dollar company," one viewer pushed back.
However, the real takeaway for most people was simply the shock over Domino's actually having dine-in locations—let alone ones that are currently open for business. As it turns out, the United States is really missing out.
---
Today's top stories