NBC's The Office is still one of the most-watched shows on Netflix.
Jim and Pam, in particular, are longtime fan favorites. The beloved television couple, played by Jenna Fischer and John Krasinski, finished the series with a baby, Cece. And if you ever wondered how Jim and Pam's daughter grew up, look no further.
Jenna McKinley is a TikTok user who looks remarkably similar to the beloved television couple—and she's gone viral.
The video has already racked up 250,000 views. In it, McKinley jokes about being born to the iconic television couple. Her use of a favorite TikTok sound clip—"This is my family" by steeerling—really ties the video together. The resulting clip has been spreading rapidly online and has people convinced that she is genuine Halpert stock.
According to an interview with BuzzFeed, McKinley thinks she has her dad—erm, Jim's—jawline. She also boasts brunette hair similar in color to his shaggy locks. Her eye shape and hair texture, however, are all Pam.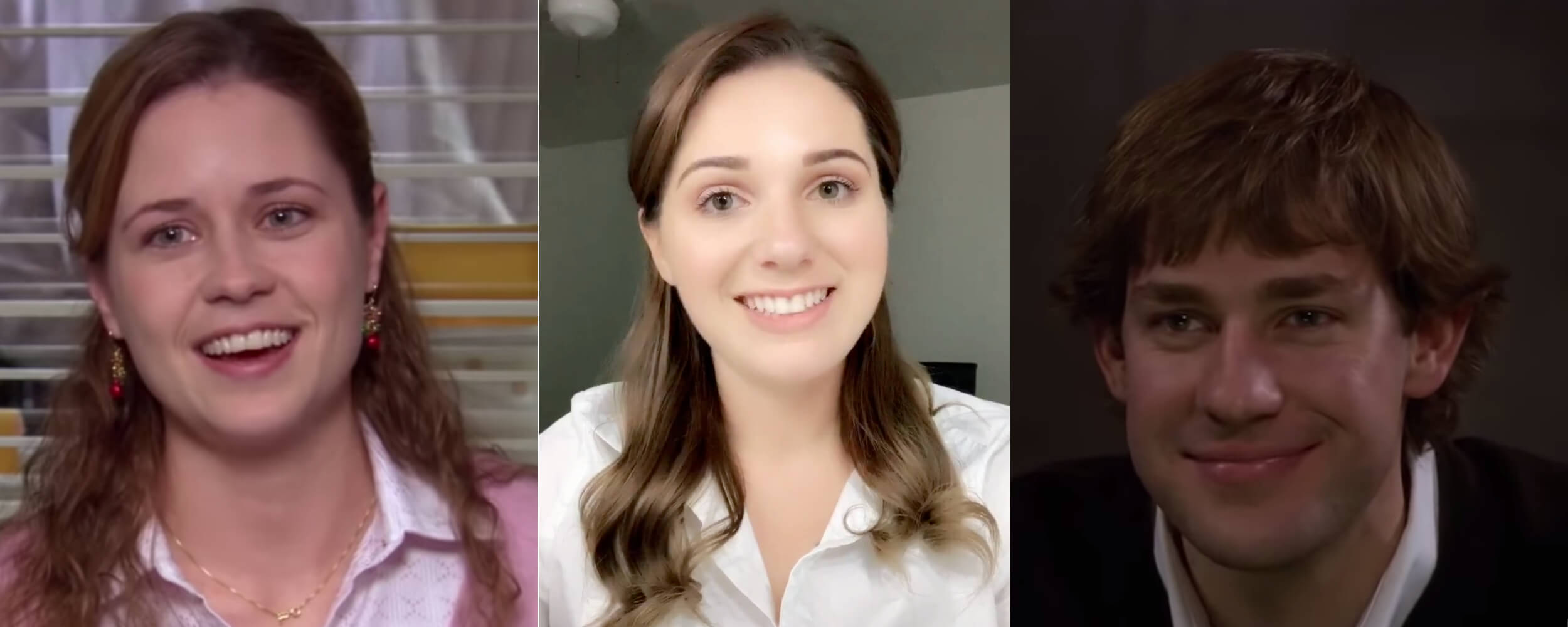 Apparently, the idea for the video came from other TikTokkers, who told McKinley of her similar features to the duo in comments on her other videos.
Unsurprisingly, a few die-hard fans took issue with certain inaccuracies in McKinley's video. For one thing, based on the final episode's air date, Cece would be—at most—around 10 years old. McKinley is 30 years old, according to BuzzFeed.
Still, fans of the show are finding plenty to enjoy in the short video. Plus, it's likely only a matter of time before we get a glimpse of a fully grown version of the Halpert's other child, Philip, as well.
Maybe he and his sister can do a duet?
READ MORE:
H/T BuzzFeed
---
NOW HEAR THIS:
How the Teens of TikTok Are Finding Empowerment
Introducing 2 GIRLS 1 PODCAST, a weekly comedy show where Alli Goldberg and Jen Jamula (two actors who perform bizarre internet content on stage) have hilarious and humanizing conversations with Bronies, top Reddit mods, professional ticklers, video game archaeologists, dating app engineers, adult babies, cuddling specialists, vampires, Jedi, living dolls, and more.
Subscribe to 2 GIRLS 1 PODCAST in your favorite podcast app.
---