As a ridiculous, animated preview to a potential performance at Area 51, meme authority Lil Nas X this week wrangled ideal co-conspirators—Billy Ray Cyrus, Young Thug, and Mason Ramsey—to raid the top-secret, G5-classified government facility, to "see them aliens." In his new remix and animated video for "Old Town Road," the platinum-selling rapper goes hood Ancient Aliens on us. But how did we get here?
Recently, someone started a GoFundMe page entitled "GET LIL NAS X TO PERFORM AS WE STORM AREA 51." Obviously a joke, there's an outlandish $100,000 goal for which just $277 has been raised. However, this page was spawned out of another, ongoing gag.
Last week, up popped a Facebook event called "Storm Area 51, They Can't Stop All of Us," that's gone viral to the extent that people are thinking entirely too hard about it—the awakened conspiracy theorists and the people who hate them. Created by a joke/meme page called "Shitposting cause im in shambles," the "event" is set to take place between 3am-6am on Friday, Sept. 20. Over 1,700,000 are marked as "going," with 1,300,000 "interested."
The Atlanta rapper, prodded online with a screenshot of the GoFundMe, responded by saying he would do it. The page has been outfitted as a tour poster, including the headline "LIL NAS X + THEM ALIENS."
This remix, attaching the sexually fluid Young Thug and Mason "That Yodeling Kid" Ramsey, may appear to be Nas X's second jumping of the shark. (The first being his baffling-at-first collaboration with Billy Ray Cyrus on the remix.) However, there's more to both their respective inclusion and the video. For one, leading the video is an animated version of Anthony Fantano, an occasionally infamous YouTube music reviewer, as a button masher at Area 51. Also making appearances: Keanu Reeves "Naruto" running onto the scene, Thanos' head on a purple bird, swagged-out aliens, and other references to his single, "Panini."
The Billy Ray Cyrus-assisted remix of "Old Town Road," a veritable country-trap banger is currently the longest-running hip-hop song at the top of Billboard's Hot 100 singles chart—maintaining pole position for 15 weeks straight. It will likely tie, then break, the record of 16 weeks held by 1995's "One Sweet Day" by Mariah Carey and Boyz II Men and 2017's "Despacito" by Luis Fonsi with Daddy Yankee and Justin Bieber.
Nas X's intentions to keep the YoungKio-produced track's momentum at a fever pitch prevail amid backlash from bigots, stemming from his Wrangler collection and coming out as gay. There's also a contention that the success could be subverting his career as a viable artist, though it's hard to tell given his three-week-old debut EP, 7, is still charting in the top five on Billboard.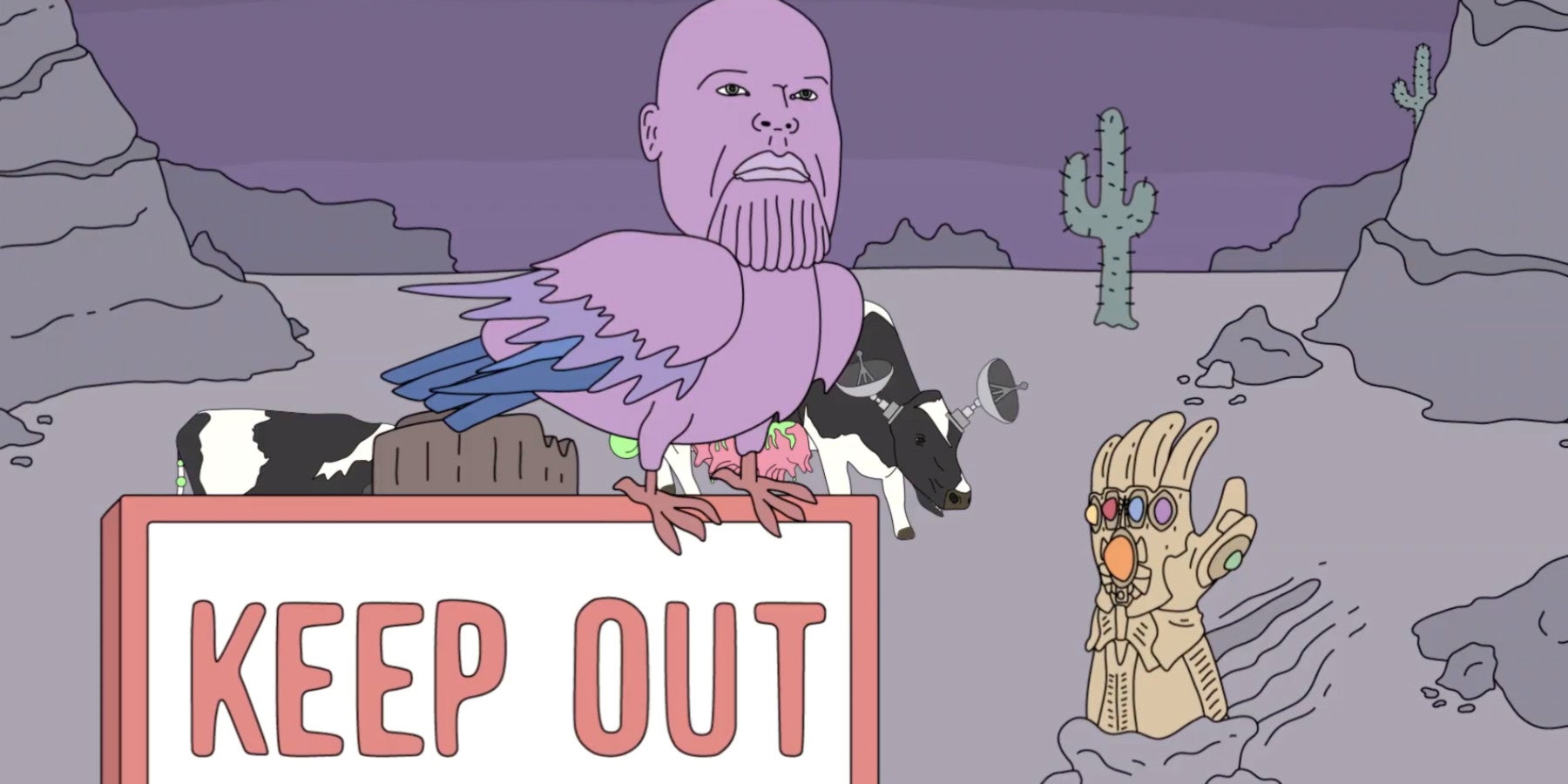 The video and remix is a culmination and inversion of meme-ism, each layered over and also alongside the other. Perhaps underestimated about the subversive genius in "Old Town Road," first popularized on social media video app TikTok, is that it is probably the most significant meme of all time—definitely the most profitable. Inherently low-stress with a low-commitment threshold, it is easily the most tolerable hit song in recent memory—made possible by the fact that it's less than two minutes long. That it's also a low-key all-time bop is entirely secondary, and yet even something of a meme itself—which is the trick.
Nas X has taken what trap-meme Instagrammers @remixgodsuede and others started into another stratosphere while reaching the broad crossover coolness country stars have long yearned. What country label heads have never understood (or have been willfully ignorant about) is that country music isn't, at all, universal. Cyrus' awful "Achy Breaky Heart" was never cool, which makes his inclusion simultaneously fitting (he's been appropriately recast as a wave-maker) and extremely sweet (in that the remaining "Achy" stench has vanished completely). Realized in this explosion, in turn, is that "Old Town Road" could've only been made possible via rap music—the ultimate unifier of our age.
"Yeah, I'm gonna take my horse to the old town road" is listed as the first official line on "Old Town Road," but listen to the original version of the song again. In the first few seconds of the song, Lil Nas X seems to croon, "I know what I'm doin', doin', doin'." Indeed he does.
READ MORE:
Got five minutes? We'd love to hear from you. Help shape our journalism and be entered to win an Amazon gift card by filling out our 2019 reader survey.