If you've ever wanted to see alien life for yourself, the opportunity may have arrived.
More than 400,000 people have signed up via a Facebook event to "storm" Area 51 in Nevada and "see them aliens." Another 418,000 people replied "interested" to the Facebook event, which aims to raid the facility between 3 and 6am on Sept. 20. Before reaching the facility, however, the group is set to meet at the Area 51 Alien Center nearby.
"If we naruto run, we can move faster than their bullets," the page description reads. While the creators of the page—"SmyleeKun" and "Shitposting cause im in shambles"—and their description may make the event sound goofy, the hundreds of thousands of confirmations indicate that at least a few people may be taking the effort seriously.
Area 51 is considered by many to be the American government's chosen location for classified alien research. While the base has never officially been declared a secret, the subtlety under which many of its operations occur has long enticed people.
The event won't take place for several months—if at all—but interested parties are already flooding the web with their ideas of what the raid will reveal.
After we successfully free the aliens from Area 51 and they start calling thanos pic.twitter.com/nasaSOHA5T

— noobmaster69 (@aimbop) July 12, 2019
Us arriving at the Area 51 gates : #Area51 #area51raid pic.twitter.com/7jtiE7xo5z

— Nicola Memes (@nicolamemes) July 12, 2019
Me suprising my girl when i come back from Area 51 pic.twitter.com/5mfEcGPt5l

— AgentKid (@AgentKid1410) July 12, 2019
While many people seem optimistic about what the raid will unearth, others don't appear to have faith in the effort.
Me pretending to be a janitor when I get caught red handed in the Area 51 hallway pic.twitter.com/0xtq8RM6Qv

— Jimmy Beans (@james_baines23) July 12, 2019
Us walking out of Area 51 with no aliens pic.twitter.com/7J543zMKXM

— lol_shit (@BonneyLydia) July 12, 2019
The U.S government when everyone arrives at area 51

pic.twitter.com/Mn3h2uZcpb

— C R G (@realistzen) July 12, 2019
A pinned post from July 4 explains the plan in greater detail.
"The basic idea is that the Kyles form the front line, if we feed them enough psilocybin and monster energy and say that anyone in camoflague is their step dad, and the entire base is made of drywall then they will go beserk and become an impenetrable wall," Facebook user Jackson Barnes wrote alongside a photo detailing the effort.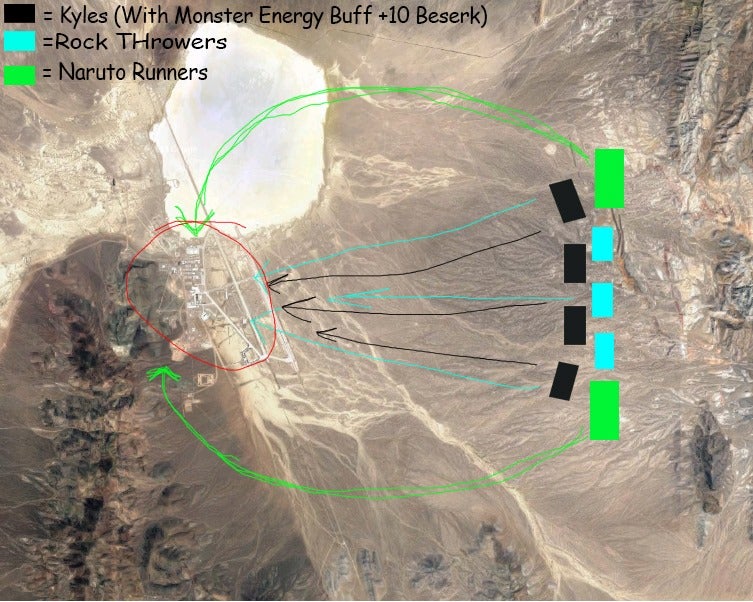 "Then the Rock Throwers will throw pebbles at the inevitable resistance (we dont want to hurt them, we just want to annoy them enough to not shoot the kyles as often). While this is all happening, the two naruto runner battallions will run full speed around the north and south flank, and shadow clone jutsu, effectively trippling our numbers, and overwhelm the base (red circle)," the post continues.
At the bottom of the jesting post, Barnes was careful to explain that he, at least, has no real intent to go through with the plan. "Hello US government, this is a joke, and I do not actually intend to go ahead with this plan," he wrote. "I'm not responsible if people decide to actually storm area 51."
Indeed the majority of responses on the page consist of jokes, memes, and amusing references to alien life.
READ MORE:
H/T USA Today