Sometimes your mouth says one thing and your music says another.
The reality that the music we listen to often more accurately reflects what we're feeling than we're willing to admit has manifested itself in the latest Twitter meme, known as "my headphones."
https://twitter.com/cultyoongz/status/1182001906115321859
In this snowclone meme (a meme with a phrasal template), a person says they are "fine" or "OK" but their music reveals emotional depths you wouldn't have expected.
Generally, this means that someone claims they are doing well, but they are listening to one of those songs so sad it makes you weep just hearing the first few bars.
someone: "you okay?"
me: "yeah im fine haha lol"

my headphones:

fromis_9 – love bomb
1:00 ━━❍─────── – 3:03
↻ ⊲ Ⅱ ⊳ ↺
Volume: ▁▂▃▄▅▆▇ 100%

— jiheon pics ♡ (@jiheonpix) October 10, 2019
them: hey r u ok?

me: yeah i'm fine

my headphones: pic.twitter.com/IpbP7Xy7Ho

— lucy jayne ford⁷ (@lucyj_ford) October 17, 2019
And of course, some of your favorite meme accounts got in on the act. Even meme accounts sometimes shed tears.
people: are you ok?
me: yeah i'm fine

my headphones: pic.twitter.com/JBt9z1cVmK

— Ireland Simpsons Fans (@iresimpsonsfans) October 17, 2019
The prolific meme monitors at Know Your Meme found that the meme has had a massive spread over the last three weeks. In particular, instances of the meme shouting out K-Pop bands have gotten a lot of attention.
me: wearing all black with a serious expression

my headphones:

TWICE – Jelly Jelly
1:00 ━━❍─────── – 3:35
↻ ⊲ Ⅱ ⊳ ↺
Volume: ▁▂▃▄▅▆▇ 100%

— TWICE ➐ (@sanaorbits) October 8, 2019
KYM traces the meme back to a now-deleted post from the account @GoothAngel from late September. Gooth Angel: thank you for your service.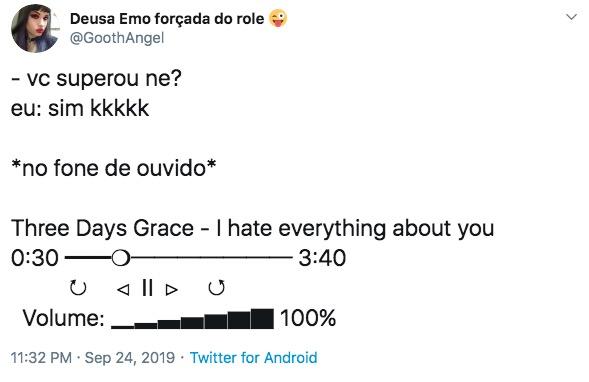 Will this meme stay relevant much longer? If the past is any indication, probably not. But that dissonance between what's blasting from our headphones and what we can show the world: that will last forever.
READ MORE: