The Falcon and the Winter Soldier is basically Sam Wilson's second MCU origin story, setting the scene for him to become Captain America in the final episode. And by the laws of superhero narrative, that means someone else will then become the new Falcon. That person is probably Joaquin Torres, played by Danny Ramirez.
Torres arrives early in episode 1, and while some eagle-eyed Marvel fans recognized him on sight, he's a pretty obscure character in the comics. So don't sweat it if you haven't heard the name before. In the MCU, we meet him as Sam's new sidekick: an Air Force intelligence officer who acts as ground support and informs Sam about the Flag-Smashers. He and Sam already seem like good friends, but the show doesn't explain how they started working together. (Maybe that happened in a deleted scene, as per the fan theory that the show was heavily rewritten due to Covid-19.)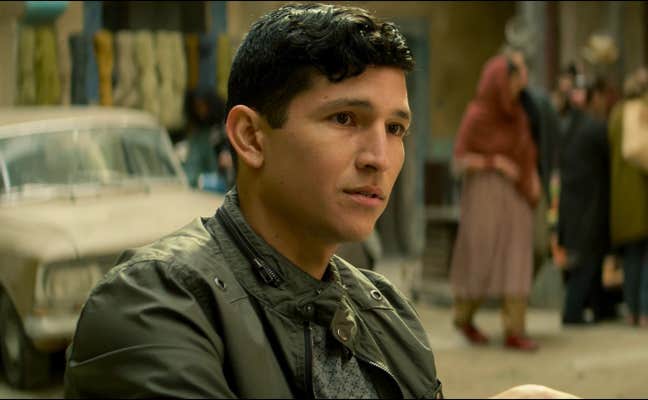 Joaquin Torres in Marvel Comics
Introduced in the 2015 comic Captain America: Sam Wilson (where, you guessed it, Sam Wilson becomes Captain America), the comics version of Joaquin Torres is pretty different from the guy we meet in the MCU. He's a young man who Sam rescues from a supervillain performing human/animal hybrid experiments, resulting in Joaquin having wings. (His bird genes actually come from Sam's pet falcon Redwing, with whom he shares a psychic bond. Comics!)
It's a much more fantastical storyline than we typically see in the Avengers franchise, involving Sam temporarily getting turned into a werewolf. But the end result is easy to predict: Joaquin Torres, a guy who literally has wings, decides to adopt the superhero name Falcon and become Sam Wilson's new sidekick.
Will Joaquin Torres become Falcon in the MCU?
As is often the case, the MCU replaced Torres' fantasy origin story with an overtly military role. He doesn't (yet) have superpowers, and the idea of him becoming a bird/human hybrid doesn't really fit the vibe of the Captain America franchise so far. However he is the obvious choice to fill Sam's shoes once Sam officially takes up Cap's shield.
In a recent interview, Danny Ramirez said he'd be excited to explore the character further, pointing out that "we don't know Joaquin's origin story." Unsurprisingly, he remained close-mouthed about whether Joaquin will officially become the Falcon. That would, of course, be a spoiler. But given the way Marvel likes to bring back recurring characters, it's easy to imagine Torres showing up elsewhere in the MCU—especially considering his potential role as the main franchise's first Latino superhero.