A TikToker filmed a man's reaction after she rejected him, leaving viewers lauding her courage and empathizing with her experience.
The TikToker, known as @badgirlavi or Avianna on the platform, says she was at a bus stop when a man approached her and later alleges that he tried to put her in his vehicle. In the video, he calls her a "bitch" after she appears to reject him.
While the man is off-camera at the start of the video, text across the video claims he drove up to where Avianna was standing and hopped over a fence to speak to her. "What are you doing?" the man asks her.
"I'm not interested. Don't talk to me," Avianna says to him.
"OK. Be a bitch. It's OK," the man can be heard saying.
In response, Avianna tells the man she's a minor and calls him a "weird-ass creep." She clarifies in the text overlay that she's not actually a minor but is "definitely too young and gay for him."
The man can be seen getting back into his white truck. "Yeah, drive the fuck off," Avianna tells him. "Go."
The man can be seen flipping her off from inside his truck while Avianna says that she's going to get his license plate number. He lingers around for a while, seemingly revving his engine.
"Toxic masculinity at its finest," text across the video reads. "Girls should be able to wait for the bus without being honked at and harassed."
In a "part two" video, the TikToker says the man tried to "snatch (her)" and "put (her) in his car" when she moved away from him to call 911. She says she screamed, prompting him to get back in his vehicle. She also says that when she reached the 911 operator, they couldn't help her without the man's license plate or his current location. She says another vehicle then drove up to where she was and "tried to do the exact same thing." "This is why I say, 'Fuck the police,'" Avianna says.
In a third video, which contains a "sensitive content" warning, Avianna further clarifies that she isn't a minor and that she was just trying to "give him more than one reason to leave (her) the fuck alone."
Avianna told the Daily Dot that since posting her video, she's received some backlash from people criticizing her for being "rude" to the man and accusing her of being overly sensitive. "I didn't have any kind weapons on me, so the first and only thing I could do was assert myself through my mouth. And I don't think that was wrong," she told the Daily Dot. (If there was backlash against Avianna, it has since been drowned out by comments of support.)
Avianna, who told the Daily Dot she's a victim of sexual assault, said the incident was "very triggering" for her.
"When it comes down to situations like this, I really assert myself now, because that's all I can do," she said. "I've learned that the tougher you carry yourself, the less likely they're going to really do something."
She said that despite how she portrayed herself, she was actually scared and panicking. "When he touched me, that's when I really started to panic, because I thought, 'This is it. The cops aren't sending anybody right now, and he's touching me.'"
Avianna told the Daily Dot she tried calling the Phoenix Police Department (PPD) twice—once while the man was allegedly trying to grab her—and that it didn't send a response to her location. She said she begged the police to "send someone" and cried over the phone. The Daily Dot has reached out to the Phoenix Police Department.
Despite allegedly not receiving help from the police, Avianna says she plans to file a police report with the PPD within the next week.
Her initial video has been liked 3.3 million times and viewed nearly 14 million times since being posted on Thursday. The video was sadly all too relatable for many women. "Why do they think we want to talk to them so bad? If i don't know you i don't care to have a conversation w/ you," one viewer questioned.
"As a woman I know exactly the rage and fear you felt. We have to act this mean because IT IS NOT WANTED," another said.
Others commended the way Avianna handled the situation, remarking on how they feel like they have to be nice to stay safe. "I wish I had this confidence. I'd literally be too scared to be mean," one said.
"Girl you're brave," another added.
"That's so terrifying and awful. You handled yourself well," a third said.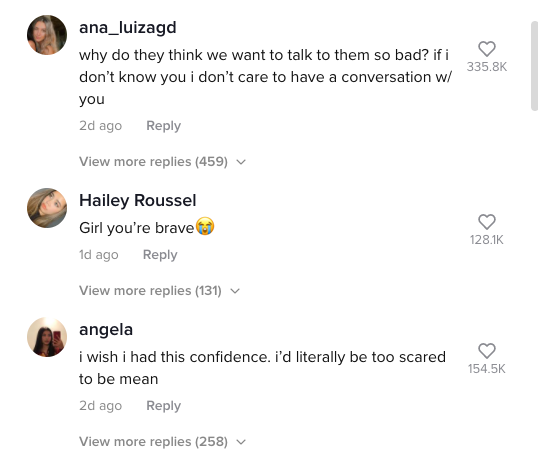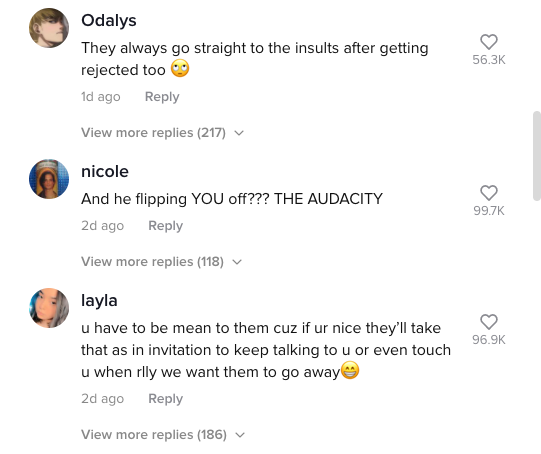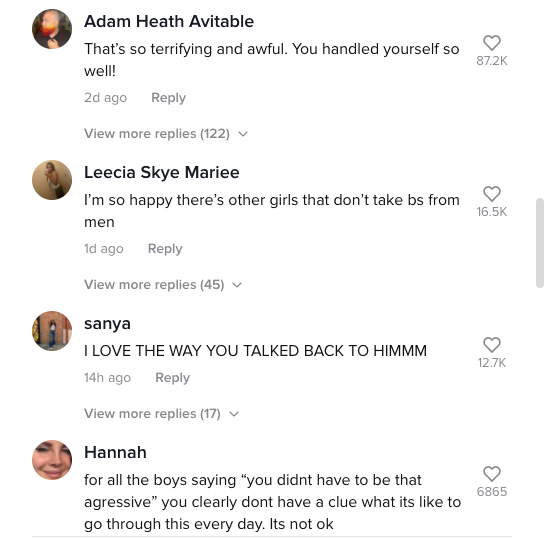 Women on TikTok have similarly gone viral for filming the harassment they face, whether it be on the street or in a grocery store. In one recent instance, a woman filmed as a man followed her for three blocks. In another, a man knocked on a TikToker's car window to ask about the scent of her feet.
This story has been updated to include comments from Avianna.
If you are a victim of sexual assault or want more information on sexual assault, contact the Rape, Abuse & Incest National Network at 1-800-656-HOPE (4673).
---
Today's top stories