Opinion
Kentucky Fried Chicken is having a good week in… video games? Just one year after the franchise launched its meme-filled Twitter account KFC Gaming, it now has a visual novel to show for it. And games journalists are gobbling it up.
I Love You, Colonel Sanders! A Finger Lickin' Good Dating Simulator appeared earlier this week as an official, free KFC-themed dating simulator set to roll out Sept. 24. The game features a romanceable (and ridiculously attractive) Colonel Sanders, along with multiple endings, anime-style art, and a full-fledged story to enjoy. Oh, and it looks fun.
The game is being developed by Psyop, which has two other Steam games under its belt and a sizeable marketing campaign history, including Nike's "Dream Crazy" campaign with Colin Kaepernick. I Love You, Colonel Sanders! even features a trailer by professional design studio Shotopop, Fanbyte's Victoria Rose reports. This isn't a cheap gag game. There's a lot of care put into KFC's Colonel Sanders dating simulator.
"Visual novels are a serious genre. There are massive new markets here in America, and it's even bigger in Japan," said Rose, who uses she/they pronouns. "So there's a difference, to me, between disrespecting the source material, and working things into a comedy or satire that shows a bit of heart. […] So I felt optimistic about it being a respectful, sweet and tongue-in-cheek comedy, and I covered it as such."
Rose wasn't the only games journalist who wrote about I Love You, Colonel Sanders!. Positive write-ups emerged at Polygon, IGN, PC Gamer, AV Club, Hardcore Gamer, Engadget, PCMag, Twinfinite, and Dexerto, among many, many other sites. And yet it seems inappropriate to cover I Love You, Colonel Sanders! without honing in on what it truly is: a fast-food advertisement.
It may be an expensive, high quality, multi-hour dating simulator, but it's still a marketing campaign. Its goal is to build brand loyalty and get you to spend money at KFC. That's exactly why it's quirky, wacky, and just tongue-in-cheek enough to go viral. KFC is owned by Yum! Brands, a Fortune 500 company worth billions, and it certainly has the money to contract a decent production studio.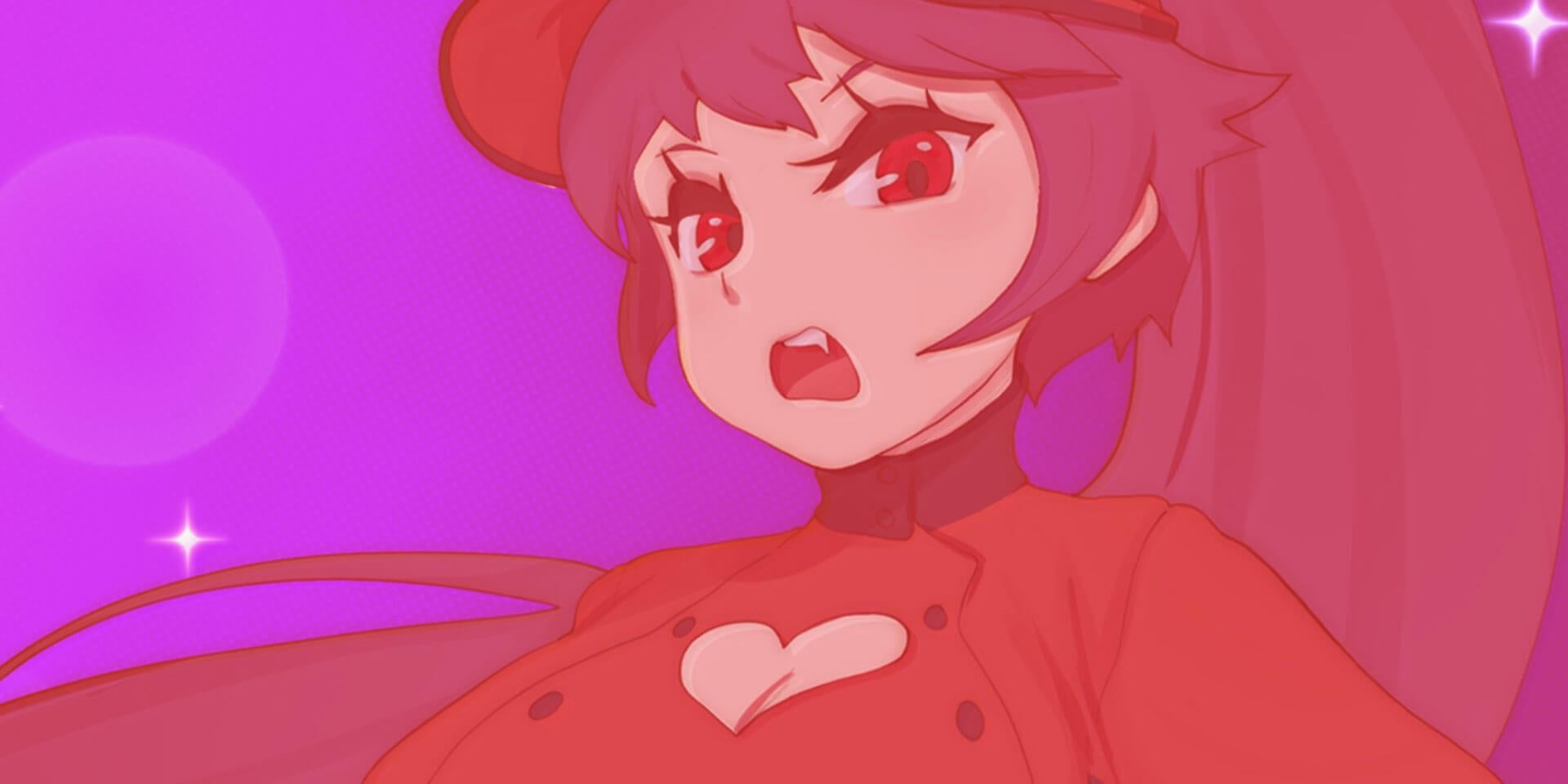 While KFC's game received numerous stories, visual novels as a whole are relatively underreported in games journalism. A quick search through PC Gamer shows its news writing largely focuses on games that stand out within the genre. One story spotlights Coffee Talk, a game where players work as a barista in a fantasy cafe. Another talks about Eliza, a visual novel by established development studio Zachtronics. More commonly, visual novels find themselves in the middle of a much larger debate about the games industry. The Daily Dot reported last week on adult game Taimanin Asagi's removal from Steam, and PC Gamer followed suit.
Extreme Meatpunks Forever, an episodic mech visual novel action game about "four gay disasters beating up Neo-Nazis in giant robots made of meat" received relatively positive coverage when it first came out. After the game spread through word of mouth, writers across Paste Magazine, Wired, and Rock Paper Shotgun spotlighted its unique premise and hybrid game design. Extreme Meatpunks Forever got as close as games like it can get to a high profile indie title.
"I think we've had pretty good coverage, for an indie game. It's difficult to quantify; we're definitely not at AAA level [or mainstream, multi-million dollar companies' games], but we've gotten enough coverage to do what we need to do," Heather Flowers, Extreme Meatpunks Forever's producer, told the Daily Dot. "The first game sold okay, and the second one just reached its goal on Kickstarter, so while we could definitely stand to have more attention on the project we're surviving with what we have."
The visual novel's second season, Extreme Meatpunks Forever: Bound By Ash, cleared its $22,000 funding goal with mere days to go. But coverage on Bound By Ash was notably muted. Only PC Gamer mentioned the news, and it waited until after the Kickstarter reached its goal. Meanwhile, games journalists scrambled to cover KFC's visual marketing gimmick as soon as it hit Twitter, even though the latter certainly didn't need as much attention as the former.
"I think there's a ton of word of mouth involved when it comes to hearing about indie games, especially queer and trans indie games," Josie Brechner, Extreme Meatpunks Forever's composer and sound designer (who uses she/they pronouns), told the Daily Dot. "The Meatpunks [universe] is lucky to have a large collective audience through various social media, but even then I think we were only able to cross the finish line for the Kickstarter thanks to folx telling their friends about us."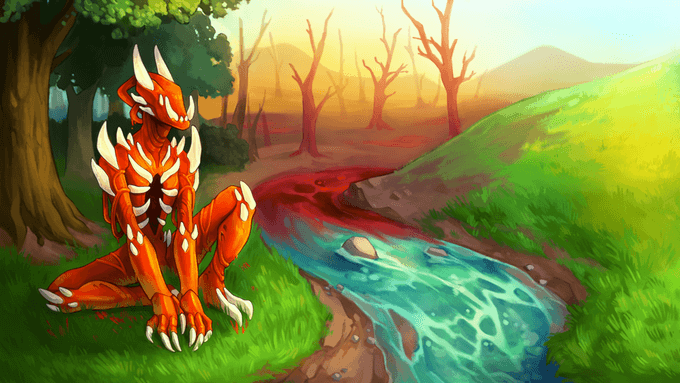 That's not to call out games journalists who reported on I Love You, Colonel Sanders! Several writers, like AV Club's Reid McCarter, Polygon's Nicole Carpenter, and IGN's Joseph Knoop, have a long history of critical deep dives into gaming's problems (Knoop and Carpenter have contributed to the Daily Dot). Many journalists who covered the KFC game critically engaged with it too, from tongue-in-cheek jokes about late capitalism to commentary on the growing list of meta visual novels out there, such as Doki Doki Literature Club and Hatoful Boyfriend.
These writers aren't lazy. They had to cover KFC's game. In the online journalism world, the difference between being in the green or the red is revenue from ads, which is driven by clicks. In other words, KFC's game isn't any more newsworthy than Extreme Meatpunks Forever's second season. It was just more lucrative.
"The thing is, games sites often NEED to cover big games in order to get the clicks and ad revenue to keep the site open," Flowers told the Daily Dot. "It's kind of a vicious cycle; people want to read articles about games they're already interested in, which gets them more interested in those games, which makes them want to read more articles about them. I don't blame any one person for not covering any given indie game; it's a systemic issue at its heart."
Rose argues there are many other reasons why games journalists don't cover indie visual novels genres, from an oversaturated market to titles that are just too similar to one another. That said, she understands why visual novel fans are upset with the muted coverage. She argues games writing hyperfixates on "trying to justify one's games writing and journalism," which means offbeat and strange visual novels tend to gain the most coverage because they stand out.
"I also think there's an underlying, quiet bias in the mainstream conversation against games that aren't necessarily based in dexterity or skill or creative thinking with immediate feedback," Rose said. "You'd need a genuinely good story to catch the eyes of a lot of games journalists, or you'd need to go out of your way to create a specific appeal. [Queer visual novel] Butterfly Soup, I'd say, was fantastic for those reasons—it's racially diverse and well-written—but maybe those reasons were the main ones it caught traction at all in American journalism."
KFC's visual novel is a microcosm of games journalism's biggest problem: It isn't built to critically engage with games as an art form, but to cover news, guides, and features based on traffic. This creates a hierarchy where the most normative and most popular games—usually major, mainstream products that predominantly appeal to cisgender, white, male, and heterosexual players—get all the attention. Newsworthy stories that serve smaller, niche, and marginalized communities are left out as editors assign writers to cover games like Borderlands, Call of Duty, and Cyberpunk 2077.
"Queer games tend to be smaller and lower-budget due to a number of societal and capital forces, so they tend to get less coverage (and thus fewer people know about them, etc. etc. etc.)," Flowers said. "I think there's something also to be said for the idea of challenging art—that queer games are much more likely to challenge the status quo, which is something that large swaths of gamers DEEPLY dislike, which is something that news publications probably don't want to highlight for fear of bringing harassment on themselves or the developers involved."
Journalism is a difficult field, and it can be hard to find newsworthy topics to cover on a daily basis. But news reporting isn't about traffic. We cover the news because good stories bring profound meaning. That's why queer games journalism matters—and why a marketing schtick from a major fast food corporation doesn't.
READ MORE: