When it was made public that John Mulaney had entered rehab in December 2020, the discourse that followed was both illuminating and exhausting. Fans fixated on his divorce, and the loss of his wife guy/nice guy persona; he was an unconfirmed Deuxmoi item; relationship rumors were delivered on TikTok by sweaty men; and the term "parasocial relationship" went viral.
Was that as weird to Mulaney as it was to us?
In Baby J, his first Netflix special since 2018's Kid Gorgeous, Mulaney doesn't directly get into the discourse that surrounded him for months, making only passing references to his divorce (from Anna Marie Tendler) and subsequent child (with Olivia Munn). This 80-minute special is about John Mulaney and addiction, but the way it's framed makes it clear it's also about people's perception of him.
And there's a lot on his mind. Early on, he says he thinks he'll be OK with sobriety if he can continue to get "constant attention," though elsewhere he sings that "Likability is a jail." As Mulaney tells an 11-year-old seated in the balcony, he has "kind of a different vibe now." He recounts correcting the woman who ran his "star-studded" intervention, who claimed Mulaney's friends said he was "very nice":
"Don't believe the persona."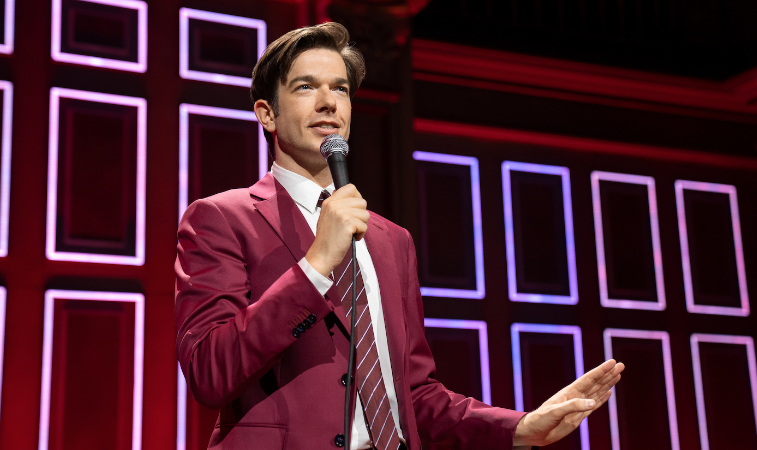 If this special is "wide-ranging," as the subtitle suggests, it really only ranges from Mulaney's intervention to rehab, which takes up most of the runtime. As his closer, he reads from a GQ interview he gave in December 2020, days before the intervention, to give some context to his state of mind. But it starts feeling like filler, especially as a closer. More illuminating is a part where Mulaney states, "What, are you gonna cancel John Mulaney? I'll kill him."
According to fans who saw Mulaney live on the "From Scratch" tour last year, the Netflix set, which was filmed in February 2023, went through several iterations and edits. He told one bit about his drug dealer on SNL last year. Mulaney was also criticized for bringing Dave Chappelle on stage last year at one of his Ohio gigs, where Chappelle reportedly did transphobic jokes, and some people tempered their comments about Baby J with that reminder.
Whereas Chappelle's fixated on calling out his critics in more recent specials, Mulaney doesn't dwell there. He doesn't hide moments of resentment and anger that seem to linger in his new sobriety, either. After a vivid story about being deep in addiction and pawning a $12,000 Rolex for $6,000 to score coke, he reminds us that while it's a depressing tale, it's "one I'm willing to tell you." But he tells us something more revealing about him, stating that he was offended no one in rehab recognized him.
Baby J is funny, and it's not that removed from his previous specials in terms of storytelling, though the pacing is a little different. The subject matter is the biggest shift, but you have to keep in mind that this special was crafted to create a perception, not to be an open review of one comedian's life.


We crawl the web so you don't have to.
Sign up for the Daily Dot newsletter to get the best and worst of the internet in your inbox every day.