Jodie Comer's love life is getting her in hot water.
The Killing Eve actress is trending on Twitter, not thanks to any new projects or controversial statements, but due to her boyfriend. The 27-year-old actress is reportedly dating a Trump supporter named James Burke, which has earned her the internet's scorn.
Unsubstantiated rumors have been spreading with abandon, accusing the actress of "performative activism." Many internet users find Comer's outspoken support of the Black Lives Matter movement and LGBTQ rights at odds with her personal life. News of Comer's rumored beau immediately lit up the web and spurred her name to trend on Twitter. There, the denizens of the web have gathered to drag Comer for appearing to stand by one set of ideals publicly, only to deviate from them privately.
One tweet with over 2,000 likes called it "disgusting" that Comer, despite playing a "powerful queer woman with a love interest who's a woc" in Killing Eve, is dating a Republican.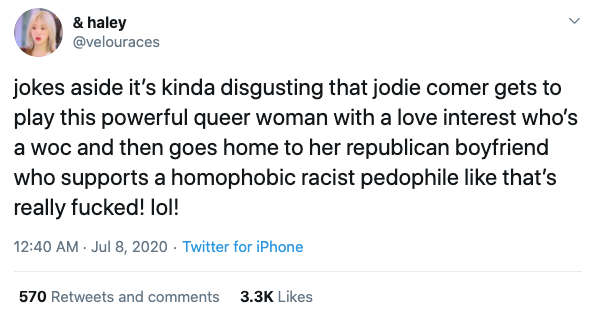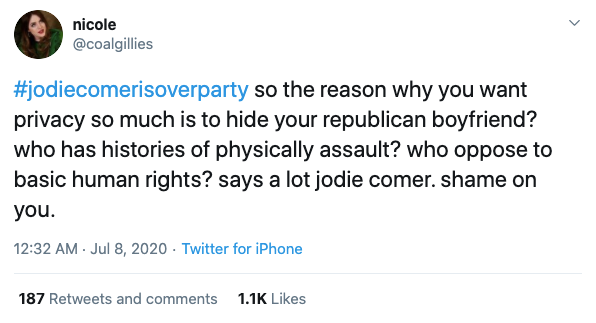 Other users are completely on board the #JodieComerIsOverParty, especially considering the context of the lack of people of color on set at the Killing Eve.
One user went so far as to compile a thread of "receipts" in an attempt to prove Burke's political leanings. In the thread, @juulsdayas reveals Burke's supposed voter registration, his father's Twitter page, and several shots of a young white man alongside Comer. Several appear to have come from Comer's Instagram page.
The "receipts" also include claims that Burke follows Trump on Twitter and several Mitt Romney pages on Facebook. One user claimed that he was suspended from lacrosse for assaulting another player on the field.
The online drama has led to at least one good thing. It reminded people to share a little love with Sandra Oh, Comer's woke and non-controversial co-star in Killing Eve. Many users are pointing out that Oh deserved all the Killing Eve love in the first place.
Some users were less affronted by Comer's rumored boyfriend but still felt conflicted. Many of them voiced disappointment at the thought that these revelations could ruin Killing Eve for them.
While some fans were deciding between canceling Comer or merely calling her out, others took to their accounts to show their support. Several fans noted that canceling the actress over speculation was unfair. They swarmed to her defense, calling out former fans over their condemnation of a young actress for allegedly dating someone with different political leanings.
"So everyone is cancelling Jodie Comer for dating a republican… yet no one knows if the name they have matches up to the guy she was photographed with," one user wrote. "So without any actual evidence the internet is 'cancelling' another celebrity. Worms for brains."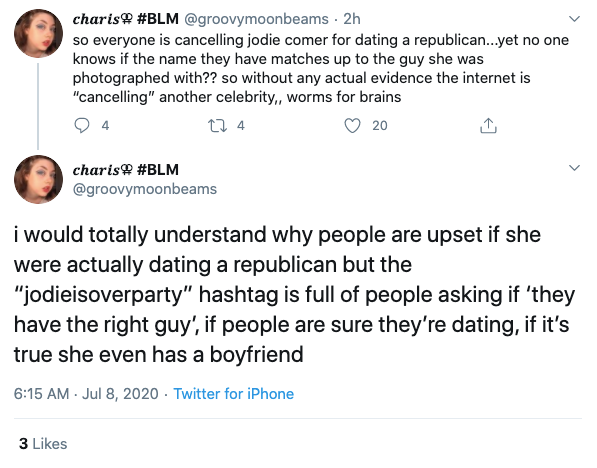 Comer has yet to respond to the controversy.
READ MORE:
H/T Newsweek