Jason Momoa is the first Justice League actor to voice support for his co-star Ray Fisher, who tweeted in July that director Joss Whedon was "gross" and "abusive" while filming the movie. Since then, Fisher's accusations have led to a formal investigation at Warner Bros. The most recent update saw Fisher accuse Warner Bros. of trying to discredit him in order to protect DC franchise producers. Meanwhile, Warner Bros. accused Fisher of failing to comply with investigators, which he denies.
Fisher hasn't publicly discussed the specifics of his allegations, speaking instead about the importance of a fair investigation within the studio. However, we do know a bit about Fisher's working relationship with Whedon. Zack Snyder directed Justice League's principal photography before having to step down due to a death in the family in 2016. Then Whedon took over, resulting in extensive reshoots and new edits, including cutting many of Fisher's scenes as the superhero Cyborg. The 2017 theatrical release wasn't very well received, and many fans found Cyborg's role to be tokenistic (as the only Black hero on the team) and shallow. Cyborg's solo spinoff movie was then mothballed for unspecified reasons.
Over the next three years, the Snyder Cut campaign went viral. Warner Bros. eventually relented this year, announcing a re-edited version of Justice League where Zack Snyder would return to his original vision. This may have given Fisher more confidence to speak out about Whedon's alleged behavior on set. His tweets have drawn a lot of attention to the Warner Bros. investigation, but Momoa is the first of his co-stars to acknowledge the brewing scandal, sharing his support on Instagram Stories.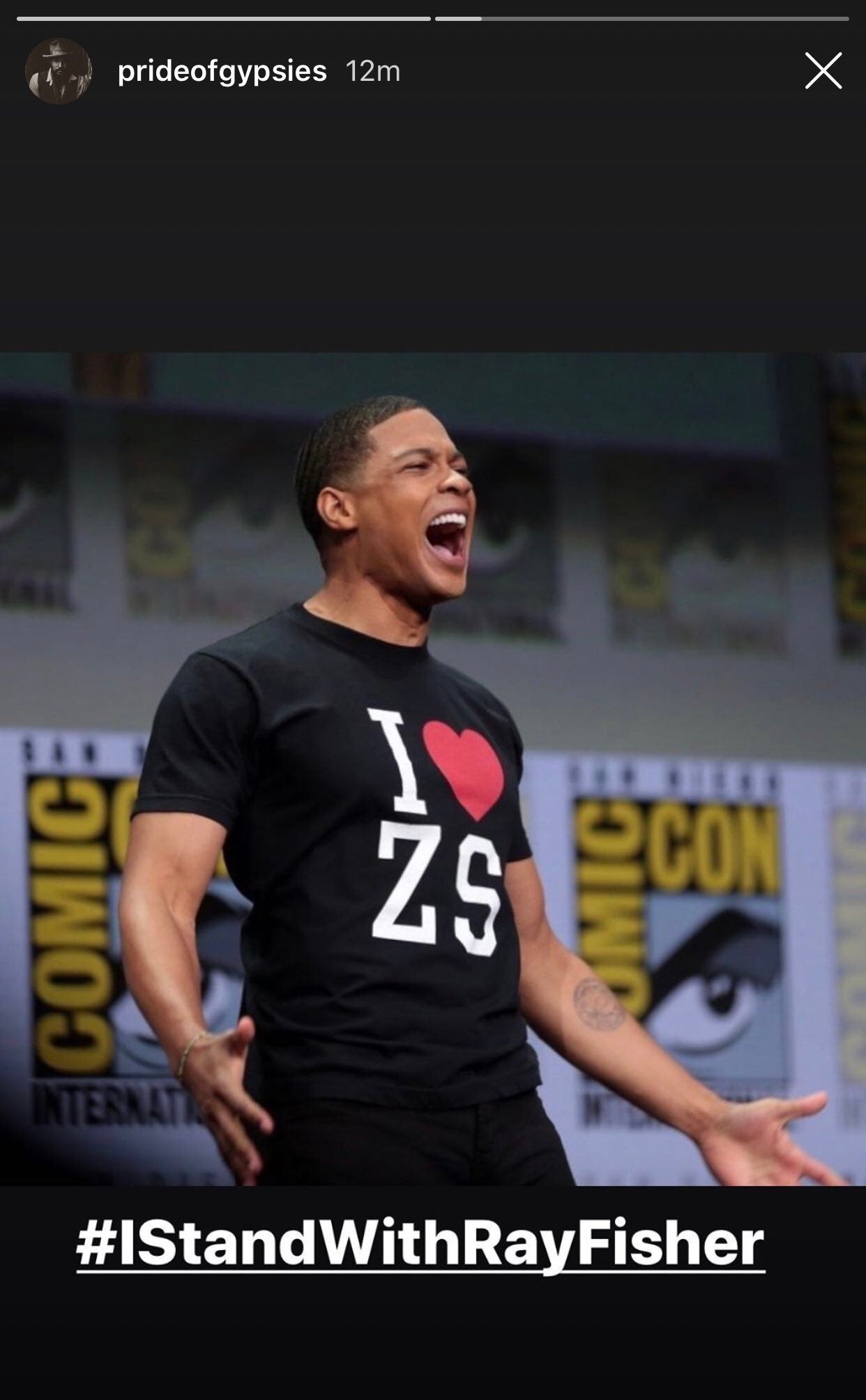 This is a small gesture, but it's also the most public support Fisher has received from one of his Justice League co-stars. Gal Gadot, Jason Momoa, and Ezra Miller all have upcoming solo spinoffs of their own, while Ben Affleck is (rather unexpectedly) in talks to reprise his role in Miller's Flash movie.
Fisher is also reportedly in talks for a role in The Flash, but there's a marked difference between his public profile and Gadot, Momoa, and Miller, who all have close, ongoing business relationships with Warner Bros.
---
Today's top stories