Jason Derulo is not to be trusted with teeth.
Earlier this year he (almost surely) pranked fans by pretending to lose his teeth while performing the corn on the cob challenge (where you eat corn off a spinning drill). On Sunday, he appeared to knock Will Smith's teeth out while swinging a golf club.
It's likely an effective internet stunt and not real.
The music star hosted the movie star this weekend and the two posted several videos of their hangouts—across both TikTok and Instagram. The most viral features Smith giving Derulo golf pointers and accidentally stepping in front of a moving club. Watch the cringe-worthy clip below:
But fans care calling b.s. There's no blood in the immediate aftermath, and it seems unlikely that an IRL accident would have been actually funneled into an "epic fail"-esque viral video, complete with a comic reaction from Smith. That'd be too gruesome even for two celebs who love social media pranks.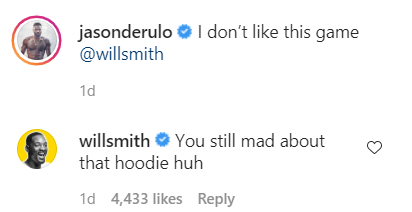 Derulo, who has more than 31 million TikTok followers, has thus far enjoyed 2.7 million plays on his golf club clip.
We've reached out to Smith's team to verify the incident's authenticity. But the point is that two giant celebs, who have made fruitful transitions to platforms beloved by teens, joined forces to conquer social.
---
Today's top stories