Netflix's new series Grand Army is set to debut in October, but a former writer for the show says she and two other writers quit "due to racist exploitation and abuse."
On Sept. 2, the same day a trailer for Grand Army was tweeted by Netflix, playwright Ming Peiffer claimed that the series' "showrunner and creator went full Karen and called Netflix hr on the Black writer in the room for getting a haircut." She also alleged that Netflix "tried to underpay the LatinX writer who just won an Emmy meanwhile creator had never worked in tv b4 but the 3 of us had."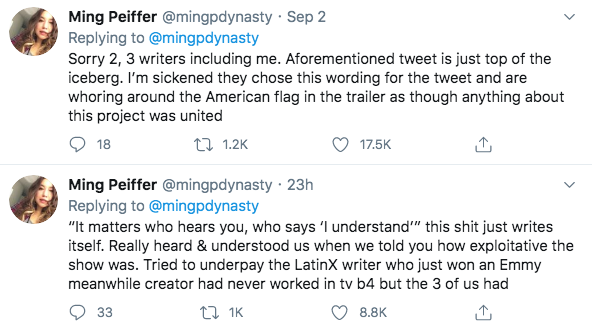 The creator is Katie Cappiello, whose 2013 play Slut was adapted into Grand Army. When the series was announced last fall, House of Cards' Beau Willimon was attached. The Netflix synopsis reads: "Five students at the largest public high school in Brooklyn take on our chaotic world as they fight to succeed, survive, wild out, break free, and seize the future."
The cast is diverse and the trailer plays heavily around images of the American flag. Peiffer says in her thread that writers made known "how exploitative the show was," and while it's not clear what exactly that refers to, others called out how Netflix markets TV shows about Black teens. One response to the trailer: "When it's time for pain and activism and sjw activity, suddenly Netflix knows what a black woman looks like... interesting."
Another tweet asked: "why does the movie gotta be depressing time every time y'all get a black girl lead???" In response, Peiffer claimed the showrunner "wouldn't listen to the 3 writers of color, of which I am one, including the Black writer who kept asking to not make her storyline poverty porn."
Last month, former employees of the canceled Netflix series Patriot Act with Hasan Minhaj described a toxic work environment, especially for women of color. Producer Nur Nasreen Ibrahim said on Twitter she was "humiliated and gaslit, targeted and ignored" during her time there. Around the same time, the American marketing for Netflix's upcoming film Cuties, directed by a French-Senegalese woman, was hypersexualized to the point that a petition was created to remove the film, and the director received death threats.
We've reached out to Peiffer and Netflix for comment.
---
Today's top stories