This post contains spoilers.
The penultimate episode of Game of Thrones was a doozy.
After seven and a half seasons of waiting, the battle between Cersei Lannister and Daenerys Targaryen began—and ended—in fire. Once the smoke cleared, fans were mostly dismayed at the violence unleashed on the innocents of King's Landing.
When the destruction ceased, a mostly unharmed Arya was left standing. In a moment dripping with symbolism, a pale white horse approached her through the haze. The episode ended with a lone Arya riding her unexpected savior out of the ruins. While the shot was beautiful—albeit convenient—many fans were reminded of the speed with which an Uber shows up after a hard night of partying.
"Bran sent a horse uber to save Arya and some of y'all think he's useless," one user wrote. "That's more than what Jon did the entire season."
And death rode in on a pale horse #Arya #GameOfThrones pic.twitter.com/OhHA5ZGmUn

— gothjellybean (@PandaBugAngie) May 13, 2019
https://twitter.com/andifinds/status/1127789540196929536
Pale horse waiting for things to calm down so it can pick Arya up #GameofThrones pic.twitter.com/6lndBRPAeP

— Mohit.K (@MohitKumar14Th) May 13, 2019
Bran sent a horse uber to save Arya and some of y'all think he's useless. That's more than what Jon did the entire season. #GameOfThrones pic.twitter.com/Mcdi14SsBB

— lndra (@lndra__) May 13, 2019
#GameofThrones

decent episode tbh but idk how i feel about the product placement at the end pic.twitter.com/9hGiY36q0q

— patrick (@boolin) May 13, 2019
Arya: I must get out of here….

Horse: Your Uber has arrived#GameOfThrones pic.twitter.com/HAvj0r4gQG

— kyle / cptndiabetes (@kayleeykremee) May 13, 2019
The little girl #Arya tried to save was holding a white horse#GameofThrones pic.twitter.com/rW7mPdFrqe

— Game of Thrones Facts (@thronesfacts) May 13, 2019
Thanks for choosing Uber from GameOfThronesMemes
Other fans couldn't help but be reminded of Lil Nas X's chart-topping "Old Town Road."
arya: (touches horse)

me, whispering: alexa play old town road

— p. claire dodson ⁷ (@Claire_ifying) May 13, 2019
https://twitter.com/HyenaahYT/status/1127771539108257792
https://twitter.com/WorldofIsaac/status/1127762253141422080
Arya needs to take that horse to the Old Kings Road

— Chisom🇳🇬 (@ChizNuke) May 13, 2019
No one:

Arya: 🎶 I got the horses in the back 🎵#GameOfThrones pic.twitter.com/FQ98AlBXYU

— Brandon Evans (@BrandonxxEvans) May 13, 2019
Some people poked fun at how long Arya's shot with the horse lasted… in an episode that very much felt strapped for time.
"It's the penultimate episode, we don't have much time."

"Got it. Five minute shot of Arya stroking a horse."

— dylan matthews, ex-tank mechanic (@dylanmatt) May 13, 2019
Another thing, having the Starks react to Jon's parentage reveal was a "waste of time" but seeing Arya pet a fucking horse for 3 minutes wasn't?! This has to be a collective hallucination cause it's just too ridiculous to be taken seriously #GameOfThrones

— C .hiatus (@carohuntz) May 13, 2019
WHY WAS THE SCENE BETWEEN ARYA AND THIS DAMN BLOODY HORSE LITERALLY FIVE WHOLE MINUTES? WHO MADE THESE DECISIONS? #GameofThrones

— Old Yeller Teas (@yosoymichael) May 13, 2019
The scene was soaked in symbolism, leaving many fans to guess as to what the writers were trying to communicate. Does the pale horse symbolize Dany's death? Did Bran warg into the horse to save his isolated sister? Has Uber finally perfected its Westerosi expansion? Regardless of the reasoning, one of Westeros' most capable killers is on the move. We can't know where she's headed until next episode, but we know she'll get there quickly.
READ MORE:
Need more news from beyond the Wall? Sign up hereto receive our weekly Game of Thrones newsletter from in-house expert Michelle Jaworski.
---
NOW HEAR THIS:
How linguist David J. Peterson created the Dothraki and Valyrian languages for Game of Thrones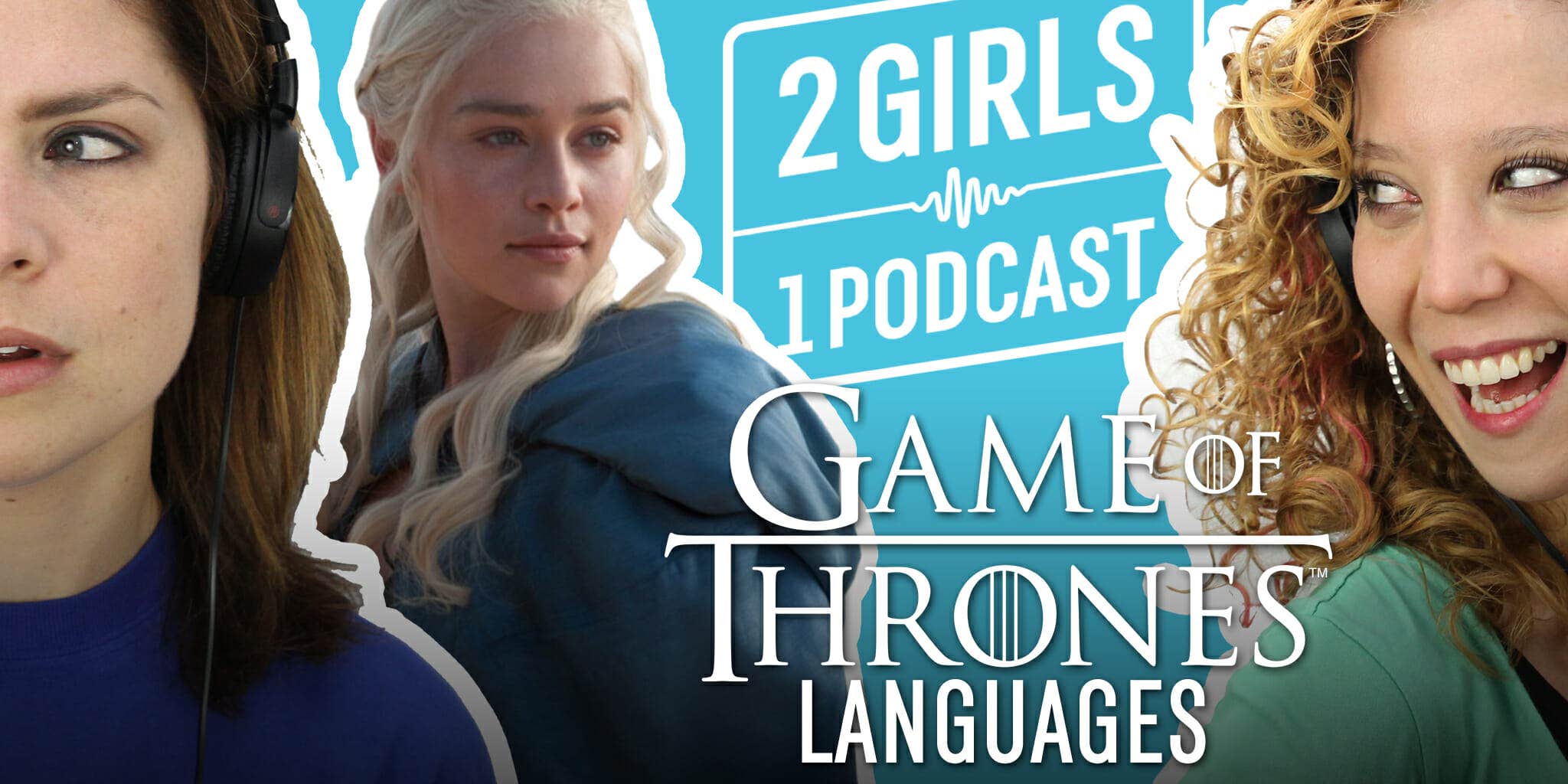 Introducing 2 GIRLS 1 PODCAST, a weekly comedy show where Alli Goldberg and Jen Jamula (two actors who perform bizarre internet content on stage) have hilarious and humanizing conversations with Bronies, top Reddit mods, professional ticklers, video game archaeologists, dating app engineers, adult babies, cuddling specialists, vampires, Jedi, living dolls, and more.
Subscribe to 2 GIRLS 1 PODCAST in your favorite podcast app.