Brad Pitt and Jennifer Aniston reunited on Thursday night for a star-studded table read commemorating the 38th anniversary of the raunchy '80s teen comedy Fast Times at Ridgemont High. And, in what will surely come as a huge surprise, fans are positively overcome with feelings.
The "Feelin' A-Live" virtual event was organized by comedian Dane Cook to benefit Sean Penn's disaster relief nonprofit charity, CORE. Currently, the organization is focused on getting COVID-19 testing to vulnerable communities.
In addition to Pitt and Aniston, other stars included Matthew McConaughey, Julia Roberts, John Legend, Jimmy Kimmel, Ray Liotta, and Morgan Freeman, who narrated. Interestingly enough, Shia LaBeouf appeared as Sean Penn's stoner character Jeff Spicoli, while Penn made a cameo as "Pizza Guy," originally portrayed by the late Taylor Negron.
The inclusion of the famous exes had to have been intentionally mined for maximum awkwardness, as Aniston played the infamous Phoebe Cates character, Linda Barrett, while Pitt played Judge Reinhold's Brad Hamilton.
The NSFW dream sequence, in particular, made for some riveting entertainment, in which Brad imagines Linda seducing him as she rises out of the pool—only to have the real Linda accidentally interrupt Brad in an uncompromising position in the bathroom.
Julia Roberts, for one, couldn't get enough of the pair's chemistry.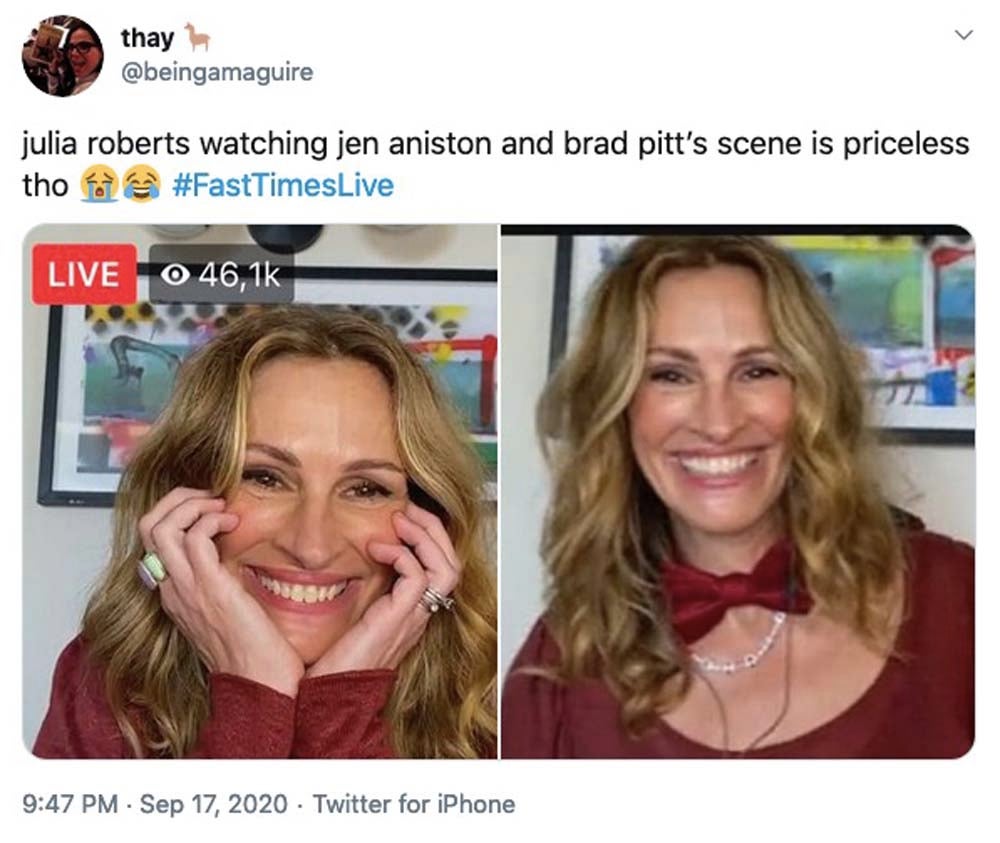 Fans also couldn't help noticing sparks when the group made introductions in the beginning of the Fast Times table read.
Aniston!! Pitt!!! Between this and the former couple's swoon-worthy interactions at the SAG Awards earlier this year, could it be any more clear that two people are still deeply in love and obviously meant to be together? Come on guys, this is just trolling now.
You can watch the entire hour-long production of the Fast Times table read here.
READ MORE: