Times are tough all around, but for Chet Hanks, they might be a little tougher than most.
The rapper, who coined the term "White Boy Summer" in a song released April 2021, is alleged to have requested $200 to "pay his bills" from a fan who slid into his DMs, according to Acesshowbiz.com and Hot 97.
The encounter was shared to Twitter by user @C0wgirlonline last week via screengrabs. After sending an Instagram direct message saying "i love you," Hanks sent an alleged reply of "Do you really?"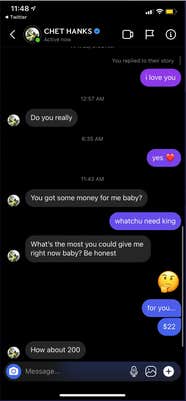 "You got some money for me baby?" the conversation goes on. When Hanks allegedly asks how much they can offer him—$22—he asks if they can supply $200, to cover his "bills."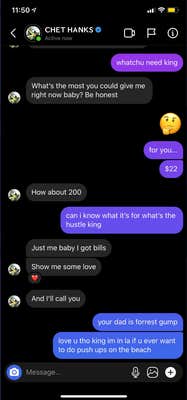 "Show me some love," Hanks allegedly replied. "And I'll call you."
The poster pointed out Hanks' parentage—Tom Hanks and Rita Wilson are his mother and father, ICYMI—saying that he didn't need to ask a fan for money.
"Your dad is Forrest Gump," the poster wrote. "Love you tho king im in la if u ever want to do pushups on the beach."
A GoFundMe created by someone claiming to be a friend of @C0wgirlonline and titled "Chet Hanks needs $200 for some reason?" has garnered a single donation of $5.
Hanks has been in a million-dollar lawsuit with ex-girlfriend Kiana Parker since April, in which she alleges multiple assaults. He had sued her just a month before in March over charges to his debit card and stolen property.
As for why he might need to ask fans for money, one Twitter user joked that he'd been cut off by his father.

We've reached out to a representative for Chet Hanks.
---
Today's top stories
H/T NME