Despite decades of accusations and detailed accounts of abuse and misconduct, Bryan Singer still hasn't seen any major fallout in Hollywood—or any real consequences. More recently, the 54-year-old director has allegedly been targeting influencers.
According to a thread from YouTuber and musician Elijah Daniel, Singer, who previously used his status and circle of friends to get access to aspiring actors, has started looking at "Instagram, Raya, TikTok, SeekingArrangement, etc. to get influencers. They fly these boys on jets (as he did before), as well as to movie sets and promise roles!"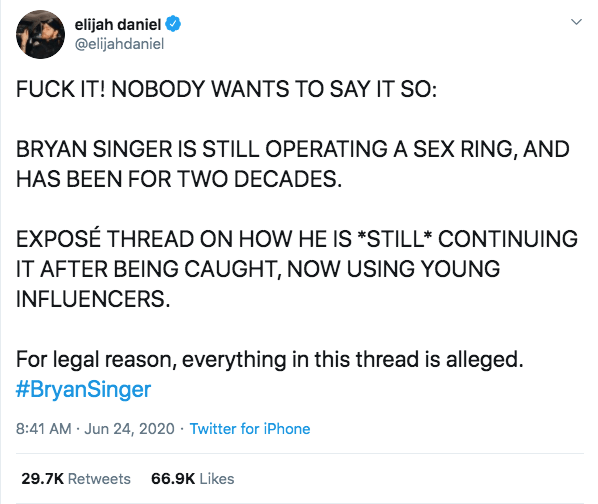 Daniel says there's proof on Instagram, but the men tagged with Singer "are 30+ year old. Parading as young youtubers. To make young friends." Other posts with Singer were allegedly removed in the wake of lawsuits.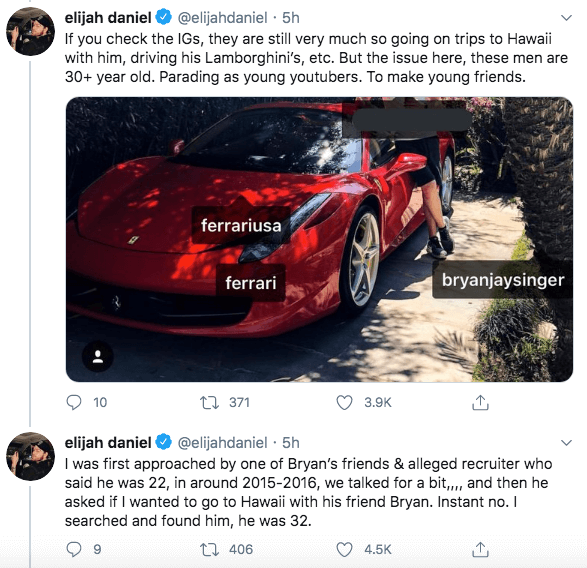 Daniel implies that these older men are used to recruit younger ones, but it's not clear if they posed as influencers on these platforms (or were influencers), or if they just sought them out. Daniel claims he had a text interaction with one "recruiter"; he later met Singer, who asked if he wanted to take a private jet to a film set in Texas. He adds that "There are several large influencers who I will not mention who were largely featured on Bryan's jet in 2016-2017."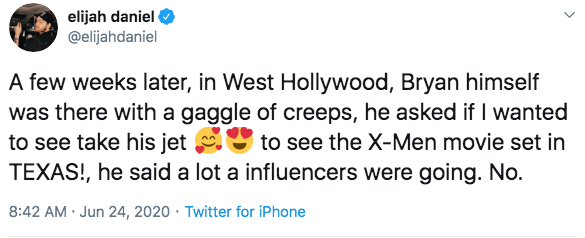 He urged followers to sign a petition to get the FBI involved in an investigation of Singer. Elsewhere, commenters relayed stories about alleged encounters with Singer and minors.
In 2019, The Atlantic published a yearlong investigation into allegations against Singer, including more than 50 sources. Many of the men interviewed claim they were underage when Singer invited them to parties and that he was often aided by associates. Allegations also came from Singer's film sets; three extras on 1997 film Apt Pupil, minors at the time, filed a lawsuit against him.
In response to Daniel's thread, Teen Wolf actor Stephen Ford alluded to his own story about Singer "that I haven't told from fear of reprocussions [sic] in the industry."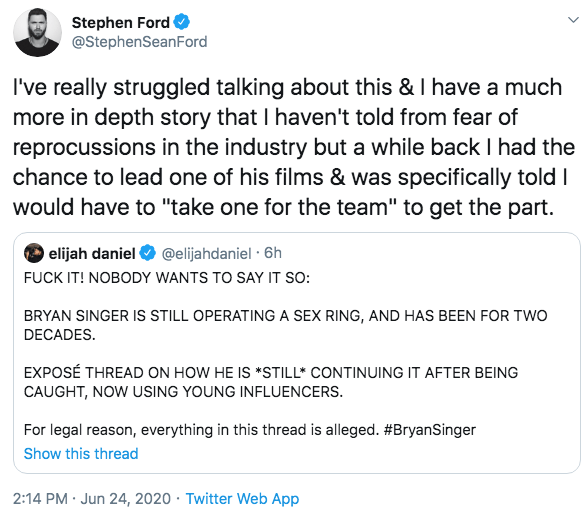 Singer settled another lawsuit last summer but has never been formally charged or arrested. The Daily Dot has reached out to Daniel for comment.
READ MORE: