Jason Alexander, best known for his 55-hour marriage to Britney Spears, was among rioters present during the scenes on Capitol Hill yesterday that ended with the invasion of the Capitol and four dead.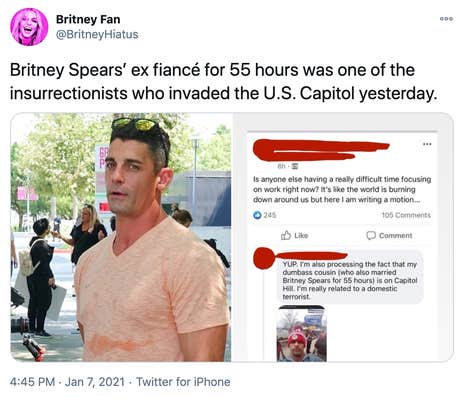 Alexander openly admitted his involvement on Facebook, sharing a selfie he'd taken at the riot with the caption "DC. Millions showed up." From there friends and family members of the aspiring martial artist screengrabbed the post, sharing it elsewhere on social media until it was picked up by popular unofficial Britney fan account @BritneyHiatus, bringing media attention to his participation in the riots.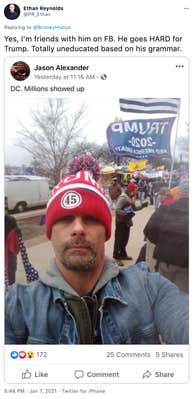 While it's unknown whether or not Alexander was one of those who breached the Capitol, his presence on the Hill came as no surprise to those who know him, with one Facebook friend saying "He goes HARD for Trump." Twitterites however aren't giving him the benefit of the doubt, with many tweeting at the FBI's official Twitter account with calls for him to be investigated.



---
Today's top stories