For the second time in the past 11 months, a public contest featuring singer Taylor Swift has been infiltrated by the vote-rigging brigade over at 4chan's random imageboard /b/, the Internet's favorite bathroom stall. 
The latest contest, sponsored by Boston's Kiss 108FM, gives one winner the chance to meet Swift, take a photo with her, and attend her show at Gillette Stadium on July 27.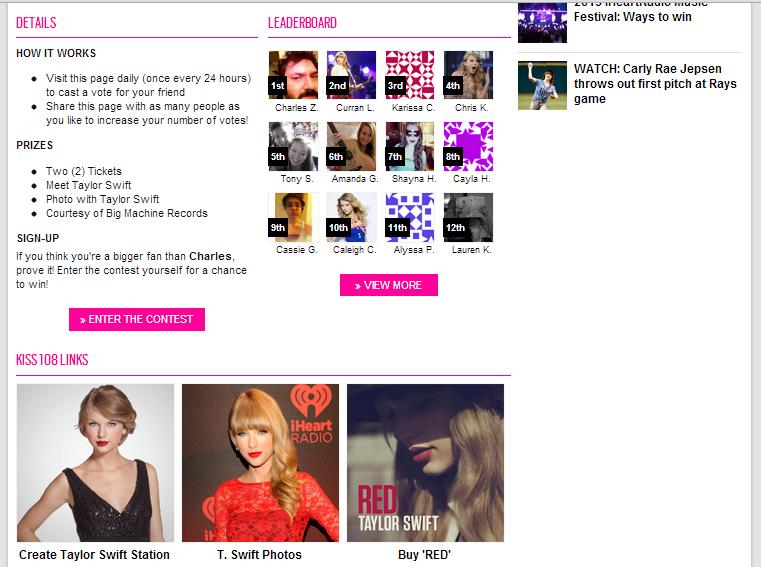 The radio station's FAQ page encourages people to "vote for a contestant by visiting their unique link daily (every 24 hours)." It's a blatant plea for traffic, and it makes the contest pretty easy to spam. 
Late Monday night, 4chan began voting for one lonely "fat old guy creep" named Charles to help "give him a chance to make a complete ass of himself by blatantly just sniffing her hair with cameras rolling."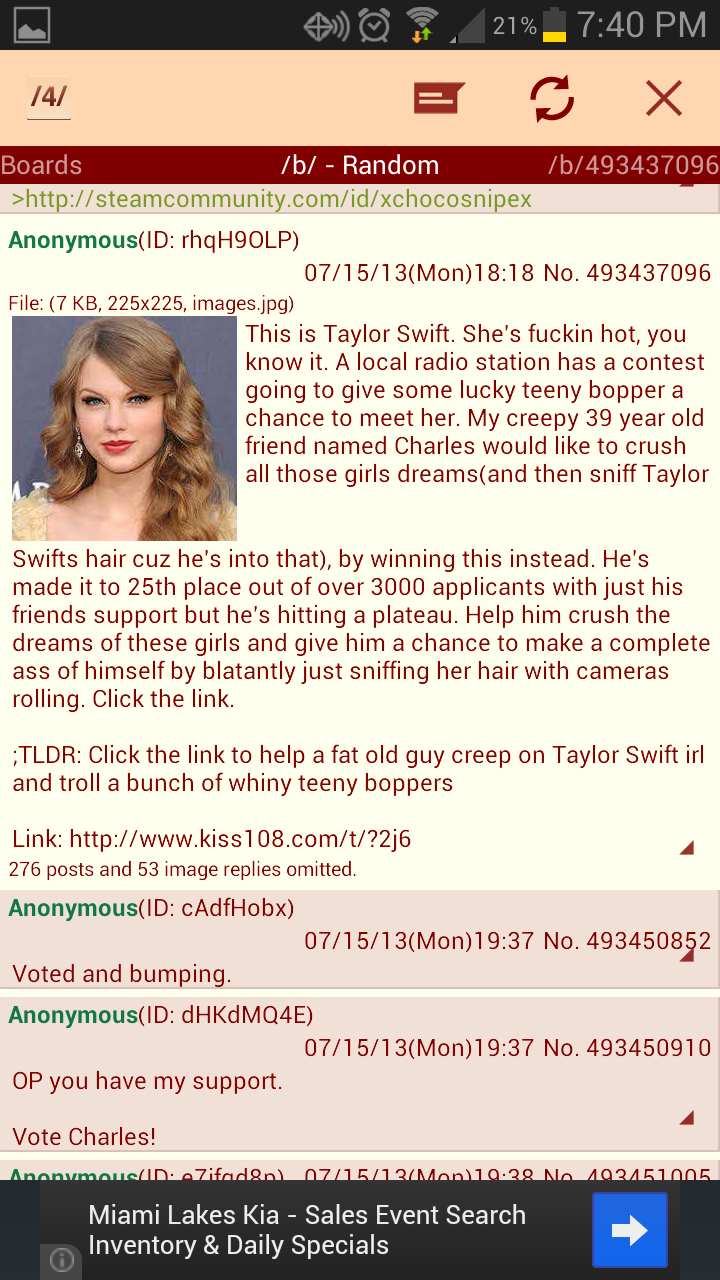 At about 1am ET Tuesday, Charles was in third place, stuck behind some legitimate Swift fans. By about 9am ET, he was in first.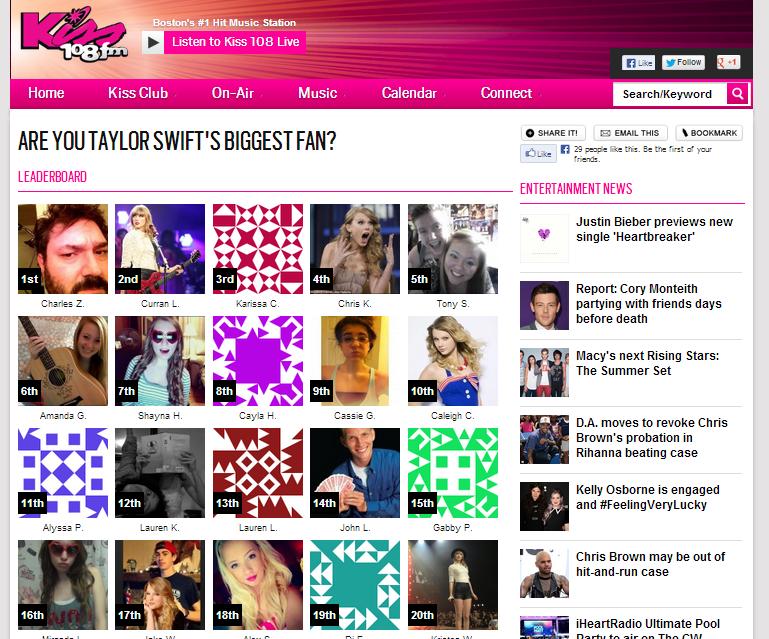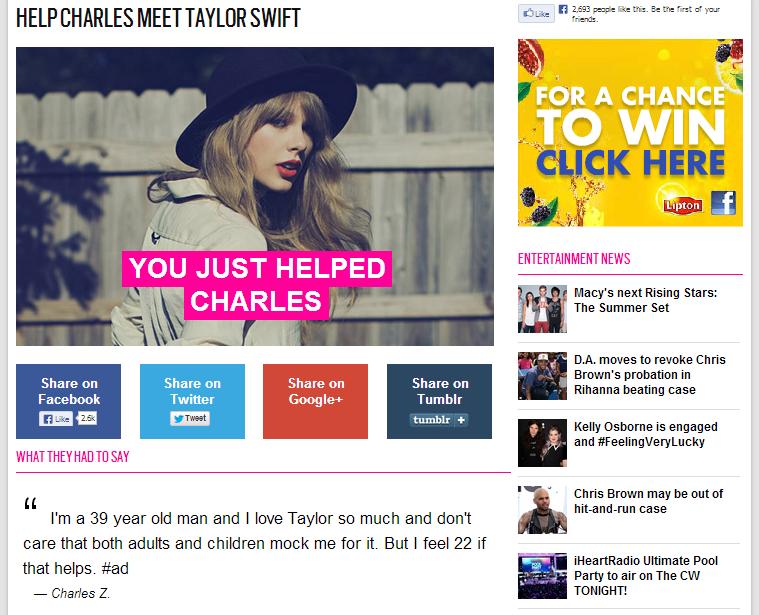 "/b/ you glorious f****ts," one anonymous 4chan user wrote on /b/. "You magnificent fucking bastards. I am fucking proud. … That said, the war has not yet been won, there is still work to do. We still have five days and its obvious our top competition is using scripts too."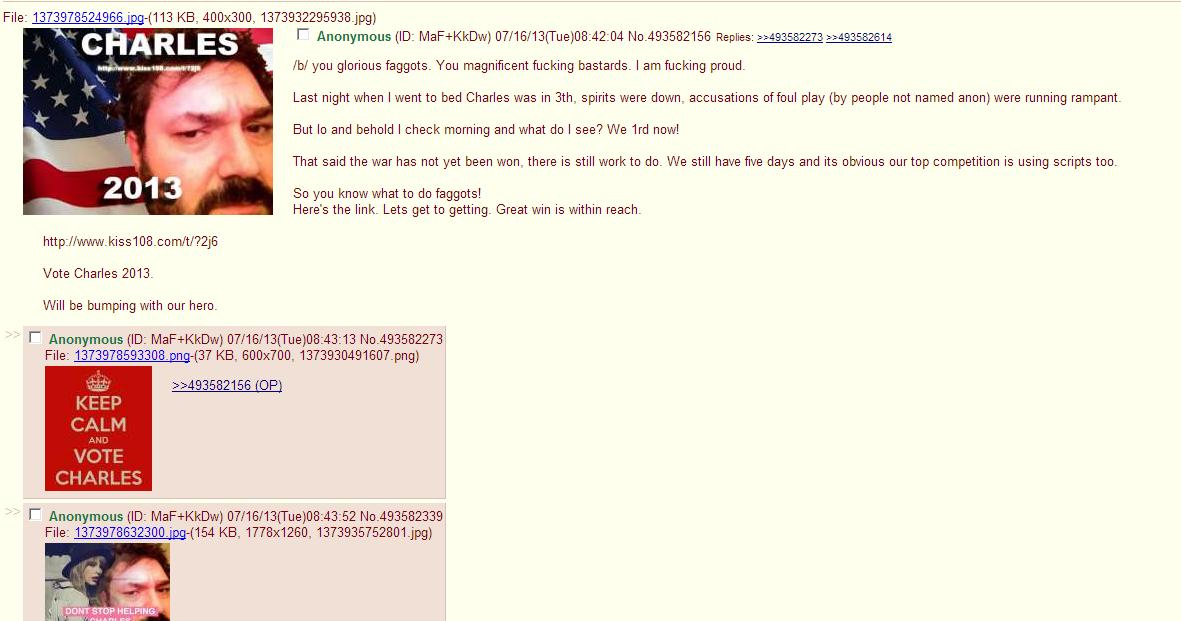 According to a post on Reddit's 4chan forum, /b/ has used a script to automate the voting process using 500 different computers around the world.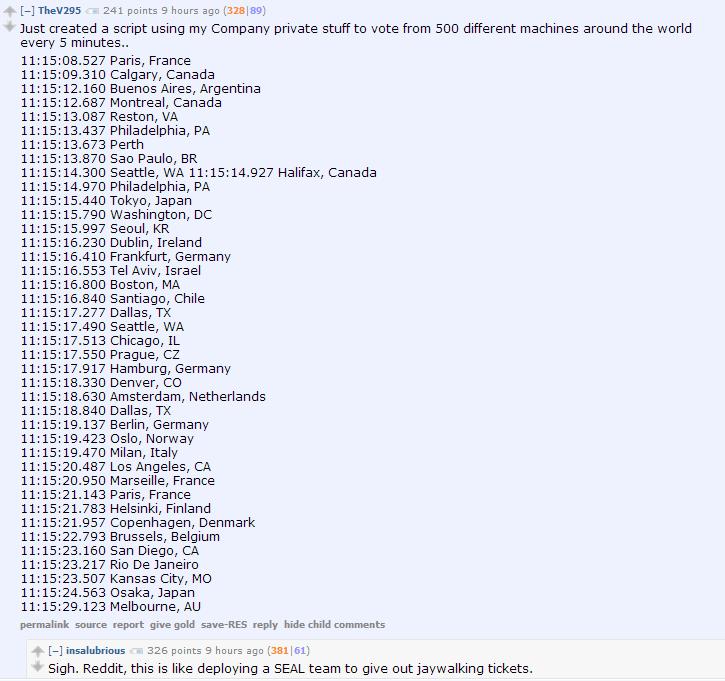 These sort of vote-rigging tactics have become 4chan's specialty over the past year. 
In August, 4chan gamed a public vote to have Swift perform at Boston's Horace Mann School for the Deaf and Hard of Hearing, one of the oldest public schools of its kind in the county. The school ended up winning the contest but was disqualified because of the manner in which is received votes.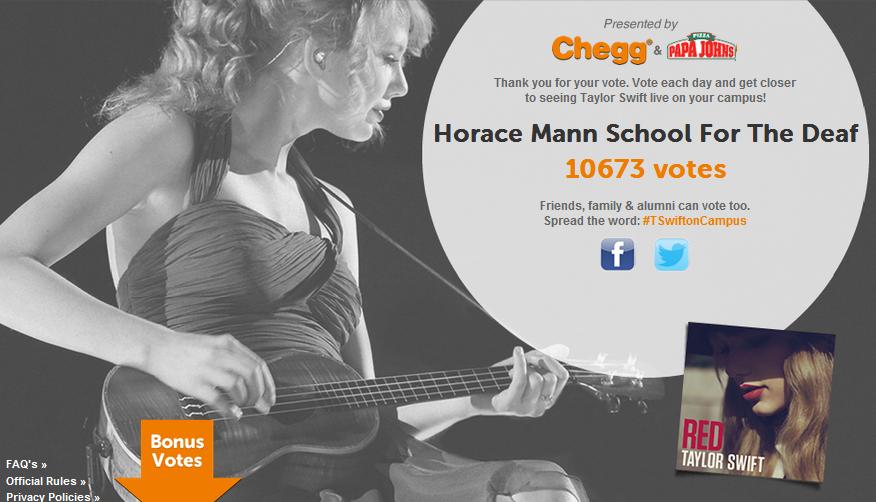 A month later, Swift donated $50,000 to the school. This included a personal donation from Swift for $10,000, which was matched by the sponsors, as well as American Greetings and Cover Girl. VH1's Save the Music program donated a fifth $10,000 gift in order to buy musical instruments for Horace Mann students. 
In November, Time magazine's Person of the Year poll was gamed by 4chan, Internet Chat Relay (IRC), and Reddit users to have North Korean leader Kim Jong-un take the top spot. Kim collected 5.9 million votes thanks to a Java script created by IRC user _js5. The script was also used to spell "KJUGASCHAMBERS" using the first letter of each candidate's name. Kim ultimately lost the cover to President Barack Obama, but was crowned the people's choice champ. 
4chan followed up this epic prank with Operation White Man Can Jump, which unsuccessfully attempted to have only light-skinned players start in the 2013 NBA All-Star Game. And in May, 4chan's /b/ raided a Reddit-powered contest sponsored by actor Samuel L. Jackson to have him read an original monologue. Woven between original suggestions, like redditor teaguechrystie's informational message, called the "new alarm clock," were countless comments containing the infamous Navy Seal copypasta, a three-year-old message filled with ludicrously violent claims.
As was the case with all those schemes, chances are 4chan's latest will likely fail. In the radio station's official rules, it states: "If a contestant receives multiple and/or irregular votes from the same user or users, regardless of the source, the Station reserves the right to disqualify the Contestant its sole discretion."
Photo by evarinaldiphotography/Flickr