Is your Spidey Sense tingling? It may be because Spider-Man: Into the Spider-Verse is finally out on video. Here's everything you need to know to watch the 2019 Oscar winner for best animated feature right now. 
In the animated theatrical hit, Spider-Men (and women) from different dimensions must join forces to take down a threat that may collapse existence as we know it.
Freshly divorced Peter B. Parker is carrying his sadness with him, both in his heart and in his waistline. Gwen Stacy's Spider-Woman is a comic book fan favorite, finally gracing the screen. Then, things go off the rails (in the best way possible). Spider-Man Noir is a hardboiled detective who slurps down egg creams, rescues dames, and punches Nazis. Peni Parker is a super kawaii Japanese schoolgirl who runs a small mech named SP//dr that she shares a telepathic link with. And then there's Peter Porker, a cartoon pig whose arsenal is inspired by classic Looney Tunes. There are even alternate dimension versions from Spider-Man's rogues gallery, including a tatted Scorpion, body dysmorphic Kingpin, and female STEM lord Doctor Octopus.
In Spider-Verse, freshly bitten Spider-Man Miles Morales must quickly learn to use his powers. Luckily, he's under the steady tutelage of his team of heroes, so there's hope in saving the day. It's strange, action-packed, hilarious, and totally heartfelt. And thanks to the 2019 Oscars, it's Academy Award-winning too.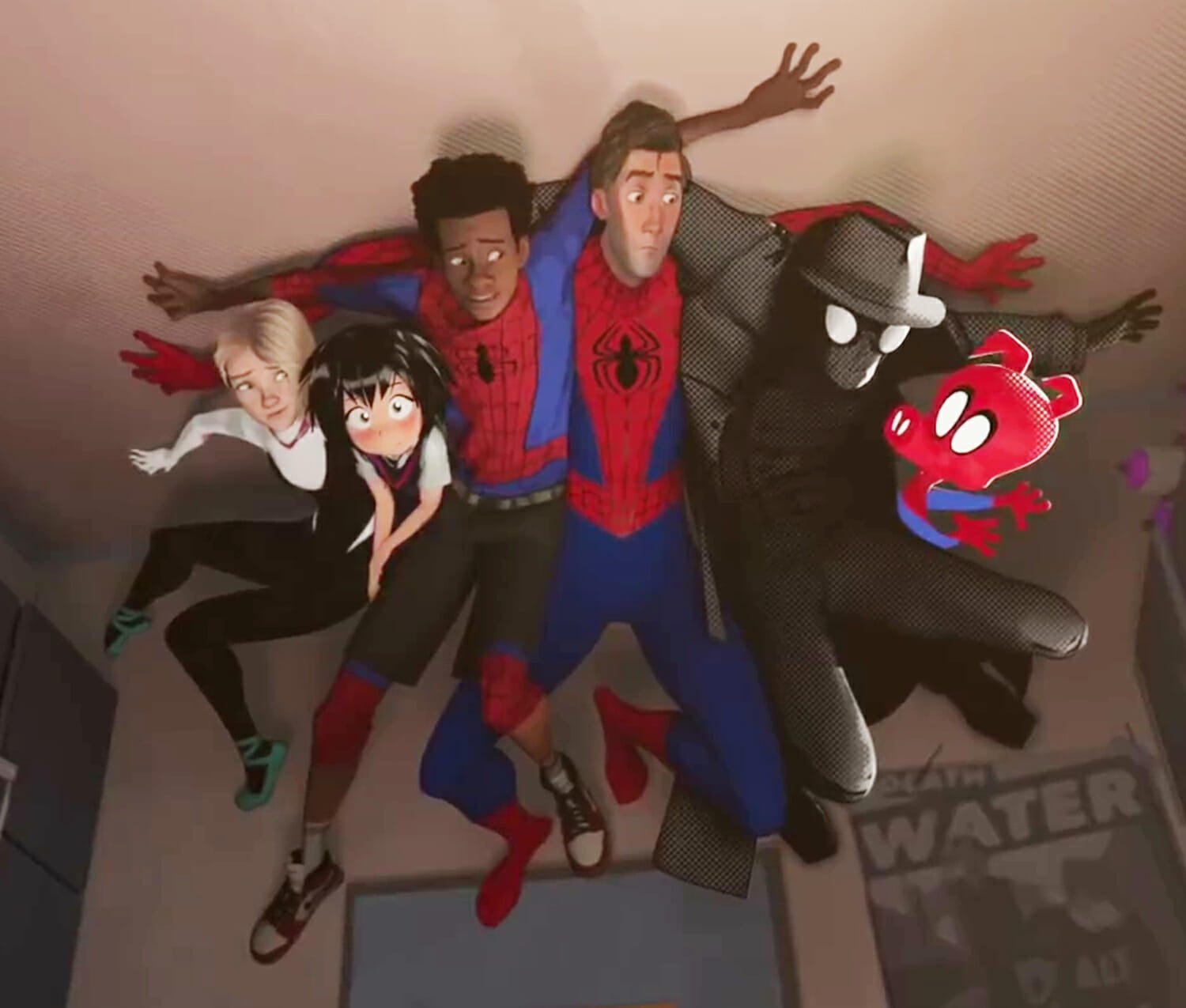 Spider-Man: Into the Spider-Verse cast
Shameik Moore as Miles Morales/Spider-Man
Jake Johnson as Peter B. Parker/Spider-Man
Hailee Steinfeld as Gwen Stacy/Spider-Woman
Mahershala Ali as Aaron Davis/The Prowler
Brian Tyree Henry as Jefferson Davis
Lily Tomlin as Aunt May
Luna Lauren Velez as Rio Morales
John Mulaney as Peter Porker/Spider-Ham
Kimiko Glenn as Peni Parker/SP//dr
Nicolas Cage as Peter Parker/Spider-Man Noir
Liev Schreiber as Wilson Fisk/The Kingpin
Chris Pine as Peter Parker/Spider-Man
How to watch Spider-Man: Into the Spider-Verse
The following are a few venues where you can rent or buy Spider-Man: Into the Spider-Verse. If you want a physical copy or to rent it, you'll have to wait until March 19, 2019. We'll update this article when it's available on one of the major streaming services. 

Cost: $14.99 (for HD or SD) or rent for $3.99 (for HD) or $2.99 (for SD)
Devices: Amazon Fire Stick, Fire TV, Fire tablets, and Fire phone; Roku, 

Apple TV

, 

Google TV, TiVo, 

Nvidia Shield TV

, PlayStation 3 and 4, Xbox One, Nintendo Wii
The online retail giant is also one of the premier destinations for online streaming. This is the easiest way to watch Spider-Man: Into the Spider-Verse, no question. If you already have an Amazon account, buying in either HD or 4K will take seconds, and you can watch it anywhere you stream Amazon Video, from Amazon Fire Stick to Roku.
---

Cost: $14 .99, or rent $2.99 (SD)- $3.99 (HD)-or $7.99 (4K UHD)
Devices: Samsung Smart TVs, internet browsers, iPad, iOS devices, Roku, Xbox One, 

Google Chromecast

, Android, Visio Smart TVs
Fandango and movies go hand in hand, and not just when it comes to buying tickets online. Plenty of hits and classics are available in the Fandango Now library, along with full seasons of your favorite shows. Spider-Man: Into the Spider-Verse is available on Fandango Now in multiple formats. If you join Fandango VIP, you can rack up points to spend across Fandango, Fandango Now, and FanShop.
---

Cost: Buy: $14.99 (SD, HDX, or UHD)

Rent: $2.99 (SD)- $3.99 (HDX)- $7.99 (UHD)
Disc+ Digital: $12.96 (DVD+ SD Digital)- $14.96 (Blue Ray+ HDX Digital)- $19.96 (4K Blue Ray+ UHD Digital)

Devices: Samsung Smart TVs, Internet Browsers, iPad, iOS, Roku, Xbox One, Chromecast, Android, Visio Smart TVs, PlayStation
Vudu is a no-fuss way to rent movies online if you don't want to bother signing up for anything. There's a massive library of high-quality video content, including 4K movies. There are even piles of movies you can watch free as long as you sit through a few ads. Spider-Man: Into the Spider-Verse is available to buy right now, in SD, HDX, and UHD, and you can rent it too.
---
Cost: $3.99 (rent 4K)- $14.99 (buy 4K)
Google Play links to your Google account and media can be accessed from any Google Play-enabled device. Google Play is also offering a special discount if you buy Spider-Man: Into the Spider-Verse and Spider-Man: Homecoming together.
---

Cost: $3.99 (rent)- $14.99 (buy)
If you happen to prefer streaming on iOS devices, buying Spider-Man: Into the Spider-Verse on iTunes is your best bet.
The Daily Dot may receive a payment in connection with purchases of products or services featured in this article. Click here to learn more.