Rose Tico, the breakout character of The Last Jedi, didn't appear in earlier trailers for The Rise of Skywalker, prompting concerns about her role in the movie. Fans also noticed that she's surprisingly absent from the film's merchandise, leading people to wonder if she has a smaller role this time around.
Some fans even worried that Disney was capitulating to the sexist and racist backlash against Rose and actress Kelly Marie Tran, even though she received glowing support at this year's Star Wars Celebration.
The good news is, Rose definitely appears in the final Rise of Skywalker trailer, and we know some more details about what she's been doing since the previous movie. It's also important to remember that numerous factors go into which characters appear in trailers, including whether their scenes might include spoilers. Rey and Finn are the key protagonists of the trilogy, so they (and Kylo Ren) receive prominence in the Rise of Skywalker trailers. Poe also gets a lot of screentime, but he's generally in scenes alongside Rey and Finn.
Rose may have a separate storyline—and that story could be too spoiler-y to show beforehand. Meanwhile, Leia gets a high-profile scene in the trailer, even though she's only expected to be in the film for a handful of shots.
In the new trailer, Rose stands in front of Resistance lieutenant Connix (played by Billie Lourd, Carrie Fisher's daughter) and a new character played by Lord of the Rings star Dominic Monaghan. Perhaps they'll team up while Finn, Rey, and Poe are on a mission elsewhere.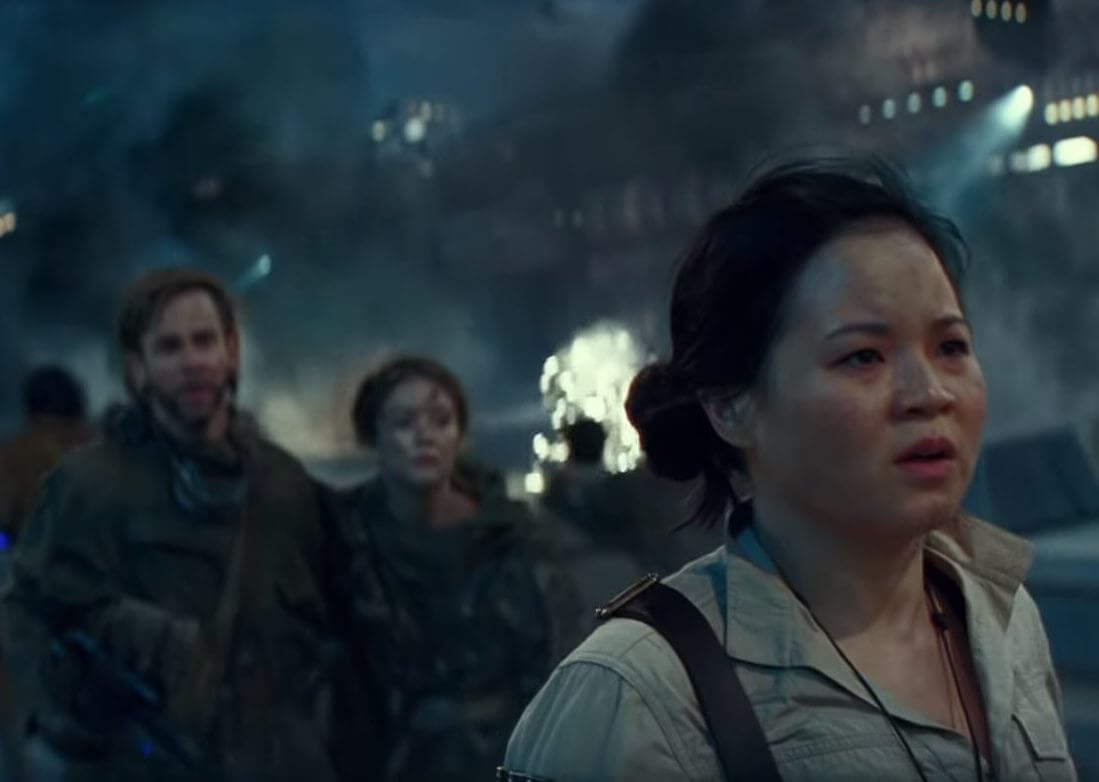 This note from an official Star Wars exhibit also gives some insight into what Rose has been up to since the events of The Last Jedi:
"Rose has risen through the ranks from lowly engineering support crew to military commander. She leads the Engineering Corps in making the necessary modifications to keep The Resistance's gear operational, as well as countering new advancements in First Order technology."
Rose ended the last film with serious injuries following the Battle of Crait, but there's clearly a bit of a time jump between movies. The tie-in comic Allegiance also revealed that Rose joined General Organa on a mission to Mon Cala after she recovered from her battlefield injuries.
Hollywood blockbusters have a long history of sidelining women (especially women of color), not just in the sense of casting, but when it comes to merchandising and marketing too. Like Rose Tico, Guardians of the Galaxy character Gamora was noticeably absent from merchandise, despite being a lead character played by a famous actress. And back in 2015, the Star Wars franchise was criticized for leaving women off its merchandise. It's dispiriting to see this happen again with Rose, but the lack of pre-release promotional material doesn't necessarily mean she has a smaller role in the film. At the moment all we have to go on is the film's trailers, which can often be intentionally misleading.
READ MORE: