Mr. Clean, the mascot of the brand of household cleaners, is a bald, muscular man who is, by his own admission, a clean freak. Thanos, also bald, is a thicc Marvel supervillain whose goal is to wipe out half of all living beings in the universe. The men are sort of similar in appearance, and their goals are eerily aligned—an obsession with "cleansing" the world.
Now, an old tweet from the official Mr. Clean account has the internet speculating whether Mr. Clean and Thanos are actually the same person.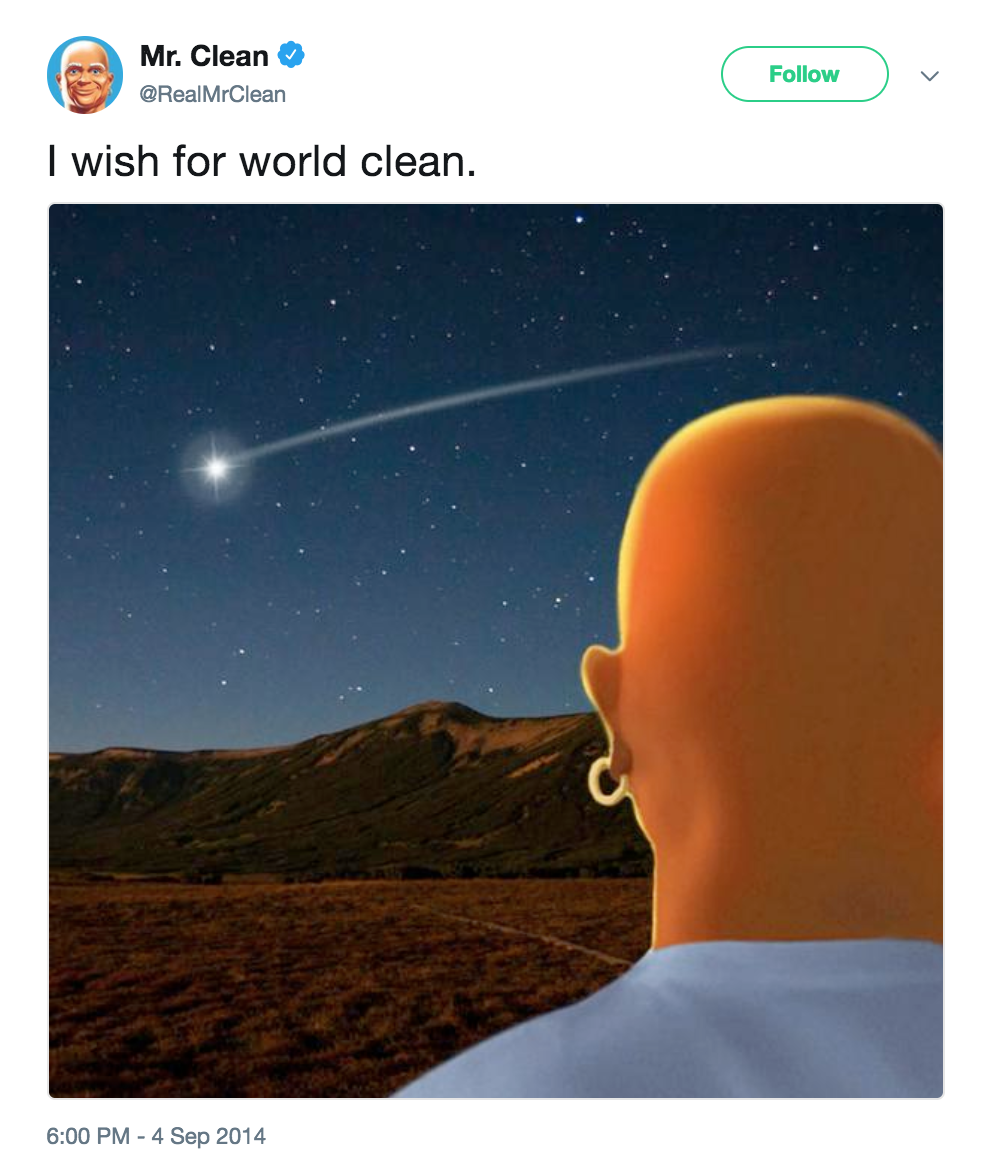 "I wish for world clean," the tweet from Sept. 4, 2014 reads, above an image of Mr. Clean looking at a shooting star in the distance.
It probably seemed like an innocent brand tweet at the time to the social media manager who posted the image. But in 2018, when Nazis are harassing people on Twitter and immigrant children are being held at "detention centers," a tweet about a mascot wishing for "world clean" comes off very disturbing.
People on Twitter discovered the old tweet, and it went viral over the weekend.
https://twitter.com/ByzantineSnake/status/1018312388511256577
https://twitter.com/pronemortalform/status/1018572079099273217
mr clean advocates for mass genocide https://t.co/U4RB89GLrl

— (sexy) alex g (@velvetxero) July 15, 2018
For many people, it seemed like Mr. Clean was thinking about more than cleaning products. And that's when the Thanos comparisons began.
https://twitter.com/CallMeCadejo/status/1018516769156321283
Is this not the plot of Infinity War? https://t.co/ocW3D8xc6a

— Kalina Newman (@KalinaNewman) July 15, 2018
https://twitter.com/Palle_Hoffstein/status/1018506550653214720
So is Mr. Clean really Thanos? The character of Mr. Clean was created in 1958, while Thanos first appeared in comics in 1973. So it looks like… Thanos may actually be Mr. Clean. Woah.
READ MORE: