Social media campaigns and viral stunts ahead of a major movie or show premiere often feel contrived and rarely go off without a few setbacks, but the latest attempt to spark interest in the theatrical release of Ghost in the Shell backfired spectacularly after fans used it to point out some of the film's biggest issues.
In what looks to be a clear example of "this wasn't properly thought out beforehand," Paramount Pictures launched a new website that let fans use an image generator to make their own "I am Major" images by uploading their own photos and typing in a brief response to the prompter "I am."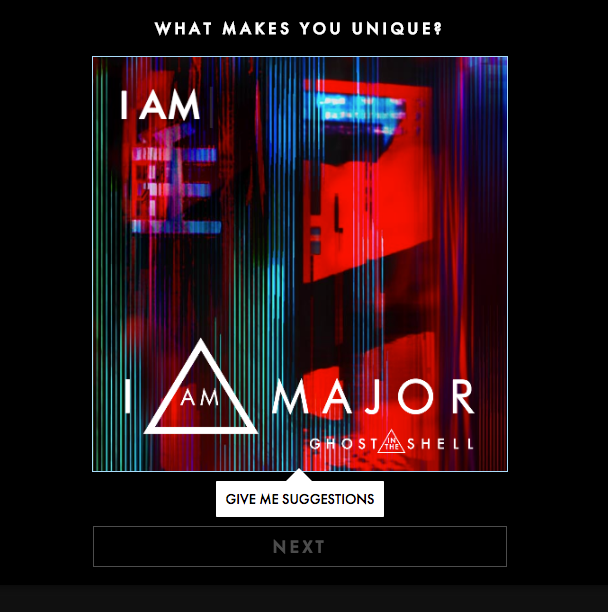 This is probably what Paramount had in mind when it launched the website.
She is hunted. She is the hunter. She is Major. Who are you? Go to https://t.co/jGc5YZ7g2T and tell us. #IAmMajor pic.twitter.com/E8FT89WPBM

— Ghost In The Shell (@GhostInShell) March 11, 2017
The live-action Ghost in the Shell movie has sparked controversy and accusations of whitewashing for more than two years after casting Scarlett Johansson—a white woman—to play a Japanese character from the beloved manga and anime. The character's name was changed from Motoko Kusanagi to the Major, and she's been referred to as "Mira" in one clip. Johansson has defended taking the role, instead focusing on the film's "female protagonist."
Everything that's come out from the film since from photos and trailers to defenses of casting choices has appeared to confirm fans' worst fears about it.
So when Paramount offered a chance for fans to create their own generated images, many used it to point out Paramount's whitewashing of Motoko Kusanagi.
The Ghost in the Shell Website https://t.co/eqy8CpndC6 has a meme maker of sorts where anyone could "become Major" so I had some fun…. pic.twitter.com/EadKs04H9a

— Valerie Complex♓️♎️♋️ (@ValerieComplex) March 11, 2017
Valerie Complex, whose response quickly caught on with fans, explained that while she didn't start the hashtag #IAmMajor—with which many of the responses are being shared—she used it to highlight the film's whitewashing issues.
"Is that some type of justification for the whitewashing they've done?" Complex told Mashable. "I cannot speak for Asian women and I am not trying to speak for them, but it's clear how they feel about this," Complex told Mashable. "So I did what I did to stand in solidarity with them, and to send a message to Hollywood that we aren't going to sit idly by while they co-opt and transform stories seemingly meant for other demographics of viewers."
Inspired by Complex's response, many took to adding their own spin to the meme, which included highlighting Asian actresses who could've played the part instead like Pacific Rim's Rinko Kikuchi and shedding more light on other recent examples of whitewashing and cultural appropriation of Asian culture. One of those, Netflix's Iron Fist, is in the midst of its own PR controversy over cultural appropriation.
#IAmMajor

Am I doing this right? pic.twitter.com/TVXMe23BjJ

— Madeleine Roux (@Authoroux) March 14, 2017
I'll be here all week, folks #IAmMajor pic.twitter.com/iHURsUNHft

— オーウェン (@riajuunibyou) March 14, 2017
March 11, 2017
https://twitter.com/weimingkam/status/840719567265660930
#IAmMajor They were BEGGING for people to turn this marketing campaign against them. It's so easy. pic.twitter.com/2rChRBfGGi

— Chrizabella the Glamour Cat (@Cinemacreep) March 14, 2017
https://twitter.com/riotgrrlriot/status/841264600565788672
https://twitter.com/ElloEllenOh/status/841596009532805120
My contributions to #IAmMajor #whitewashing @GhostInShell pic.twitter.com/Xqsp7xafGP

— jennz0r (@mybluewristband) March 14, 2017
Complex and other fans hope to send major studios a message that whitewashed films won't be tolerated by viewers.
Ghost in the Shell will be released March 31, so we'll soon know whether it will go the way of many other whitewashed and controversial films that fizzled at the box office.
H/T Polygon