This review includes no major spoilers.
The first Fantastic Beasts film expanded the wizarding world in new, albeit perplexing, ways. It largely avoided catering to longtime Harry Potter fans as it dropped Newt Scamander (Eddie Redmayne), a character we knew only by name, into Wizarding New York City. Fantastic Beasts: The Crimes of Grindelwald, on the other hand, takes us back to familiar territory, both to Harry Potter's original European stomping grounds and Hogwarts itself, often shining in the latter.
But in an effort to portray a multitude of plots with its ensemble cast, The Crimes of Grindelwald often feels disjointed as a whole, even when some of its parts are compelling in their own right. At times, the film loses momentum, and its underdeveloped characters aren't interesting enough to push through it.

Taking place several months after the events of the first film, The Crimes of Grindelwald hits the ground running. Dark wizard Gellert Grindelwald (Johnny Depp) tries to recruit wizards and witches to join his cause. Albus Dumbledore (Jude Law)—who had more influence on the events of the first film than we originally thought—tasks Newt to track down Credence Barebone (Ezra Miller), even though Newt is barred from international travel. But Newt isn't the only one looking for him. Soon enough, others like Tina Goldstein (Katherine Waterson), now an Auror, begin to hunt Credence down. Tina's sister Queenie (Alison Sudol) brings No-Maj Jacob Kowalski (Dan Fogler) to London to elope because they can't legally marry in the U.S.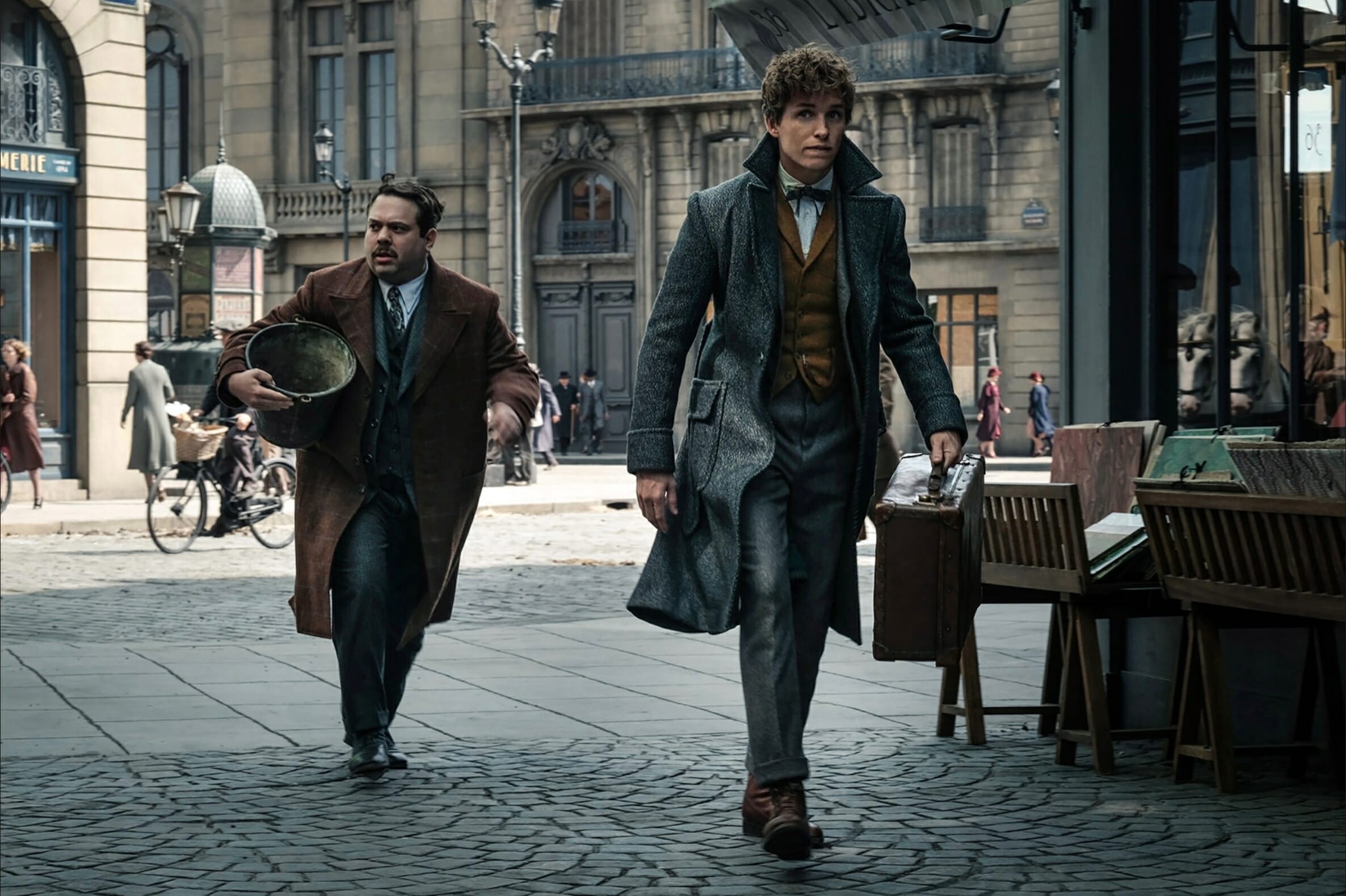 The Crimes of Grindelwald moves multiple pieces on the chessboard to make the characters converge in Paris. J.K. Rowling, who wrote the screenplay, pulls some of the same tricks from her previous works to get the characters where they need to be: One character tries to unravel a mysterious past, others track down a lead or fulfill orders, and some travel to Paris to find someone dear to them. A few of Newt's fantastic beasts—whose presence offers a brief reprieve from the film's grim tone—play a part as well. There's even a new prophecy open to interpretation.
As Grindelwald begins recruiting for his army, he has to constantly perform a balancing act. He knows most witches and wizards will find his views too extreme, so he makes sure his followers sell his talking points in a more palatable way. Despite what Grindelwald has already done, he's charismatic and persuasive to those willing to listen, even if they should know better.
Grindelwald might preach unity, but he'll still get rid of a person who doesn't belong once they stop being useful. And despite his notoriety, he leaves much of the dirty work to others; early in the film, he walks out of the room as one of his followers casts a Killing Curse on a young child. (Voldemort, who's later dubbed as an even more dangerous dark wizard than Grindelwald by tabloid journalist Rita Skeeter, would not hesitate to murder babies.)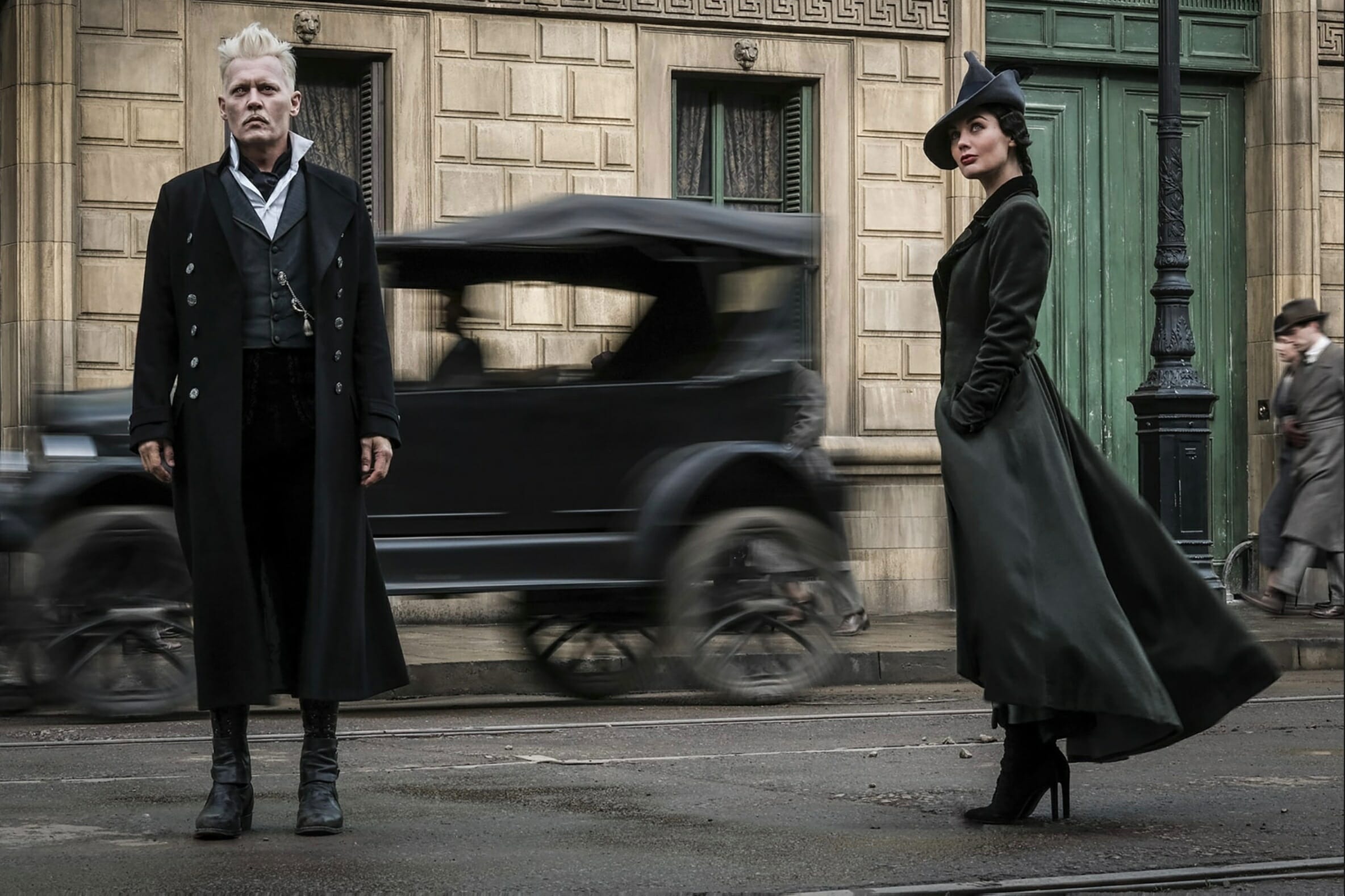 Depp embodies Grindelwald and all of the character's nuances, and while it doesn't always click, when it works, it really works. But it's impossible to ignore the fact that Depp is playing Grindelwald, and will continue to do so for three more sequels with the support of director David Yates, Warner Bros., and Rowling. For some people, no amount of goodwill, acting ability, or softball interviews published ahead of The Crimes of Grindelwald will convince them that keeping Depp was a good decision. If that bothered you before, then seeing Grindelwald at the forefront won't change that, no matter the quality of Depp's performance.
Meanwhile, the return to Hogwarts is refreshing but largely unnecessary, as it halts the film's momentum. Some of the scenes—especially the film's much-reported cameo—are lovely but offer little substance. Law is fantastic as Dumbledore, in his element as a professor who's always 10 steps ahead. He can win you over without overselling (after all, he is still a master manipulator, albeit with nobler goals than Grindelwald), whether he's trading barbs with Ministry officials, including Newt's brother Theseus (Callum Turner) and Theseus' fiancée Leta Lestrange (Zoë Kravitz), or connecting with current and former students.
Dumbledore does most of it with a knowing smile, but every so often, viewers catch a glimpse of melancholy as memories of his sister Ariana and Grindelwald continue to haunt him. And for those waiting for why Dumbledore can't move against Grindelwald right now, the film does provide an answer (and a very Gothic one at that).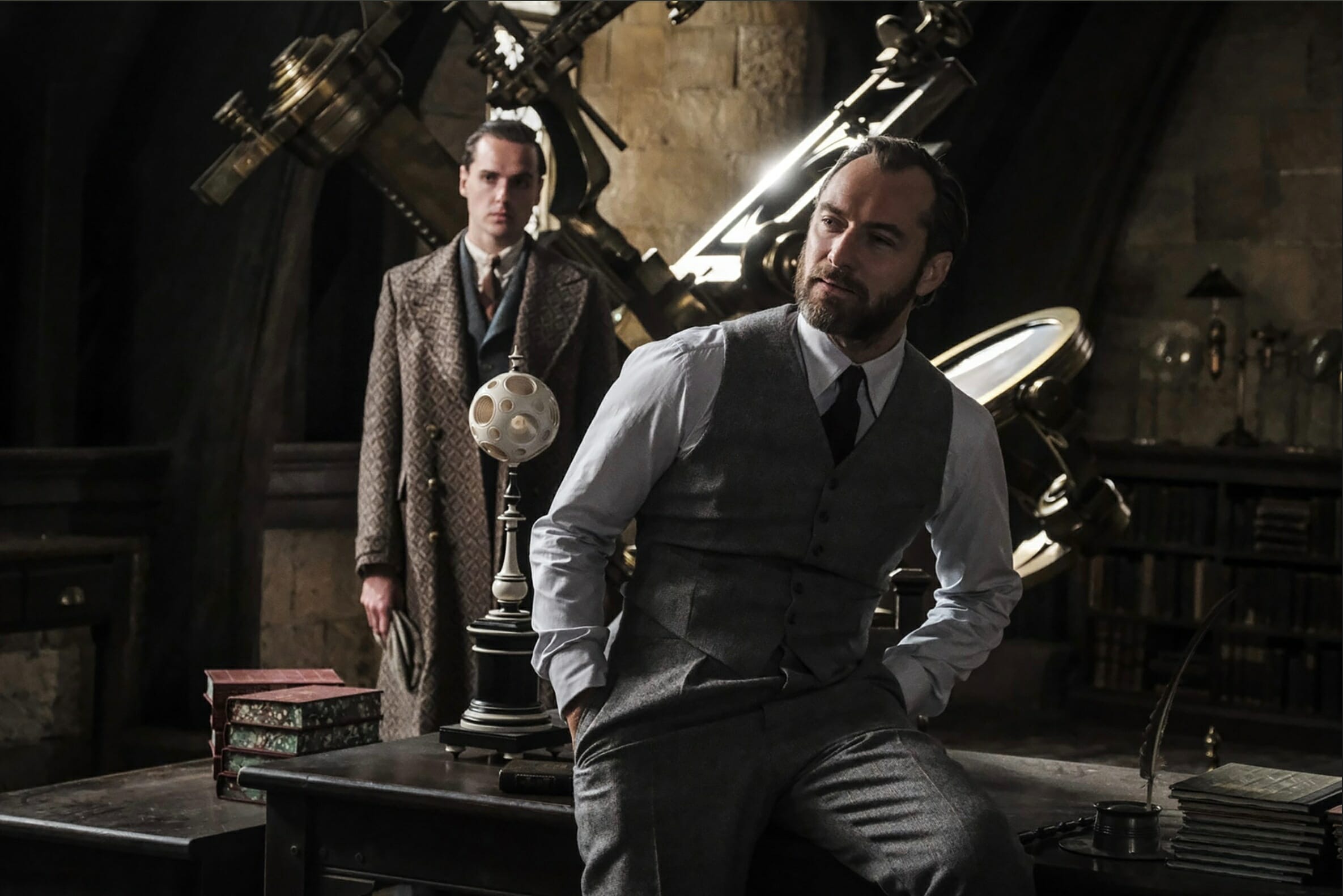 Outside of Grindelwald and Dumbledore, the film is more uneven. Some characters barely register as entities, while others suffer from lazy writing or gross and overused tropes. Nagini (Claudia Kim), whose trailer reveal led to plenty of criticism from fans, does little aside from comforting, advising, or translating for Credence. Newt and Tina's intentions are noble (and their interactions with one another are often charming), but they're still only pawns in a much larger and more serious game. Bombshells about characters' histories don't have enough time to simmer before another reveal pops up or a magical element comes into play. The ending sets up the sequel with a number of intriguing questions, but it also leaves a bitter taste and may dissuade some viewers from diving in again. 
Apathy might be the one thing that dooms each character. One bureaucrat argues that peace between Muggles and Wizards comes at the cost of pissing off a small but vocal minority of bigoted, pureblood wizards who may be tempted to join Grindelwald's cause. Newt, a resourceful yet naive magizoologist, wants to remain neutral; it's not until the war affects him personally that he's driven to do more. When Grindelwald's efforts culminate in a highly publicized rally, he doesn't encourage his followers outright to attack Muggles or noncompliant witches and wizards who get in their way, but he plants the seed in their minds. The Crimes of Grindelwald's political commentary is often so heavy-handed it might as well be hitting you with a Beater's bat.
The Crimes of Grindelwald has plenty of twists and turns, though it feels more like a set-up for the next film. It has more to say than its predecessor, but the message gets jumbled in the process, leaving viewers wanting more—or at least a little more breathing room.