Fantastic Beasts and Where To Find Them proved that audiences aren't ready to let go of J.K. Rowling's magical world. The film, a spin-off based on Rowling's magical creatures textbook, grossed nearly $815 million worldwide when it was released in November 2016. Even without Harry Potter, Rowling's magical universe still has some tricks up its robe sleeves. With five movies planned over the next several years, this series isn't going away anytime soon.
The final Crimes of Grindelwald trailer is here, showcasing a lot of impressive visual effects and suggesting a much darker tone for the second Fantastic Beasts movie. With Grindelwald's influence creeping across the globe, you can see how Newt Scamander is forced into becoming an unlikely action hero.
We also got a very surprising revelation about Claudia Kim's character: She's playing Nagini, better known as Voldemort's pet snake. You'll catch a glimpse of her in the trailer, but the actress explained her role more clearly to Entertainment Weekly: "You've only seen her as a Horcrux. In this, she's a wonderful and vulnerable woman who wants to live. She wants to stay a human being and I think that's a wonderful contrast to the character."
Nagini is a woman who transforms into a snake, and we meet her while she's working as a circus performer. It sounds like she isn't a traditional witch because she doesn't carry a wand. And according to J.K. Rowling, she's not an animagus but rather a maledictus—a person who is cursed to turn into an animal.
Learn more about Fantastic Beasts: The Crimes of Grindelwald below.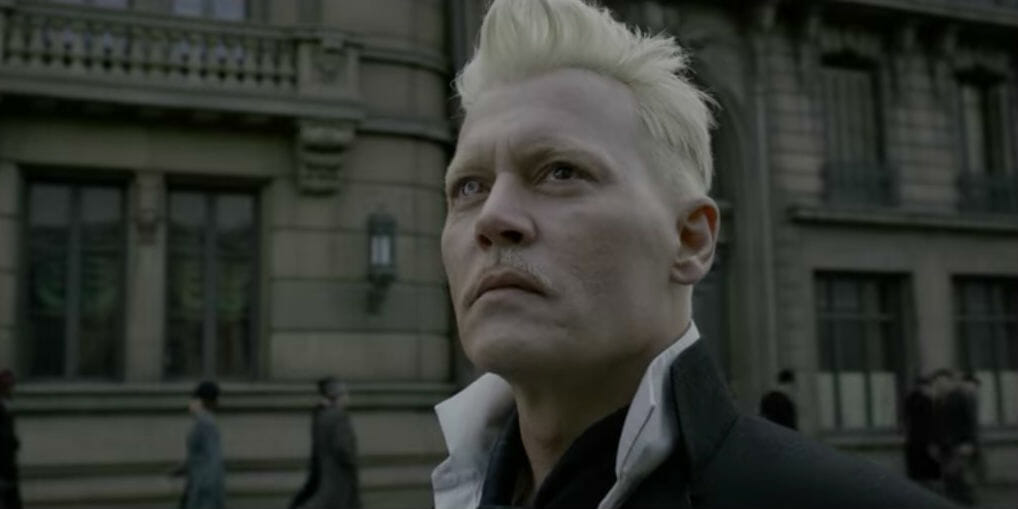 Fantastic Beasts: The Crimes of Grindelwald cast
Eddie Redmayne (Newt Scamander), Dan Fogler (Jacob), Katherine Waterson (Tina Goldstein), Alison Sudol (Queenie Goldstein), Ezra Miller (Credence), and Johnny Depp (Grindelwald) will all return for the sequel.
Jude Law will also be joining the cast as a young Albus Dumbledore. The Fantastic Beasts series is set 70 years before the Harry Potter movies, so don't expect to see Dumbledore as headmaster of Hogwarts School of Witchcraft and Wizardry. 
At this point in his storied teaching career, he has yet to start teaching transfiguration, the post he held before becoming headmaster. Speaking to Entertainment Weekly, Law describes a young Dumbledore as having a "youthful mercurial approach to life" and someone who's able to "indirectly" manipulate people, but who is also a "powerful and inclusive teacher." According to Law, he doesn't share any scenes with Depp's Grindelwald in the movie and only casts one spell in it.
Zoe Kravitz has also joined the cast as Leta Lestrange, Newt's ex-girlfriend and a relative of Bellatrix Lestrange, played by Helena Bonham Carter in the Harry Potter movies.
On July 3, Pottermore revealed some more new cast members. Ingvar Sigurdsson plays a bounty hunter named Grimmson, William Nadylum plays a wizard called Yusuf Kama, Ólafur Darri Ólafsson is the wizarding circus owner Skender, and Claudia Kim plays a "featured attraction" at his circus. Callum Turner will play Theseus Scamander, Newt's older brother.
READ MORE:
Pottermore shared some major casting announcements in October, including the first onscreen appearance of Nicolas Flamel. Based on the real-life alchemist from 14th century France, Flamel is the quasi-immortal creator of the Elixir of Life. In Fantastic Beasts 2, he'll be played by Chilean actor Brontis Jodorowsky, son of legendary director Alejandro Jodorowsky.
For many fans, the most exciting new cast member will be former Daily Show star Jessica Williams, whose role is still undisclosed. She's joined by Fiona Glascott in another unknown role, Wolf Roth as Spielman, Victoria Yeates (Call the Midwife) as Bunty, Derek Riddell as Torquil Travers, Poppy Corby-Tuech as Rosier, and Cornell S John as Arnold Guzman.
As Pottermore points out, Rosier and Travers are both names of Death Eaters in the Harry Potter books, so these characters may be their ancestors—possibly contemporaries of Newt Scamander at Hogwarts.
Fantastic Beasts 2: The Crimes of Grindelwald news
David Yates is confirmed to return as the sequel's director. Yates directed Fantastic Beasts and Where To Find Them, as well as the last four Harry Potter movies. Rowling has already assured fans she has completed the script for the sequel, and filming began on July 3, 2017.
The Fantastic Beasts Facebook page shared its first enigmatic photo from the sequel: a picture of a lockable book belonging to Nicholas Flamel. The caption read, "The only known maker of the Philosopher's Stone. What other mysteries may be locked away?"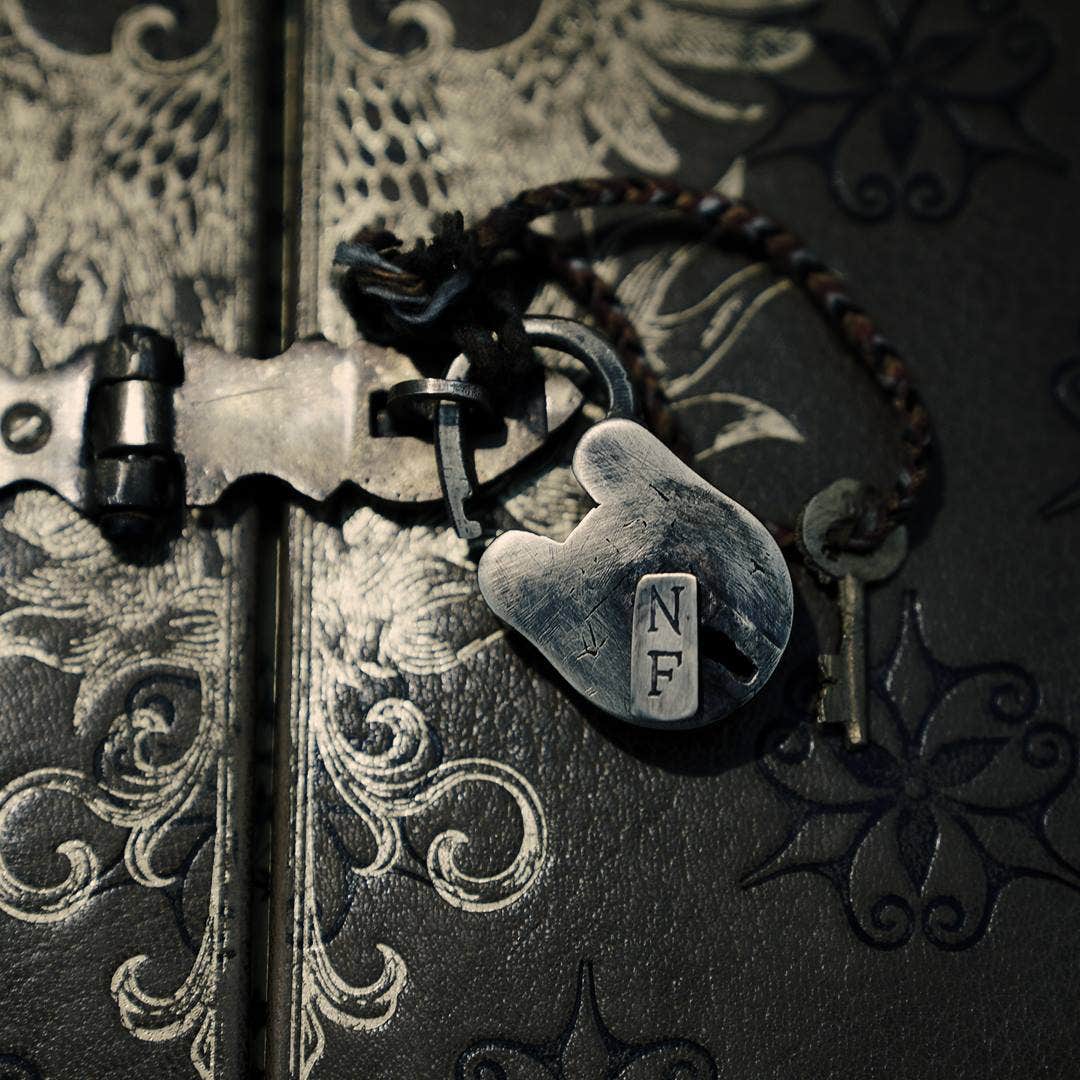 The title of the sequel arrived on Nov. 16 with a photo of the main cast, including Johnny Depp as the dark wizard Grindelwald, and our first look at Jude Law as Dumbledore.
In one year, return to the Wizarding World with Fantastic Beasts: The Crimes of Grindelwald. #MagicInProgress #FantasticBeasts pic.twitter.com/8aWj8xhGj5

— Fantastic Beasts (@FantasticBeasts) November 16, 2017
Entertainment Weekly shared an early photo from the movie on Dec. 6, showing Newt Scamander in some kind of sewage tunnel. Could this be the habitat of a new underground monster?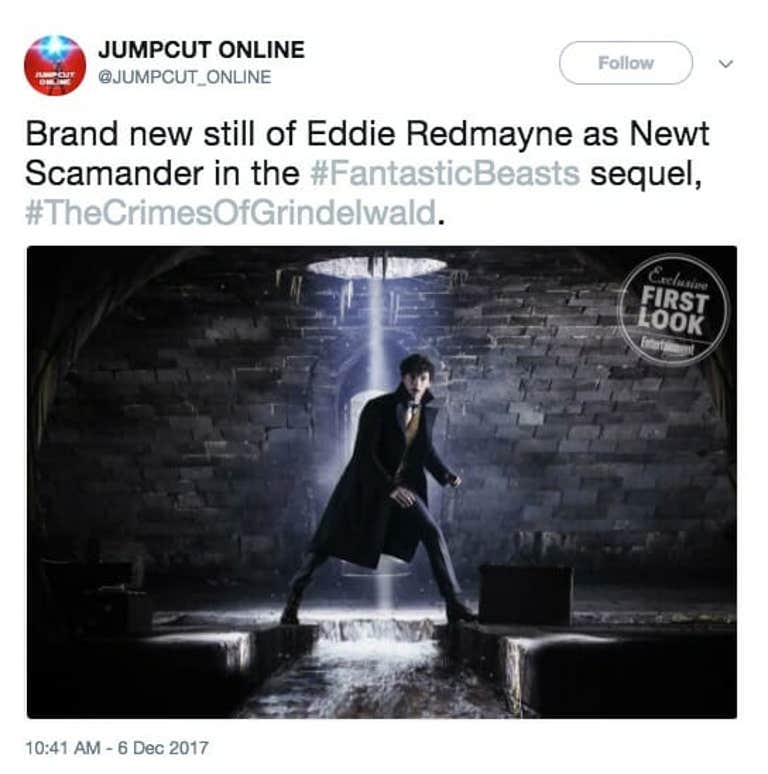 EW also published a behind-the-scenes shot of Eddie Redmayne and Jude Law hanging out on set. Dumbledore seems to be wearing muggle clothing, a very different look from the eccentric, robe-wearing wizard he becomes in his old age.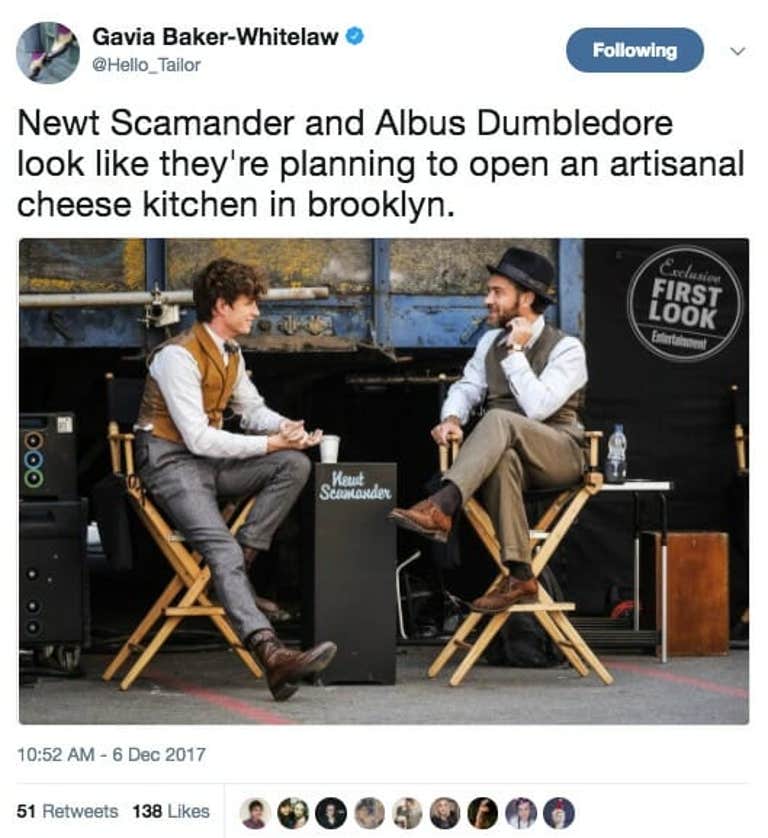 Several new photos for The Crimes of Grindelwald have been released, giving fans a closer look at some old and new characters. Two of the photos, which feature a young Dumbledore and Grindelwald, appeared in USA Today's preview of 2018's 10 must-see films. Empire Magazine revealed a new photo of Newt Scamander and Tina Goldstein standing in front of what may be a mailbox.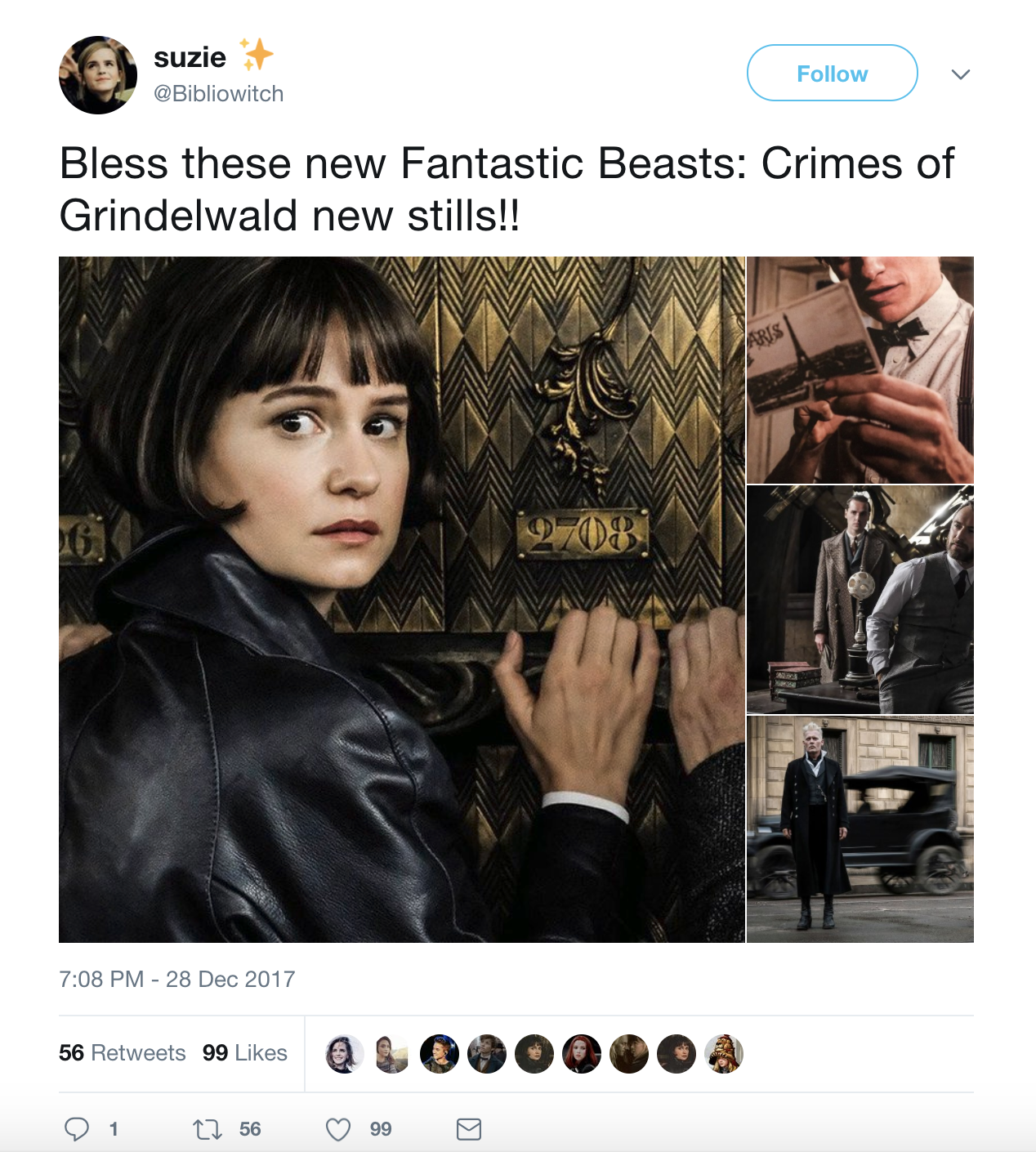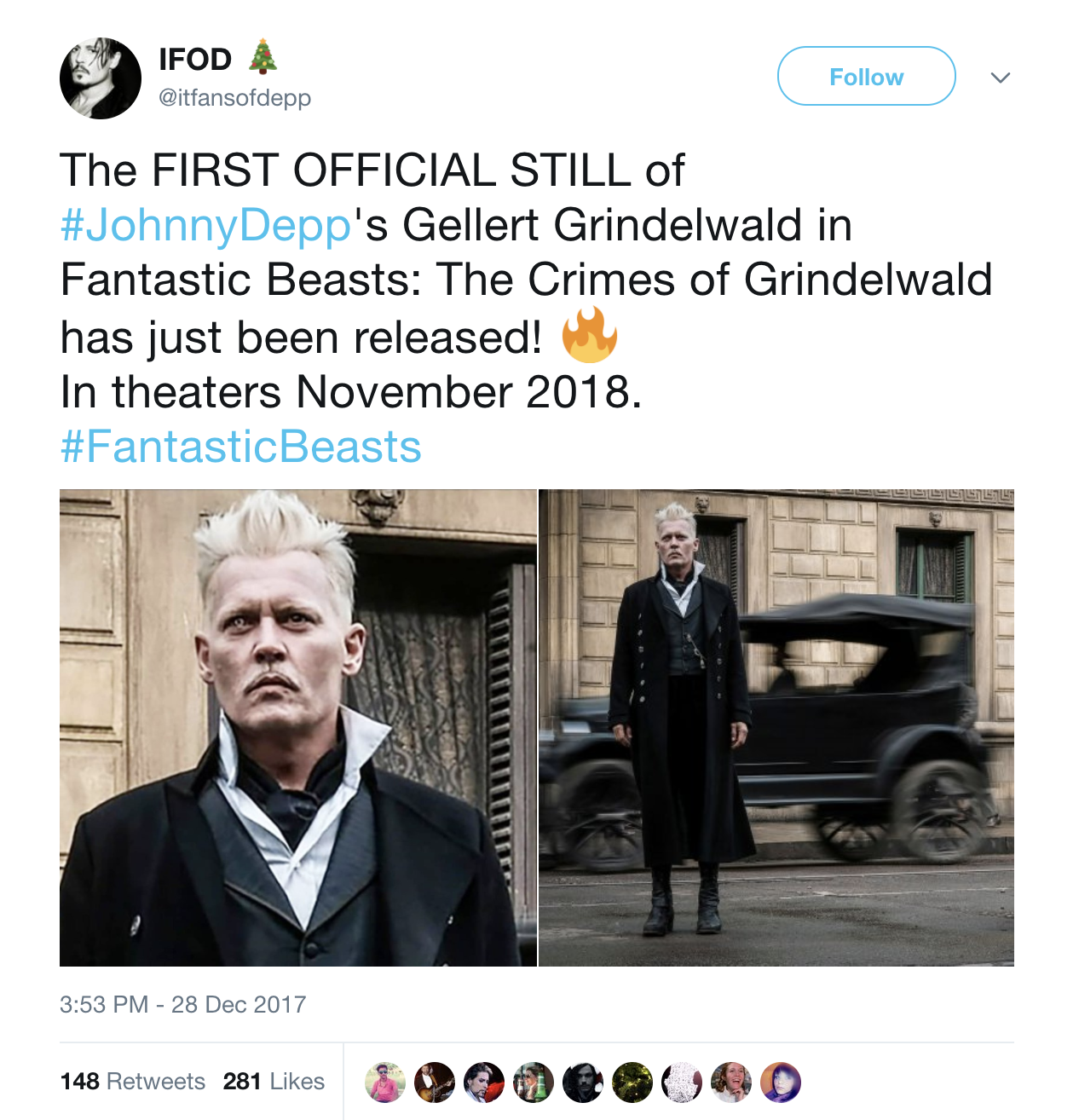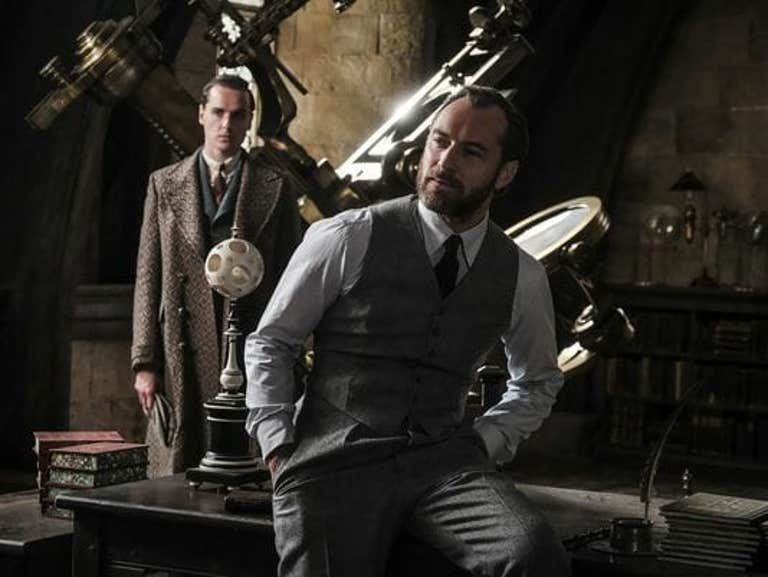 You can get an even closer look on Pottermore. Depp as Grindelwald appears alongside his companion Vinda Rosier (Poppy Corby-Tuech), an ancestor of the Potter-era Death Eater Evan Rosier. And we're digging Tina's new look, sporting a black leather jacket and bobbed 1920s hair.
Newly released images from Fantastic Beasts: the Crimes of Grindelwald give us our first look at new costumes, new settings and new characters. What details can you spot? https://t.co/ntdoc6JkyI pic.twitter.com/ATyJ37Kwr4

— Wizarding World (@wizardingworld) January 15, 2018
Director David Yates has confirmed that each Fantastic Beasts movie will take place in a different location, saying, "This is a global story, ultimately. And given that there's a global audience for this, it's all the more delightful to take the story to different parts of the world."
According to a January 2018 Entertainment Weekly interview with Yates, Dumbledore's sexuality will not be "explicitly" handled in The Crimes of Grindelwald. "But I think all the fans are aware of that," said Yates, referring to J.K. Rowling's assertion that Dumbledore is gay. "He had a very intense relationship with Grindelwald when they were young men. They fell in love with each other's ideas, and ideology and each other."
This is another controversial choice for the Fantastic Beasts sequel. Many fans hoped that Dumbledore's sexuality would be addressed onscreen, finally including some queer representation in the franchise. By keeping Dumbledore's sexuality in the realm of subtext, Fantastic Beasts is no more progressive than the original Harry Potter movies. It also perpetuates an ongoing fandom debate about whether J.K. Rowling's post-book "revelations" should be accepted as canon.
In July 2018, at the Comic-Con panel, Depp surprised the audience by walking out on the stage as his character in the movie. He reportedly gave a short monologue about muggles before leaving the stage, and at least one person shouted that she loved him.
https://twitter.com/getFANDOM/status/1020733819521925121
In a video filmed April 22 during the intermission of Harry Potter and the Cursed Child's Broadway premiere, actress and comedian Jessica Williams and Rowling revealed the name of Williams' character in The Crimes of Grindelwald: Professor Eulalie "Lally" Hicks, who teaches at Ilvermorny (the American wizarding school). It's unclear what subject Lally teaches.
https://www.instagram.com/p/Bh4-iycjzxM/
According to Rowling, we'll only be getting a tease of the character in The Crimes of Grindelwald, but her "true glory is revealed in FB3."
Fantastic Beasts: The Crimes of Grindelwald plot
Now that production is underway, Pottermore has shared some details about the film's plot. Set a few months after Fantastic Beasts, the sequel will see Newt Scamander team up with Dumbledore to track down Grindelwald, who has already escaped from MACUSA custody. Grindelwald immediately begins to recruit followers to his wizard-supremacist cause.
Credence will return in a "mysterious" way, after he was seemingly destroyed in his Obscurial form during Fantastic Beasts. The story will take place in New York, London, and Paris.
The sequel is likely to introduce more backstory for both Dumbledore and Newt Scamander. The two characters met when Dumbledore was Newt's teacher at Hogwarts, and Dumbledore tried to prevent Newt from being expelled. We're also going to meet Newt's brother Theseus, a hero of the First World War, as well as Leta Lestrange, who shared a close but conflicted relationship with Newt when they were at school.
This is also the first we'll see of Dumbledore and Grindelwald's relationship, a lynchpin of the Fantastic Beasts franchise. The two wizards were close friends (and potential love interests) during their youth but became enemies after Grindelwald turned to dark magic. We know that Dumbledore is destined to defeat Grindelwald by the end of the series, which is set to span 19 years.
With France and England as confirmed locations for the sequel, it is also possible Beauxbaton Academy of Magic will make an appearance. Yates confirmed the school was featured in an early draft of Fantastic Beasts 2 and mentioned it could pop up again if the story sees fit. Potterheads will remember the charming and mannered witches of Beauxbaton from the Triwizard Tournament in Harry Potter and the Goblet of Fire. Their transportation in that film was an enchanted carriage pulled by a dozen winged horses, so we can't wait to see what their school looks like.
Fantastic Beasts: The Crimes of Grindelwald will have just as many fantastic beasts as the first movie, but as Yates told EW, the beasts themselves won't be as much of a focus in the sequel. However, there will be a few familiar creature faces returning to The Crimes of Grindelwald.
"There's a Chinese creature that's formidable," Redmayne said. "There are some of the old favorites: The Niffler is back and causing havoc. As is Picket [the Bowtruckle who stays by Newt's side]."
Fantastic Beasts: The Crimes of Grindelwald release date
Fantastic Beasts 2 will unleash more magical creatures on Nov. 16, 2018. Warner Bros. plans to release a new Fantastic Beasts movie every two years until the series is complete.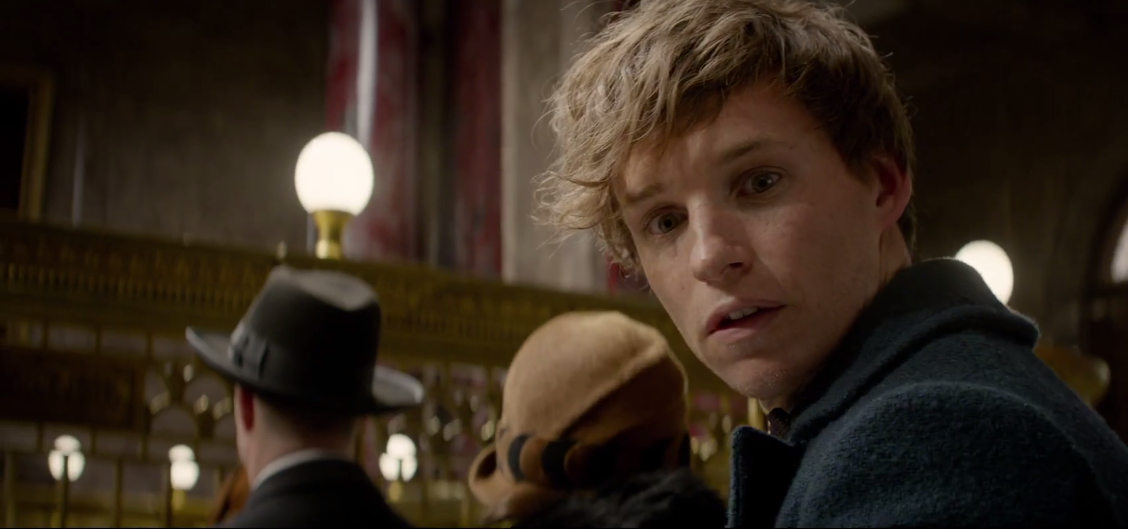 Fantastic Beasts: The Crimes of Grindelwald trailer
On March 13, 2018, we got a look at the first teaser trailer for Fantastic Beasts: The Crimes of Grindelwald.
The first trailer hints at a conflict looming in the wizarding world, with Newt Scamander on some kind of mission for Albus Dumbledore. We see a few glimpses of the other characters here—a few seconds with villain Grindelwald, and Newt's old friends interacting with magical creatures—but the focus is definitely on Dumbledore.
Young Dumbledore looks very different from the character we saw in the books and previous movies. Rather than being a flamboyant eccentric with a long red beard, Fantastic Beasts gave him a more conventional appearance, dressed in a muggle suit that you could easily imagine Jude Law wearing in real life.
In July 2018, another trailer was released at Comic-Con.