The first season of The Dragon Prince arrived in September, introducing a heartwarming fantasy epic. With a diverse cast and a family-friendly tone, it's winning fans both young and old, including many people who grew up with Avatar the Last Airbender. If you noticed some similarities, there's a reason for that. The Dragon Prince boasts two Avatar alumni in its creative team—co-creator Aaron Ehasz and director Giancarlo Volpe—and the influences are pretty clear.
With season 2 now confirmed at Netflix, we spoke to Ehasz about his work on the show. We delved into The Dragon Prince's fantasy worldbuilding, the research behind writing and animating a deaf character, his philosophy for embracing fandom, and what, exactly, was up with those elvish accents.
The Dragon Prince has a very inclusive cast, which feels important for fantasy, where creators often default to white, male characters. Could you tell me about your ethos when conceiving these characters, and what kind of research you do for someone like General Amaya?
Fantasy stories have almost always been very white and European-focused, and we wanted to tell a story that would feel both more modern and more global. We wanted to attract a diverse audience. We wanted people who don't normally see themselves reflected in cartoons to see themselves here. We also wanted people who are used to seeing themselves reflected in cartoons, see some different people and go, wait a minute, I actually empathize with that person even though they're different from me.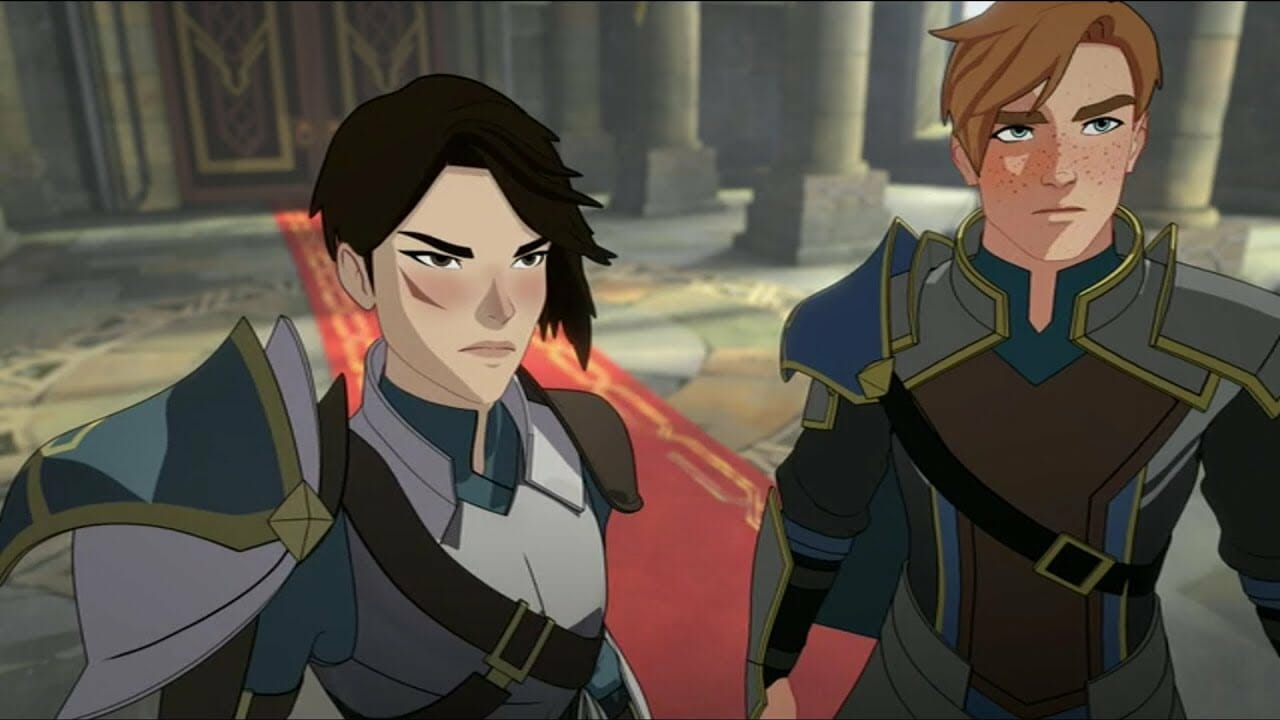 In terms of research, we do actually have a diverse writing team and voice cast. But when you attempt to do a character like Amaya, who is deaf, we did reach out to people who are deaf or hard of hearing. We reached out to organizations. … We talked to them and we listened as much as possible to understand the challenges and perceptions they face.
One of the things we learned was that it would feel more authentic to have Amaya sign and have an interpreter than it would to have her sign but also speak and cast a hard-of-hearing actress. From there we had two ASL interpreters help us get the signing right and help the storyboard artists and the animators. A lot of our team really fell in love with this character so it became a labor of love.
You're known for your work on Avatar, as is Giancarlo Volpe, which I imagine is sort of a blessing and a curse because it automatically leads to comparisons. How did your experience on Avatar influence you when creating your own show?
Our experience on Avatar heavily influenced how we approached The Dragon Prince and how we built our team. The thing that happened with Avatar is that [the showrunners] had a very strong vision but they created an environment where the whole team, the writers and the storyboard artists and the animators, everyone was empowered to bring their vision to it. So it wasn't just like "Go do your job," it was, "We're all gonna try and do something amazing together." It really was a shared experience.
So one of the goals was to build a team that wanted to do meaningful work, that wanted to be inspired every day, that wanted to bring characters to life and do something that would impact the audience. Part of the reason why it feels like Avatar—and again, that comparison can be a blessing or a curse—is because there's a great energy happening that really reminds me of the energy we had working on Avatar.
Tying into that, I was interested to see how The Dragon Prince's social media presence reached out to fans, sharing worldbuilding info but also understanding when to hold back. Is that something you discussed a lot before the show was released? I imagine you must have learned something about fan culture from your experiences on Avatar or from other animated show fandoms like Voltron.
Yeah, so when Avatar came out, the social media world and the idea of fan communities were very new. There were forums and you could obviously go to conventions and talk to people, but it wasn't as clear or easy.
┏┓
┃┃╱╲ In this
┃╱╱╲╲ house
╱╱╭╮╲╲ we think
▔▏┗┛▕▔ lord viren
╱▔▔▔▔▔▔▔▔▔▔╲
is pretty ok maybe even good
╱╱┏┳┓╭╮┏┳┓ ╲╲
▔▏┗┻┛┃┃┗┻┛▕▔

— The Dragon Prince (@thedragonprince) October 2, 2018
We wanted fans to be engaged and to talk to each other. And we also know that community owns itself. We wanted fans to be empowered to create whatever it is that they wanted around this show. We have a wonderful head of social media and community, Danika Harrod, who has a knowledge of community that's really authentic, and she just loves connecting with people and she's very empathetic to what fans might want. So we think about it a lot, we care about it a lot. The only thing we hold back is spoilers, because ultimately there's a story that we want to unfold. 
If there's anything proactive about it, it's that I love kind people, I like positive energy, which is not to say that anger, frustration, and disappointment aren't super real feelings that fandoms can have, they're totally valid. I hope when or if people experience that within our fandom that they express it respectfully to each other. But we're lucky so far, it does seem like a really kind fandom.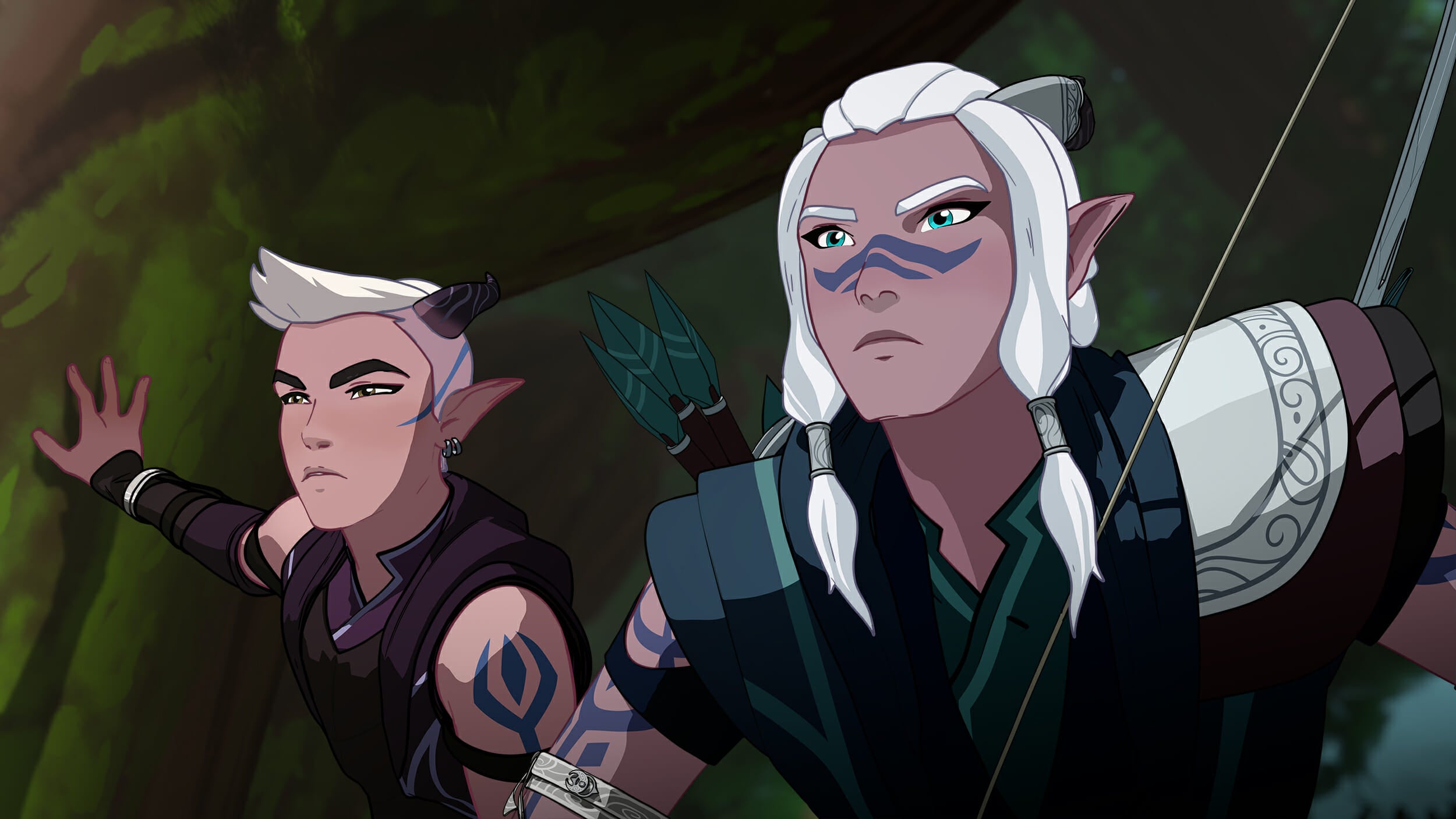 In terms of fantasy worldbuilding, I think it's easy for older viewers to say, oh, this shares a lot with Lord of the Rings, Warcraft, or whatever, but the target audience is kids and this may be their first taste of fantasy. What were your influences, and are there any particular nostalgic memories that you wanted to get into the show?
We were very aware that for a large portion of our audience, this might be their first big fantasy epic story. And so we knew they wouldn't be comparing to Lord of the Rings or Game of Thrones or things like that, which have definitely been influences in terms of worldbuilding and depth.
The Narnia books inspired us. [Co-showrunner] Justin Richmond is one of the most well-read fantasy and science fiction people I know. I think his uncle had a science fiction/fantasy bookstore when he was growing up, so he would just get delivered these piles of used books that he'd tear through. When we talk about things he has so many reference points that I have no idea what he's even talking about. It's great. But yeah, we want to build something that's original in the sense that the characters are going through something authentic, but we're obviously not afraid to borrow ideas from older mythologies and older stories. Hopefully it doesn't feel derivative. I kind of feel like if the characters are true—that's the important thing.
I'm afraid I do have to ask about the elf accents. Possibly I was more sensitive to this because I'm Scottish, but did find Rayla's accent a bit distracting. What were the thoughts behind the regional accent choices in the show?
Our intention with the accents was to give this extra layer of Xavia feeling more old-world and a little more high fantasy. Being able to feel the difference in the performances from that to the human kingdoms, where they'd have American accents that are, at least in the U.S., a little more contemporary.
There were points where we were like, "Would this group of elves have Irish accents and would this group have Scottish, we'll get a light French accent with this group," and I think some of that stuff we'll be able to follow through. Sometimes you have to prioritize between performance and accent and character fit. Paula [Burrows], who plays Rayla, is an amazing actress, and we love the Rayla she's bringing to life. Sometimes if her accent has gotten thicker I've probably directed her to keep it at a kind of understandable performance level, so I don't know if that's actually affected how someone with a really strong ear for accents hears that. But yeah, the intention is to get a performance from the character that captures the emotions, and I feel good about that.
What would you say your overall goal is for the future of The Dragon Prince?
I am almost embarrassed to tell you how far we've thought things through. Yesterday I was like walking around, excited because I have some ideas that are gonna be so good in season 5. So we're getting so far ahead of ourselves. We wanted to set up a world and move through a very epic story where we're gonna see these characters evolve and change and discover different parts of that world. So we're hoping to take a long journey here.