Captain Marvel has a surprise breakout star. Obviously we all know we're going to love Brie Larson's Carol Danvers and familiar characters like Nick Fury (Samuel L. Jackson), but the movie's unexpected hit is a little less… human.
Carol's pet cat Goose (a reference to Top Gun) is winning hearts with his tremendous skill at, well, being a cat. He got his own poster and has appeared in promo videos, a livestream of his daily life, and appeared the red carpet at the film's premiere. He also has his own comic book origin story, as fans of the Captain Marvel comics will already know. While Goose seems to be a normal cat, his comic book counterpart is an alien with wild superpowers.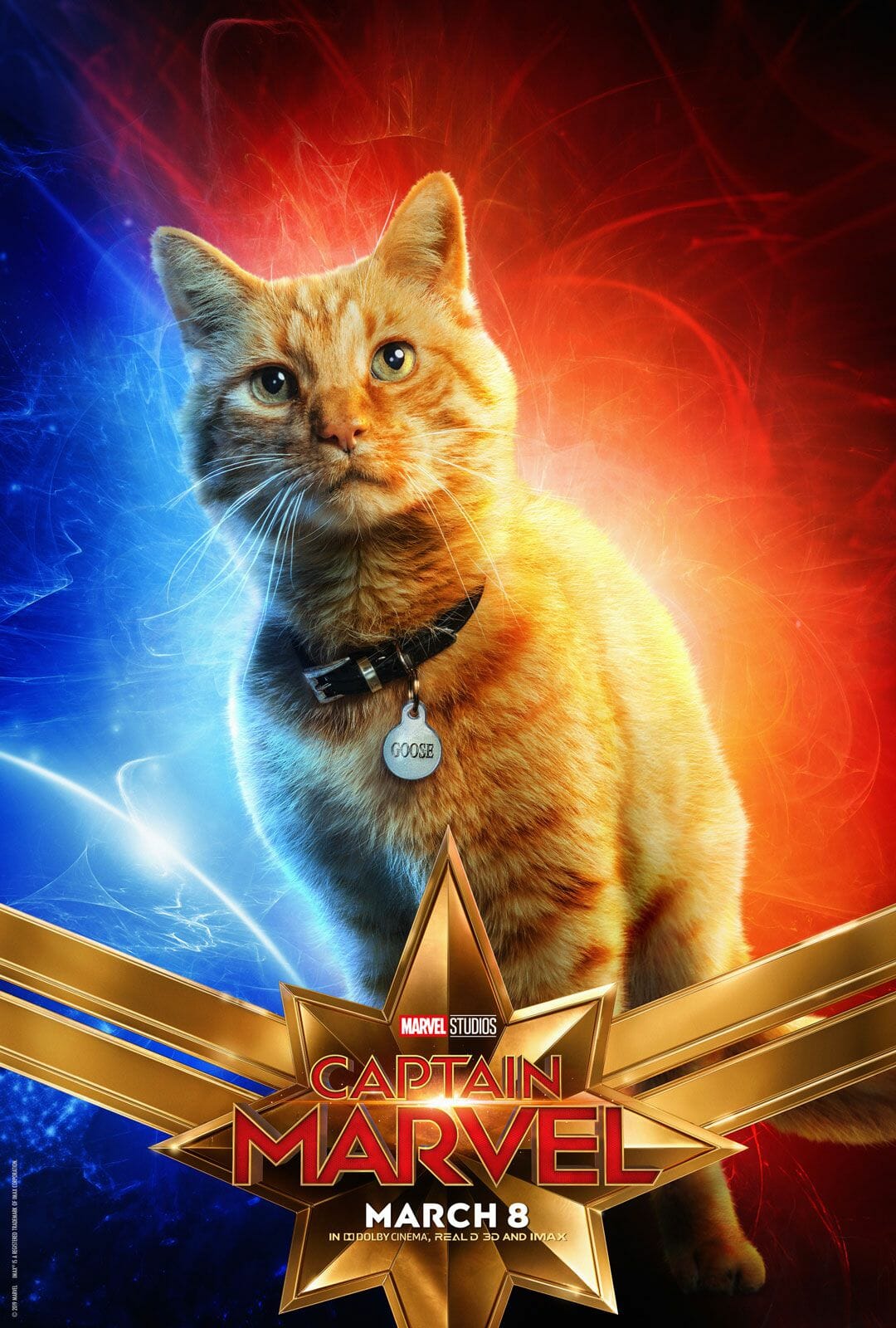 Captain Marvel's cat in the comics
The original cat is called Chewie, after Chewbacca from Star Wars. She made her debut in 2006, back when Carol Danvers was still known as Ms. Marvel.
READ MORE:
Introduced in Giant Sized Ms. Marvel #1, Chewie makes her first appearance during a fight scene, where Carol throws her at the enemy. (Quick side note: Don't do this to a cat.) She returns in the iconic Captain Marvel series written by Kelly Sue DeConnick, now with a more prominent role.

Accompanying Carol on a trip into space, Chewie hangs out in Carol's ship like a normal cat. That is, until Carol meets up with the Guardians of the Galaxy, at which point Rocket Raccoon freaks out, yelling that Chewie isn't a cat—she's a flerken. As we soon discover, flerkens may look like Earth cats, but they're pretty damn different. Later issues reveal that Chewie can lay eggs and act as "a living gateway to a pocket dimension."
In other words, like the TARDIS, flerkens are bigger on the inside. They store a bunch of alien tentacles in another dimension "inside" their bodies, ready to attack when they're in danger. Plus, Chewie winds up laying eggs and having 117 kittens, resulting in this amazing cover art for Captain Marvel #8.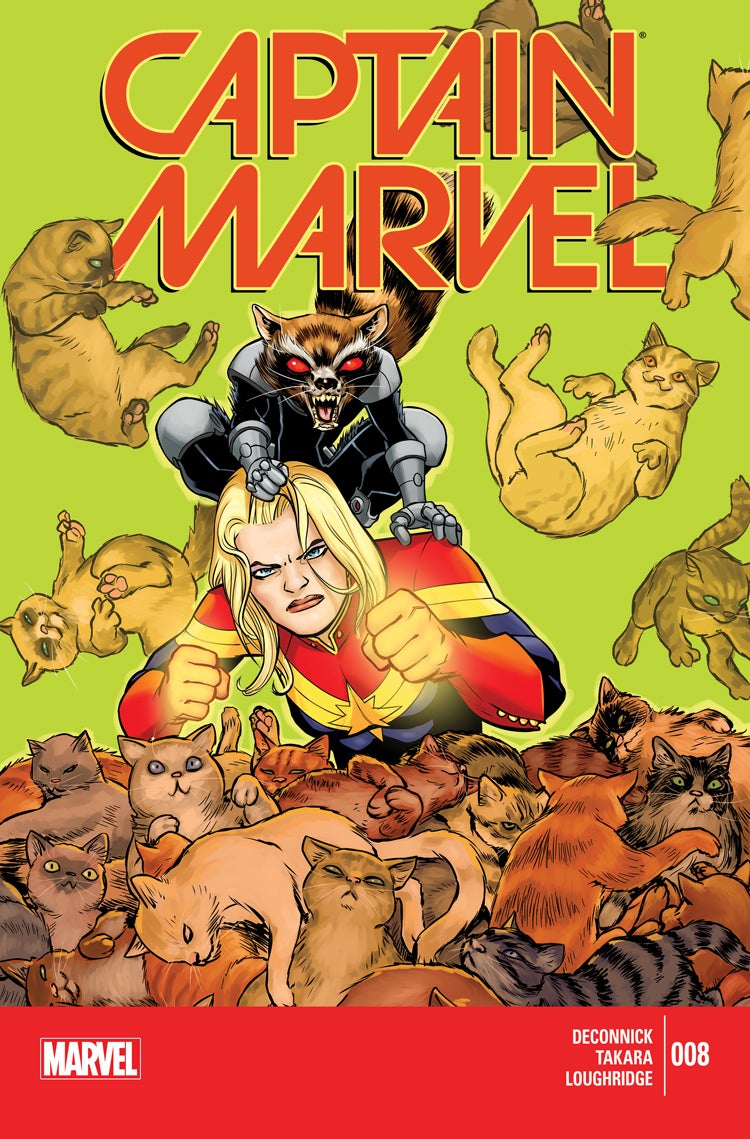 Flerkens are smart enough to have their own language, although Carol has a hard time translating it. Her relationship with Chewie still basically feels like a friendship between a cat and a human, the main difference being that Chewie can teleport through pocket dimensions and has a bunch of tentacles that look like this: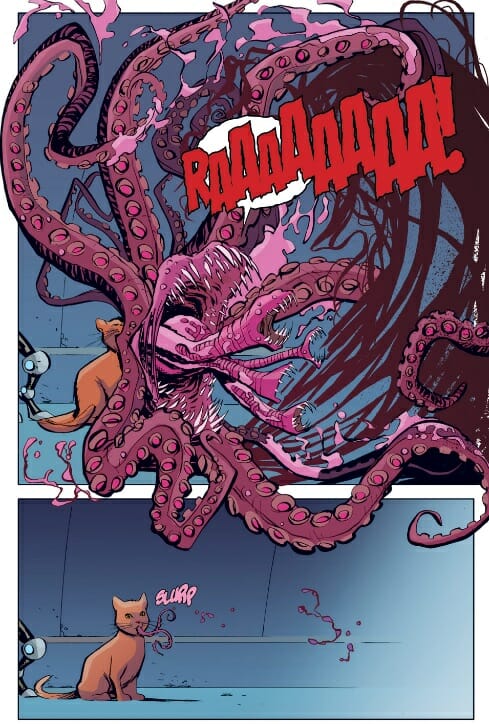 Captain Marvel's cat in the movie
Goose is a regular Earth cat instead of a flerken, but (obviously) he still rules. Like many onscreen animals, he's played by several different performers: Four near-identical cats called Reggie (the main Goose), Archie, Rizzo, and Gonzo, each of whom has a different acting skill. He actually got his own featurette, with Brie Larson and Samuel L. Jackson showering their cat co-stars with overly serious praise. (In reality, Jackson is not a cat person, but he's nothing if not professional.)
Although Goose has a significant role in the movie, the filmmakers hit a snag with Brie Larson's cat allergy. Netflix's Chilling Adventures of Sabrina faced a similar issue because Kiernan Shipka is severely allergic, meaning she could barely interact with Sabrina's beloved cat Salem. Fans complained about the lack of Salem screentime, but fortunately, Captain Marvel had more money to throw at the problem. So while Goose is played by four real cats, he also appears in CGI and has a puppet counterpart that Brie Larson used when she had to actually hold the cat.
Marvel Phases: The MCU movie timeline from phase 1 to phase 4
"It became this joke because the crew would watch me all day doing crazy stunts," Larson told Entertainment Weekly. "But then the cat showed up on set and I was like, 'We need to have a plan! We need to have a conversation!'"
So yes, Brie Larson can push a jeep with her bare hands, but her true nemesis is a 10lb cat.